The 4 Canadian 43 American Universities Among The World's 100 In 2018 THE Global Rankings
Four Canadian institutions have made the top 100 in the Times Higher Education's World University Rankings 2017-18 list. University of Toronto was ranked 22nd, the highest among Canadian universities, followed by the University of British Columbia (NO. 34), McGill University (NO. 42), and McMaster University in 78th place.
"We're proud the University of Toronto has once again been named one of the top global universities, which demonstrates the tremendous impact of our research and our world-class performance in teaching," said Professor Vivek Goel, Vice President, Research and Innovation at the University of Toronto.
University of Toronto (Global rank 22)
Overall: 82.8
Teaching: 74.6
Research: 84.8
Citations: 92.6
Industry income: 46.5
International Outlook: 80.1
University of British Columbia (Global rank 34)
Overall: 76.2
Teaching: 61.8
Research: 72.2
Citations: 93.4
Industry income: 42.6
International Outlook: 92.2
McGill University (Global rank 42)
Overall: 73.2
Teaching: 63.4
Research: 70.8
Citations: 87.7
Industry income: 39.8
International Outlook: 87.5
McMaster University (Global rank 78)
Overall: 63.4
Teaching: 45.6
Research: 48.8
Citations: 89.9
Industry income: 89.8
International Outlook: 78.1
Similarly, Canada had 6 universities, in the CEOWORLD magazine's world's best universities for graduate employability, 2017 – University of Toronto (NO. 14), McGill University (NO. 16), University of Montreal/HEC (NO. 45), University of British Columbia (NO. 50), McMaster University (NO. 77), and University of Alberta at NO. 129.
Quacquarelli Symonds (QS) also named 5 Canadian universities in terms of helping graduates to find a job in 2018 – University of Toronto (Rank #15), University of Waterloo (Rank #24), University of British Columbia (Rank #35), McGill University (Rank #42), University of Alberta (Rank #94).
The top of the global ranking of 100 universities is dominated by US institutions. Globally, the University of Oxford retains first place in the rankings, with the University of Cambridge climbing two places to the second place, overtaking California Institute of Technology and Stanford University, both joint third.
Massachusetts Institute of Technology (MIT), Harvard, Princeton, Imperial College London and University of Chicago complete the global top ten.
==> Five Canadian Business Schools In Global Top 100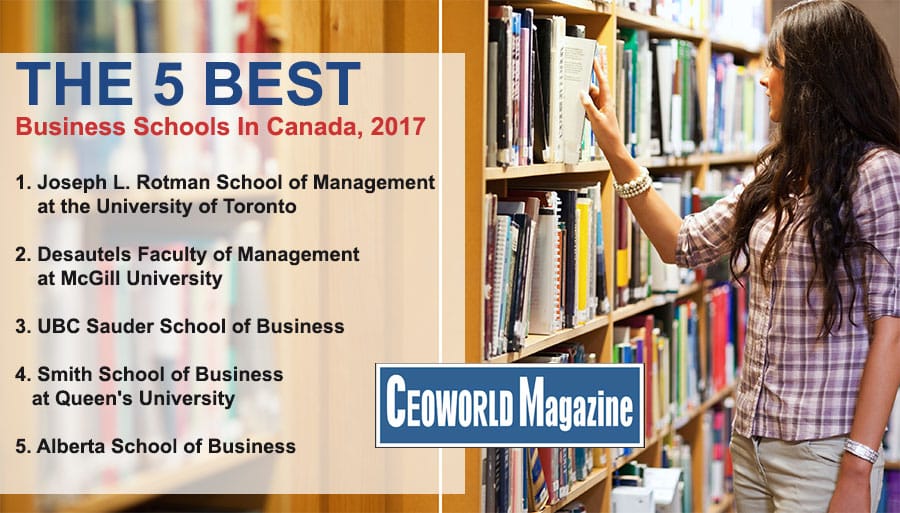 Dr. Amarendra Bhushan Dhiraj is the CEO and editorial director at CEOWORLD magazine, the leading global business magazine written strictly for CEOs, CFOs, top managers, company directors, investors, senior executives, business leaders, high net worth individuals, and the most globally powerful men and women.
Latest posts by Dr. Amarendra Bhushan Dhiraj
Leave a Reply