The Strategy of Executing Strategy!
Why is it that only around 13 percent of strategic initiatives have found a way from the boardroom to workplace [1], and most CEOs view the whole process moving at a snail pace? Needless to say, strategy execution needs a robust strategic planning. It is disheartening to see that even the remarkable strategic plans fail to meet execution? Who is to be blamed; Strategy or its Execution?
The Daunting Question
In a world full of organizations operating across borders with diverse products; segmented customer groups with varied adoption levels, it is imperative to bridge the gap between Strategic Thinking and Strategic Execution. The intimidating question is: How often companies create effective strategy for executing their strategy? What mechanisms can be deployed to convert their strategic plans into measurable performance metrics?
Is Balanced Scorecard a Panacea to Fix the 'Fail to Plan' Syndrome?
Increasingly, organizations have started adopting Balanced Scorecard (BSC) framework for an integrated strategy management system. The proponents of this approach- Robert Kaplan and David Norton [2] have examined the performance of an organization from strategic perspectives such as financial analysis, customer analysis, internal analysis and, learning and growth (Exhibit 1).
Financial Analysis:
Balanced Scorecard provide measures such as operating income, sales growth and return on investment. It also cover metrics to gauge performance in areas such as customer satisfaction and product innovation.
Customer Analysis:
This fragment of the Balanced Scorecard typically looks at Customer Satisfaction and Customer Retention. The metrics are developed through customer surveys, administered by external research agencies. Balanced Scorecard approach establishes the connexion between promising financial performance with the satisfied customer base of an organization.
Internal Analysis:
It looks at how business processes are linked to strategic goals. Setting strategic goals is as much about motivation and inspiration as it is about economics. In their book 'Built to Last: successful habits of visionary companies' [3], James Collins and Jerry Porras describe how "highly visionary companies often use bold missions as a particularly powerful mechanism to stimulate progress." They introduced the term "BHAG" (Big, Hairy, and Audacious Goals) as a framework to describe such a vision, to be complemented with the subsidiary goals (the drivers) to able to meet the audacious goal. A strategy describes how the organization will achieve that outcome.
Learning and Growth Analysis:
It can help you assess employee satisfaction and retention, as well as information system performance. For example, a business which deployed intranet collaboration technology, provided employees a platform to discuss issues from social to business. Employees were encouraged to join the platform which had private group functionality. Within this platform, the company launched a collaboration space for members of the extended strategy execution team. This helped to overcome the strategic alignment roadblocks, and the organization was able to use information and relationships gathered through the social channel across the value chain.
In essence, the Balanced Scorecard brings together the disparate elements and operational metrics of a company. This helps the strategic heads in comprehending if the improvement in one success metric has been achieved at the expense of another.
A Hypothetical Case Study of Successful Strategy Execution
Disruptors is a new entrant in a fiercely competitive automated industrial equipment manufacturing industry in MachineLand [4]. Joy, CEO, Disruptors is aware that in B2B businesses, the market players often perceive themselves as price takers and develop inhibitions to fight out their battles on negotiation tables [5], which is detrimental for organizations in the long run. Joy realized that engineering excellence, manufacturing efficiency and quality were the givens in the industry. The product needed to exceed the basic industry technology requirement. There felt a need for offering a differential product proposition to face the price war situation in the industry.
Joy developed a strategic plan to disrupt the price sensitive industry by incorporating service orientation in the systems as a differentiator to enhance the customer perceived value of the product offering. There was an established need to build micro-foundations to meet the requirement for a value-based, service-oriented mode of operating systems. Disruptors built robust competitive intelligence systems and combined the information generated to the rigorous customer-focused research so as to create a value-based offering. The organization created service-focused processes and decision metrics and analyzed its synergies with the product-focused decision metrics to explore hybrid offerings (product-service mix) that could be leveraged for increasing the profitability for the organization.
Joy established close tied B2B partnerships with ten local dealers to provide a holistic solution to the customers, which included distribution of the product offering and providing product support services to the customers. This was followed by arduous training sessions of the local dealers to enable them to market the offering based on Value. The organization made efforts to fabricate the service oriented culture and value-creation mindset across the hierarchical levels of the organization. The dealers soon became proxies for customers and helped the organization in gathering customer insights. They were seen providing advice on the selection and application of the product to the customer. Subsequently, the organization made dealers a part of their critical business systems from the stage of product design to delivery. Later on, modular product designing and manufacturing; economical and convenient repair systems; and fastest and comprehensive parts-delivery system were incorporated in the product design process. The improvisations helped in increasing the uptime and better equipment utilization for customers. As a result, the customer perceived value for the product line offered by the organization amplified and the organization attained profitable performance metrics.
"Building a visionary company requires one percent vision and 99 percent alignment." — Jim Collins and Jerry Porras, Built to Last
Exhibit 1: Balanced Scorecard Framework by Robert Kaplan and David Norton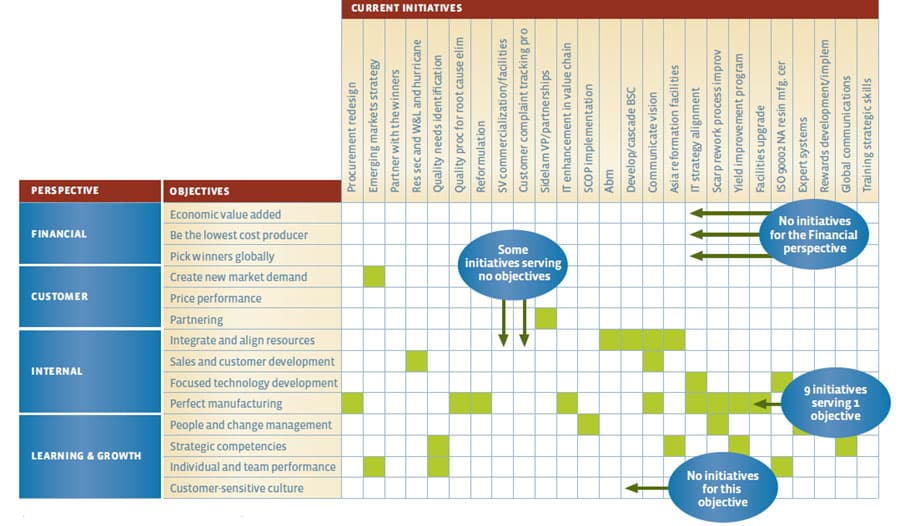 Image source: Robert S. Kaplan and David P. Norton. 'The Execution Premium: Linking Strategy to Operations for Competitive Advantage'. (2008).
---
Written by:
Dr Jyoti Kainth, Assistant Professor, Institute of Management Technology Ghaziabad, India.
Sonali Chowdhury, Media Professional.
References:
1. Prosser, D. (2015). Thirteeners: Why Only 13 Percent of Companies Successfully Execute Their Strategy and How Yours Can be One of 2 Them. Austin: Greenleaf Book Group Press.
2 Kaplan, R.S., & Norton, D.P. (2008). The Execution Premium: Linking Strategy to Operations for Competitive Advantage. Massachusetts: Harvard Business Press.
3 Collins, J. C., & Porras, J. I. (1997). Built to last: Successful habits of visionary companies. New York: HarperBusiness.
4 A hypothetical economy.
5 Kainth, J., & Mathur, A. (2017, July 25). Strategic Pricing for Deeper and Enduring Gains.
Have you read?
---
Add CEOWORLD magazine to your Google News feed.
---
Follow CEOWORLD magazine headlines on:
Google News
,
LinkedIn
,
Twitter
, and
Facebook
.
---
Thank you for supporting our journalism. Subscribe here.
---
For media queries, please contact:
info@ceoworld.biz
---