CRON Systems: Leveraging Technology to Save Lives
India shares a border length of 15,106 KMs with its neighbours and a coastline of 7516 KMs[1]. Thoroughly manning the Indian borders is a herculean task and thus the use of technology to monitor and detect intrusion is inevitable. Adding to the complexity are the hostile conditions prevalent in the Indian sub-continent.
An Established Need 
'Indian Defence' has emerged as one of the high investment seeking sectors. India stands as the fifth largest defence spender in the world, at USD $55.9 billion (2016). This is accompanied by the projection of enhanced spending on defence year on year. Given this scenario, unlike other economies which have large defence industries to support their domestic needs, Indian requirements are primarily met by Government players and imports (nearly 50% of the requirement). With defence imports amounting to USD $5.5 Billion worth of military hardware, India has emerged as the largest arms importer in the globe. India contributes nearly 15% of such imports internationally (see Exhibit 1). Massive portion of India's national budget is spent on procuring defence equipment [2].This establishes the need for self-reliance in order to endure the soaring needs of Indian defence sector for both strategic and economic reasons.
Exhibit 1: India as the largest Importer of Weapons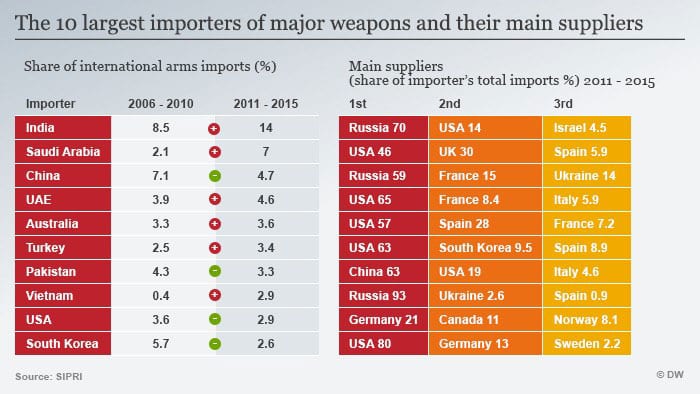 Source: Stockholm International Peace Research Institute (SIPRI)
Conceptualization of CRON Systems 
Pondering over this thought of his motherland importing millions of metal border fencings from Russia, Tushar Chhabra started deliberating on the question as to "Why does India not manufacture the border surveillance equipment indigenously?[3] For Tushar, who is an engineer having a work experience in the air drone industry with an additional exposure of working with a technology giant like Google, this question was quite relevant. India is a country which produces one of the largest number of technical graduates in the world but still has been struggling to become a hub for product manufacturing.[4] This is where the dream to venture into the USD $ 50 billion Indian Defence and Internet of "Security" Things (IoST) space was born.
The dream was also embraced with the thought that putting human life on the line for socio- political disagreements was an archaic practice. Warfare as per the prevalent standards, is primarily undertaken by humans with auxiliary support of machines. This puts precious human life on the razor's edge during times of conflict. A lot of institutions, across the globe have tried to assign the human life with a monetary value for remedial purposes. Although it is true that life is a combination of all tangible and intangible virtues, the value of an adult life has been ascertained somewhere between USD $ 7- $ 9 million [5]. When societies evolve, the life of a human being gains way more value and hence the rules of warfare need to be amended. Need for machine based surveillance and quick response seemed to be the need of the hour.
This dream gave birth to CRON Systems which eventually met reality when a blend of unique experiences and expertise emerged with Tushar Chhabra, CEO (from Google), Saurav Agarwala, CTO (from Qualcomm) and Tommy Katzenellenbogen, Chief Strategy Officer (from the Israeli Defence Force) coming together. The team spent long days at the India Pakistan border interacting with the BSF (Border Security Force) personnel, and came up with the idea of an infrared border fence.
The Product Line
Currently the Kavach [6] (K series) laser wall built by CRON Systems is being tested by the BSF in the Samba sector of Jammu & Kashmir. The product works on an invisible infra-red technology which makes it very difficult for intruders to detect its presence. Mr Rakesh Sharma, former Inspector General for BSF in J&K speculated that Kavach, which is equally effective in water as well, may have great practical use along the Indo – Pak border in Jammu which includes multiple rivers and marshy areas [7]. In addition to detection of intrusion, CRON Systems is planning to design a mechanism to initiate swift response to any breach of perimeter through "actionable intelligence". The conceptualized product line which is under R&D includes Autonomous Surveillance Vehicles (Spartans) and Drone Denial Systems (Skywatch). The backbone of the system which is controlled through MiCRON (a command and control interface) will be over an encrypted network named CRONet [8].
Besides catering to the military segment, the company is also exploring the civilian uses of its technology. Along with Automotive Robotic Industry Ltd (ARI); an Israel based company, CRON is working to build a "Completely Automated Laser Wall" at the Munich airport in Germany [9]. In the pursuit to expand operation, CRON has also secured a pre-series 'A' funding from YourNest [10].
The Inherent Challenge  
However, like most of the Artificial Intelligence (AI) and Internet of Things (IOT) start-ups in India, CRON Systems too is facing multi-dimensional challenges including the gruelling task of finding trained engineers in the innovation and research fields, the dearth of which can be a deterrent to growth [11].
In order to tap relevant talent in the Artificial Intelligence and Internet of Things space, CRON has decided to base their R&D operations in California, USA for the time being.
21st century warfare seems to be evolving with a great emphasis on intelligent technologies, in contrast to raw power. This may give birth to a plethora of initiatives like CRON and the rules of modern warfare may significantly be altered.
---
Written by:
Dr Jyoti Kainth, Assistant Professor, Institute of Management Technology Ghaziabad, India.
Kushal Dev Kashyap, Marketing and Sales Closing Manager, HCL Technologies.
Have you read?
References:
---
[1] Border Management, Chapter 3, accessed on 5th June 2017.
[2] Dawn.com | Reuters, India's defense budget hiked 10pc to INR 2.74 trillion, accessed on 4th June 2017.
[3] Sindhu Kashyap, An Israeli Air force pilot and engineer join hands to start an IoT startup for the armed forces, accessed on 4th June 2017.
[4] Kounteya Sinha, Times News Network, India set to produce world's largest number of engineers, accessed on 4th June 2017.
[5] Frank Partnoy, The Globalist, The Cost of a Human Life, Statistically Speaking, accessed on 6th June 2017
[6] Kavach is a Hindi word and it means a guard or an armour for protection
[7] Invisible' laser walls to bolster security along border with Pakistan in J-K, Ravi Krishnan Kjahuria, Hindustan Times, Jammu, accessed on accessed on 3rd August 2017
[8] How it works, Cron Systems, accessed on 5th June, 2017
[9] Automated border patrolling: A CRON dream that's about 5 years away, Jessu John, The Hindu Business Line, 26th June 2017, accessed on 3rd August 2017
[10] YourNest Capital Advisors Pvt Ltd is an early stage venture capital fund that invests in the new connected economy represented by the Internet of Things, Electronic System Design, Artificial Intelligence, Advanced Robotics, Enterprise Software and the Mobile Internet.
[11] Indian engineers need to stop being so afraid of the term "artificial intelligence", Itika Sharma Punit, Quartz India, 16th February 2017, accessed on 3rd August 2017.