IT Industry Beyond Inflexion Point
The vision of transitioning into a technology-driven-economy propelled by the soaring customer aspirations has intensified the ever-evolving information technology landscape. The growing pains are being felt by one and all and are quite unsettling for companies (big and small). Organizational structures and human adaptability (Exhibit 1) are failing to keep pace with the inevitable change.
Exhibit 1: Effect of Rate of Change on Human Adaptability and Organizational Structures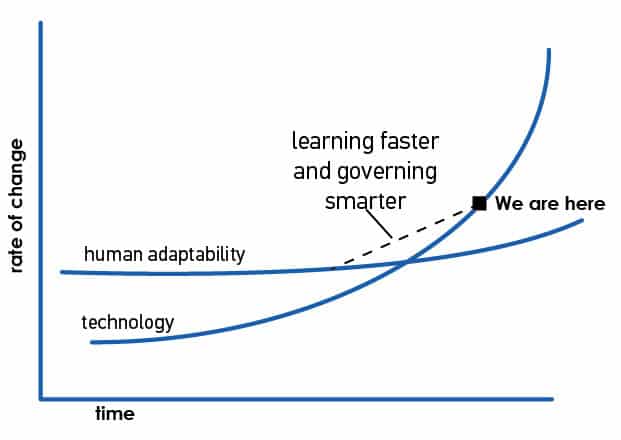 Source: From the book titled "Thank you for being late: An optimist's guide to thriving in the age of accelerations," by Thomas L. Friedman.
The Indomitable Challenge
Organizations and people almost always seems to be in a catch-up mode with a zeal to imbibe the speed and scope at which data could be digitized, stored, analysed, can be transformed into knowledge (enabled by advances in hardware and software) and can be readily shared with anyone anywhere through their electronic devices. The millennial juggle around devices and expect standardization of experience across different IT platforms. This is becoming an incredibly difficult task for organizations to manage as they too have to juggle with multi-dimensional issues pertaining to absorption of new technologies; growing employee training needs to inculcate the required skillsets and continuous navigation of the transition and flux, before they can expect measurable returns on productivity. 
The Daunting Question: How to deal with it?  
Should the organizations slow down the technological progress or increase the ability to adapt to the dynamism embedded in the mammoth task? In current scenario, it is inevitable to catch up with the dynamism and enhance the organizational and human adaptability to cater to the transition. Enhancing human adaptability implies "optimizing for learning" i.e. applying features that drive technological innovation to our culture and social structures. Organizations too should be willing to embrace the change by progressing from a one point solution to a more holistic approach enabled by exploring the synergies between man and machine. The key to the transformation lies in dissolving the silos and implanting the right MINDSET in organizations. This transformation requires a paradigm shift in the way the relation between strategy and technology is perceived. They should be so intertwined that insurance companies should be motivated to redefine themselves as software companies that enable people to manage risks; banks as software companies that enable movement of money, and telecom companies as software providers/enablers to connect people.
Need for Realignment  
In order to leverage the relation between strategy and technology, the organizations need to comprehend the customer aspirations and aspire to map them with their business goals, retention goals and net promoter goals across functional domains. This can be achieved by incorporating robust Artificial Intelligence (AI) systems centrally to align the organizations' goals with the customers' preferences across all channels so as to deliver a personalized value enriched experience to the customers.
The Implementation 
The buzzword is the automation of processes and process reengineering towards creating a seamless customer experience and delivering the same effectively at a profit. This raises dilemma as to what kind of roles will be available to humans in case we are automating processes and workflows. Would they be deployed to do tasks that require judgement and emotional engagement to enhance the customer experience?
The key lies in situation analysis rather than standardization. Some of the tactics that can be employed by organisations can be:
Motivate and empower the workforce to use technology to increase their efficiency and effectiveness. This may involve revisiting and restructuring some of the existing processes in organizations. There is a dire need for cross-pollination of ideas between Business/Strategy heads and Technology leaders for exploring the synergies that can be employed to enhance the customer service experience and profitability in organizations.
Leveraging AI technology to enhance customer engagement and to achieve agility in processes.
Employ iterative funding to CUT through the budgeting cycle to initiate the fail-fast system in organizations. Start THINKING about one Customer interaction you could improve; one outcome you could get faster with automation and one dial you could have in your business to make it more agile.
Eliminate the need for massive inspection by incorporating a Total Quality Management (TQM) orientation at the earliest and by instituting a vigorous program around self-improvement.
Institute leadership in the organization to manage the change effectively and to remove the barriers that rob people of their right to pride of workmanship.
Eliminate exhortations and targets for the work force as these only contribute towards further deepening the adversarial relationships. Organizations should strive to instil a culture of zero defects with focus on removing wastages and inconsistencies, which would contribute towards enhancing the productivity levels and profitability.
As we stand at a critical juncture in the journey of revolution initiated by Information technology, the companies which do not adapt fast will find the going very tough.
Change will not come if we wait for some other person or some other time. We are the ones we've been waiting for. We are the change that we seek – Barack Obama
---
Written By:
Sanjay Magoo, Head of Delivery, RBS Business Services Pvt Ltd.
Dr Jyoti Kainth, Assistant Professor, Institute of Management Technology, Ghaziabad, India
Have you read?
Strategic Pricing for Deeper and Enduring Gains.
References:
Friedman, T. L. (2016). Thank you for being late: An optimist's guide to thriving in the age of accelerations (First edition.). New York: Farrar, Straus and Giroux.
---
Add CEOWORLD magazine to your Google News feed.
---
Follow CEOWORLD magazine headlines on:
Google News
,
LinkedIn
,
Twitter
, and
Facebook
.
---
Thank you for supporting our journalism. Subscribe here.
---
For media queries, please contact:
info@ceoworld.biz
---