5 Entrepreneurial Lessons To Learn From The Game Of Thrones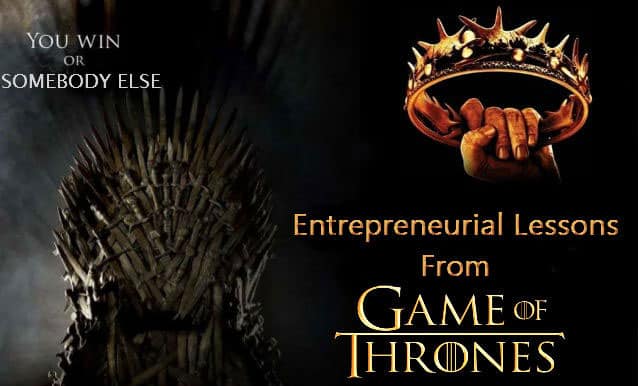 Clearly, most of the people (including me) have been looking forward to the new season of Game of Thrones. With growing international fan base, the record-breaker HBO show, Game of Thrones Season 6 averaged a gross audience of 25.7 million viewers per episode, making it one of the network's most popular show ever.
Each season of the show costs about $50-60 million and is aired in 75 countries and counting. Besides, there is so much to love about Game of Thrones, from characters to the indelible plot to dragons, political power plays, nudity, glory deaths which, when combined makes it the most trending TV series of all time. Moreover, each and every aspect of the show has set a new benchmark in the history of American television. Now putting all these entertaining things aside for a moment and let's focus on some deep aspects offered by the show. If we look closely enough, Game of Thrones offers some nuggets of wisdom or entrepreneurial lessons worth considering.
Here are a few of them:
Never underestimate your impact        
Tyrion Lannister, the cynical outcast of a dwarf with a penchant for alcohol, has always been underestimated because of his size. Moreover, he is someone who is visibly loathed by his own family. No matter how the situation gets, he always tends to remain canny, incredibly brilliant and extremely resourceful. Tyrion absolutely knows how to use his intelligence, wit, and ability to communicate eloquently and get through the tight spots. Even with a variety of odds stacked against him, he tends to remain still very much alive and is eventually honored as the Hand of the Queen to Daenerys.
Similarly, being an entrepreneur has many twists and turns associated. In fact, the journey many times take you down a path that you didn't anticipate before. During such crucial times never underestimate the impact that you have. Always remember, one does not need to be large in size to reshape the industry.
"A very small man can cast a very large shadow."- Truly said by Varys
Never let down your guard
Don't go the way of Oberyn Martell, you never really win anything even if it seems like. A lapse of concentration or judgment can cause you to lose the fight in the same way Oberyn did. Fuelled by anger and arrogance, he believed his opponent to be already be defeated. In actual, he wasn't and as a result, Oberyn ended up with his skull crushed.
Innovation is the most amazing thing in the world. However, being careless can even result in your downfall. Henceforth, always be on your guard for new technologies and always keep an eye out for opportunities offered by the ever-changing business landscape. Remember, customer needs change and if you sit ideally and think that you have already won your market. Get a Life! You will most certainly lose. After all, you aren't the one who is innovating.
Empower your team
Let's Daenerys' example on this one. Whether it's Astapoor or Yunkai or Mereen, she has made a career out of freeing slaves.  Though the easiest way would be to take over the masters (after she has killed them) but she decided to freed them and asked them to join her after killing their masters. She was pretty clear that there will be no consequences for leaving. And the result: She built a massive loyal army who believed in her and who would fight her battle.
One can never be a successful entrepreneur on their own. You need a team of great players, the empowered ones. We hire people for mainly two reasons skill and attitude; trust them and make effective use by making decisions that would help your company achieve its goals.
Have patience but don't let opportunities pass
Do you remember the eldest Stark girl Sansa? She has seen some of the most horrific things in her young life and it doesn't help that she is alone surrounded by people she doesn't trust anymore, with no way to get out. But she didn't get disheartened. In fact, what she did was that she bided her time, made the most of the situations she found herself in, and took opportunities that presented her with a chance of escape. Of course, they didn't work out well but with the time passing by she did become wiser, more strategic even, and most important of all where anyone could get killed, she is still alive.
Similarly, there will be times when you won't be able to catch a break as you are the slave of your own schedule. Times when someone in your team unexpectedly quits or your competitor starts doing much better than you- which is quite normal. In most of the scenarios, the success of your business hinges on the ability to patiently wait for opportunities but being patient and being idle is not the same. It means you are preparing yourself and you have the ability to grab each and every opportunity presented. On and all, you are wise and informed enough to choose the ones with the most impact.
Work to build a positive reputation
Again if Tyrion Lannister had built a positive brand image before he landed on trial for poisoning King Joffrey then may be the public opinion would have saved him from trial by combat. Unfortunately, he never attempted to cultivate a positive image of himself and therefore, poorly killed in King's Landing. Which means the wine-loving dwarf faced death as punishment for a crime he didn't commit.
Every entrepreneur builds a company to have a trusted reputation. Offer a quality product, treat your customers right, hire the right professionals, and you will gradually build a positive brand image. So even during the crisis, your company can handle and still maintain its credibility.
Final Verdict
Game of Thrones not only teaches us great lessons but it even gives great examples of what can happen when these lessons are learned or worse ignored.
Track Latest News Live on CEOWORLD magazine and get news updates from the United States and around the world. The views expressed are those of the author and are not necessarily those of the CEOWORLD magazine.
Follow CEOWORLD magazine headlines on:
Google News
,
LinkedIn
,
Twitter
, and
Facebook
.
Thank you for supporting our journalism. Subscribe here.
For media queries, please contact:
info@ceoworld.biz