Who Are The 50 Most Influential Chief Marketing Officers (CMOs) In The World For 2017?
Unsurprisingly, Keith Weed, chief marketing and communications officer for Unilever is No. 1 in this year's ranking of the world's most influential Chief Marketing Officers (CMOs), from Forbes in partnership with LinkedIn and Sprinklr. Antonio Lucio, CMO of HP took the 2nd spot, and third spot went to Apple SVP of Worldwide Marketing Phil Schiller.
Linda Boff, Chief Marketing Officer of General Electric, ranked as the fourth most influential head marketer, followed by Leslie Berland of Twitter, Marc Mathieu of Samsung Electronics America, and Ford's Musa Tariq.
A third of the Chief Marketing Officers (CMOs) are women, including 3 out of the top 10 spots — 45 out of 50 Chief Marketing Officers (CMOs) were active on Twitter —- 49 out of 50 Chief Marketing Officers (CMOs) were on LinkedIn.
The era of the CMO has arrived.
The Top 50 Most Influential Chief Marketing Officers (CMOs) In The World For 2017
Keith Weed, Unilever
Antonio Lucio, HP Inc.
Phil Schiller, Apple
Linda Boff, GE
Leslie Berland, Twitter
Marc Mathieu, Samsung Electronics America
Musa Tariq, Ford Motor Company
Jonathan Mildenhall, Airbnb
Raja Rajamannar, Mastercard
Karen Walker, Cisco
Chris Capossela, Microsoft
David Edelman, Aetna
Jeremy Burton, Dell EMC
Ann Lewnes, Adobe
Maggie Chan Jones, SAP
Julie Woods-Moss, Tata Communications
Magali Noé, CNP Assurances
Seth Farbman, Spotify
Kristin Lemkau, JPMorgan Chase
Matt Preschern, HCL Technologies
Gary Briggs, Facebook
David Roman, Lenovo
Marisa Thalberg, Taco Bell
Diana O'Brien, Deloitte
Kelly Bennett, Netflix
Monika Schulze, Zurich Insurance Group
Keith Moor, Santander UK
Shannon Stubo, LinkedIn
Dean Evans, Hyundai Motor America
Andrew Sherrard, T-Mobile USA
Patrick Adams, PayPal
Maryam Banikarim, Hyatt Hotels Corporation
Terrance Williams, Nationwide
Amélie Oudéa-Castera, AXA
Mark Crumpacker, Chipotle Mexican Grill
Michelle Peluso, IBM
Roxanne Taylor, Accenture
Steven Fund, Intel Corporation
Dawn Hudson, NFL
Alex Asnovich, Hikvision USA
Diego Scotti, Verizon
Chris Bruzzo, Electronic Arts
John Miller, NBC Olympics
Rick Gomez, Target
Alan Gershenhorn, UPS
Chris Leong, Schneider Electric
Tony Rogers, Walmart US
Nuno Teles, Heineken USA
Tim Mapes, Delta Air Lines
Jack Hollis, Toyota Motor North America
The 50 Most Influential CMOs In The World 2017 Infographic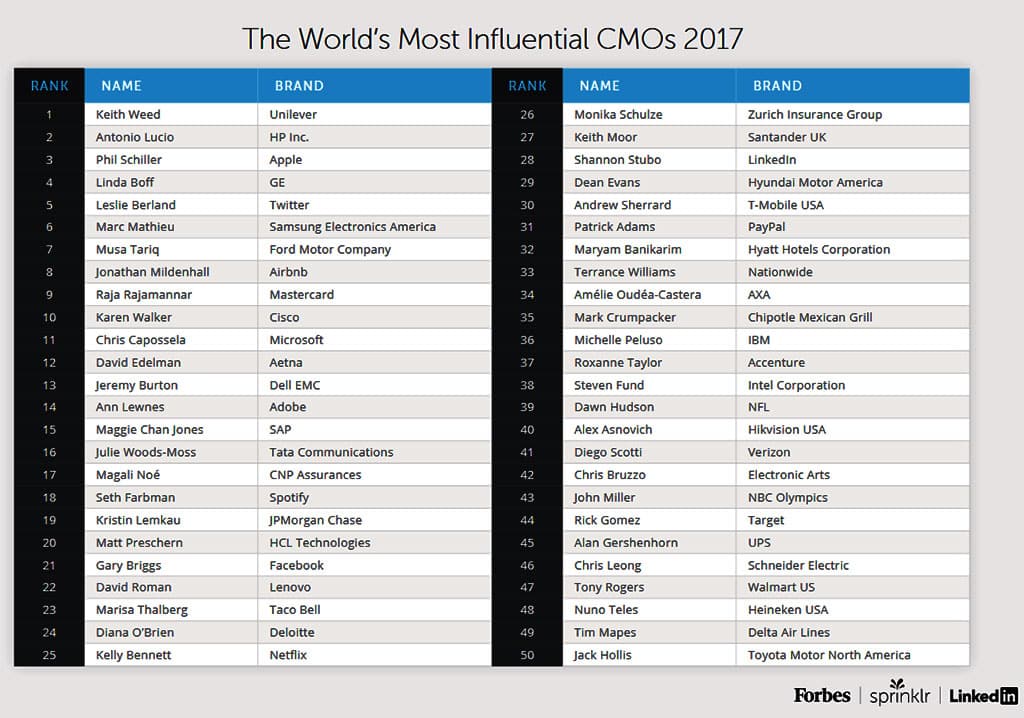 Dr. Amarendra Bhushan Dhiraj is the CEO and editorial director at CEOWORLD magazine, the leading global business magazine written strictly for CEOs, CFOs, top managers, company directors, investors, senior executives, business leaders, high net worth individuals, and the most globally powerful men and women.
Latest posts by Dr. Amarendra Bhushan Dhiraj
Leave a Reply