World's Top 20 Highest Quality And Most Punctual Airlines, 2017, Singapore, Etihad, And Qatar Tops
Singapore Airlines has been ranked as the best and most punctual airline in the world for 2017, according to a list compiled by AirHelp, a company which helps customers resolve flight delay compensation claims.
Singapore's flag carrier overtook Qatar Airways at the top of the list, with Qatar Airways dropping to 3rd and Etihad Airways, the national airline of the United Arab Emirates, filling the gap in 2nd place.
Austrian Airlines came 4th out of 87 airlines in the study, followd by Canada's Air Transat, Air Dolomiti (Italy), and British Airways (United Kingdom).
Other airlines that round out the top 10 include Virgin Atlantic Airways (UK), Aer Lingus (Ireland), and TUI fly Netherlands.
A total of 87 largest airlines were evaluated and ranked, based on 3 criteria: customer service efficiency, on-time performance, and quality of service. US carriers also fared poorly. United Airlines ranked as number 29, followed by American Airlines at 33 and Delta at 45.
Bulgaria Air was ranked as the worst airline.
Bulgaria Air was ranked last on the list, followed by SmartWings (Czech Republic), Tunisair, Monarch Airlines (United Kingdom), and Irish low-cost carrier RyanAir, respectively.
Here are the top 20 highest quality and most punctual airlines in the world for 2017:
Singapore Airlines, Singapore
Etihad Airways, United Arab Emirates
Qatar Airways, Qatar
Austrian Airlines AG dba Austrian, Austria
Air Transat A.T.Inc., Canada
Air Dolomiti, Italy
British Airways, United Kingdom
Virgin Atlantic Airways, United Kingdom
Aer Lingus, Ireland
TUI fly Netherlands, Netherlands
KLM-Royal Dutch Airlines, Netherlands
Air France, France
Wideroe's Flyveselskap, Norway
Air Malta, Malta
Emirates, United Arab Emirates
Air Canada, Canada
Eurowings, Germany
Aeroflot Russian Airlines, Russia
Air Baltic Corporation, Latvia
Transavia.com, France
Infographic: Top 20 highest quality and most punctual airlines in the world for 2017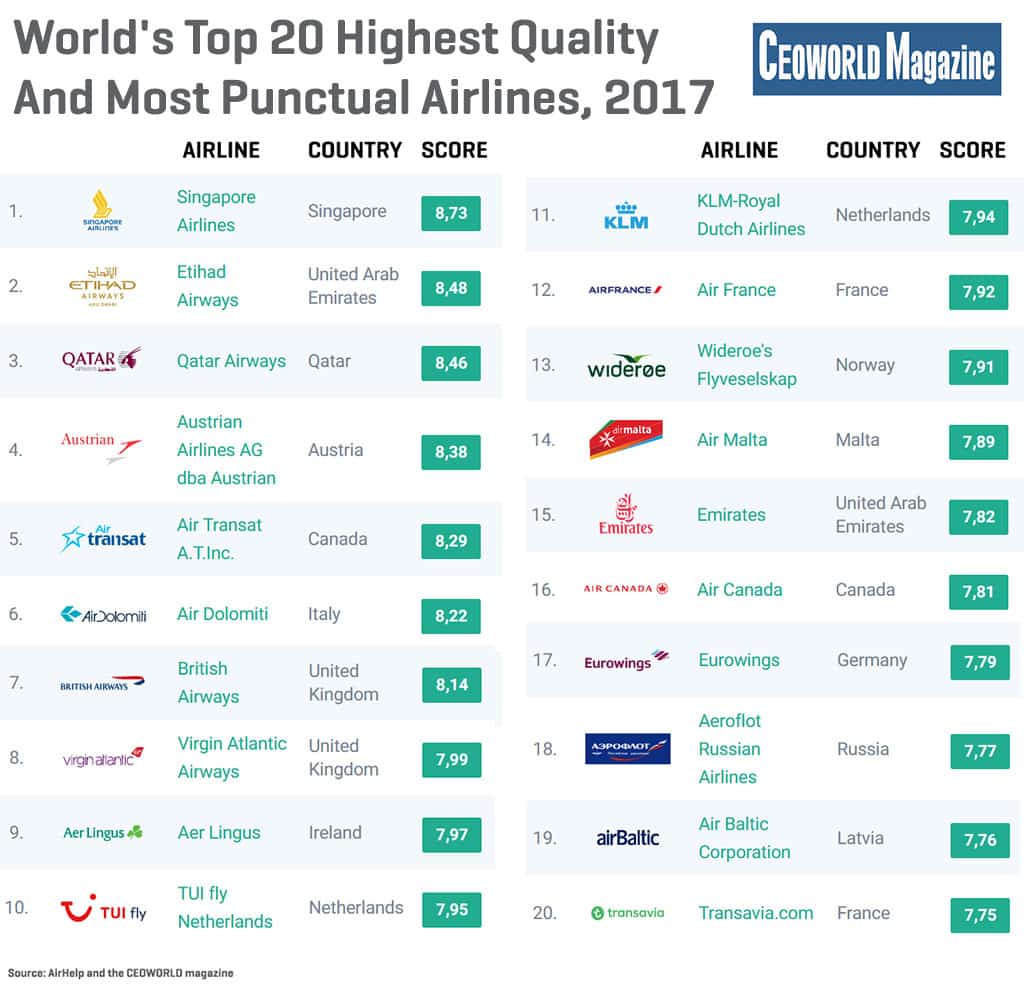 Dr. Amarendra Bhushan Dhiraj is the CEO and editorial director at CEOWORLD magazine, the leading global business magazine written strictly for CEOs, CFOs, top managers, company directors, investors, senior executives, business leaders, high net worth individuals, and the most globally powerful men and women.
Latest posts by Dr. Amarendra Bhushan Dhiraj
Leave a Reply