Mobile Apps For Business Leader: Why It Is Becoming Mainstream Business?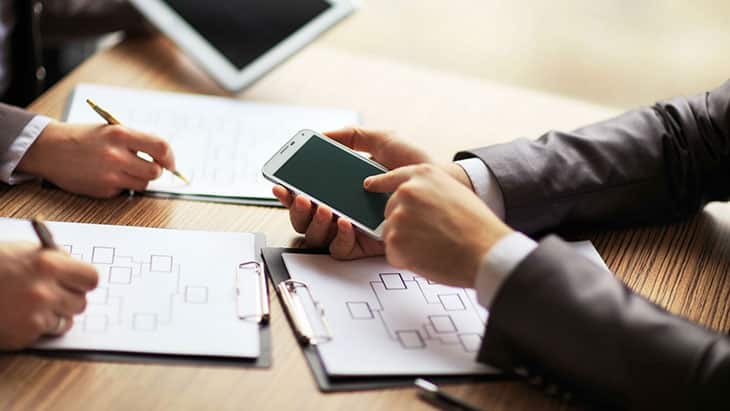 When you are a business leader in the 21st century, getting things done is not commensurate, getting things done ahead of time and better than competitors is something that keeps the business surviving.
In the current era, leaders literally have to marry their business and devote their day and night to keep it lucid and lucrative.
A business leader should always be charged with energy as a leader disgraced of energy is no leader. Well, with a boom in the digital world and mobile apps taking over the market, business leaders have diverged their ways in that direction, enabling them ease and comfort in managing their routine transactions.
There's an app for everything that you name. What makes you look happy-Facebook, what makes you look beautiful-Instagram, what makes you look wittier- Twitter.
This is not mere Muggles, let's connect you with some statistical data to make you believe the same. A number of existing apps in Google play store amount to 2.6 million, whereas the Apple store amounts to 2.2 million. The revenue generated by the mobile application development sector is $77 billion, which is likely to reach $3.75 trillion by 2020 as per the predictive analytics. There was a survey conducted as to how many businesses integrates internal mobile apps for logistics, purchase, chain management, sales support, services, meeting planning and such other things.
The answer was 40%. On a contrary answer was 100% when a survey was conducted as to whether half of the business (small or big) would have their own mobile app. The statistical data prove that mobile app becoming the mainstream for the business leader's is no porkies.
The backlog of work is always a pain in the head for business leaders and the working pattern of people is done more with less, probably defining the term convenience. Let's dive in to check out why is the mobile app becoming a mainstream part of the business. 
1) Don't wait just innovate
The pressure of innovation has been always high on any business. It is very rightly said that on one side, its innovation and on the other one its death. Integration of mobile apps in the work space depicts the company as a tech savvy one. Customers tend to fall for companies that portray modern touch in their work and is on the avant-garde of tech. 
2) Office culture vanishing
Business is no more stubborn and sticks to the time limits, they have adapted the flexibility and remote working options. It's just a few years back when for any meeting or discussions, employees had to travel all the way to the headquarters which is no more visible now. According to one of the reports, it is stated that almost 37% of the US employees just telecommute to the work. 60% of the employees are comfortable leaving their current jobs to work from a remote position full time for the similar payment scale. Having a mobile app for the internal work of the business enables the employees to manage their work and managers to manage their employees. Apps like Dropbox and Google Drive entails access to documents which is conjointly needed by both employees and managers to work. 
3) Convenience is the biggest trump card
Cell phones and mobile apps have all together made accomplishing the prosaic task quite simplified. Placing orders, managing sales, coordinating client list and such other tasks of business are much more convenient with a mobile app. Our routine and non-professional life is built with the things done at a tap and we expect the same in the professional life too. 
4) Stay connected
No business can run without communication and in the digital era communication is not the physical one, it's the digital one. We always hear from people, we can't stay without our cell phones no matter what. It's not the social media alone that keeps them so much engaged, communicating with the subordinates, delegating orders to the workers and discussing with the superiors, not just with the office ones, but with the ones that are in remote locations is all that keep them so much engaged.
Well, now you know why being a business leader, you need an app right away for your business to promulgate. Mobile App development companies work their way ahead and have already dug their neon roots into business in a way that they are being used just like our routine vocabulary. Here's a list of mobile apps which are already a part of business leader's life and assisting the business incubators to put collaborative efforts and work as a team sport to take the business to new heights. 
1) Communication apps
Slack: Why use mail in every minute matter with all those detail filling time taking steps. Slack is similar to texting on steroids, very prompt and on the go. By using this app, you can save time and indulge it into something more creative and fruitful. You are also availed with the option to sync other apps with slack like Drive and Dropbox.
Mail chimp: It's an email marketing tool that assists you in making and managing mail list and also assists you in sending newsletters.
2) Finance apps 
PayPal: This payment platform allows you to link your credit card or debit card or your bank account with that of the PayPal account and allows your cashless payment for day to day business transactions.
Square: It's basically a small business app for the businesses that are on the run to make payments. This app can be linked with the phone for the rapid and convenient payment system.
3) Efficiency improvement apps
2Do: If you are striving hard to be productive and stay in tune with the commitments that you have done, then 2Do is something that every business owner should opt for. You are around so many things and have simultaneously, so many tasks going on, which can make things slip from the mind and incur the loss in business. Feed things right in your 2Do app and give a productive output to your business.
---
Add CEOWORLD magazine to your Google News feed.
---
Follow CEOWORLD magazine headlines on:
Google News
,
LinkedIn
,
Twitter
, and
Facebook
.
---
Thank you for supporting our journalism. Subscribe here.
---
For media queries, please contact:
info@ceoworld.biz
---