Top 20 Most Polluting Rivers In The World: China's Yangtze And India's Ganges Tops
Yangtze River in China has been found to be the most polluting river in the world, dumping some 333,000 tonnes of plastic each year into the East China Sea, according to researchers at the Ocean Cleanup Project.
It was found that the the Ganges River in India 'is the world's second-most polluting river', dumping 115,000 tonnes of plastic in Bay of Bengal.
The study states that every year, more than 8 million tons of plastic ends up in the ocean, costing at least $8 billion in damage to marine ecosystems — killing an estimated 1 million sea birds, 100,000 sea mammals, and untold numbers of fish.
Top 20 Most Polluting River In The World, 2017
Yangtze
Location: China
Ganges
Location: India and Bangladesh
Xi
Location: China
Huangpu
Location: China
Cross
Location: Nigeria and Cameroon
Brantas
Location: Indonesia
Amazon
Location: Brazil, Peru, Columbia, and Ecuador
Pasig
Location: Philippines
Irrawaddy
Location: Myanmar
Solo
Location: Indonesia
Mekong
Location: Thailand, Cambodia, Laos, China, Myanmar, and Vietnam
Imo
Location: Nigeria
Dong
Location: China
Serayu
Location: Indonesia
Magdalena
Location: Colombia
Tamsui
Location: Taiwan
Zhujiang
Location: China
Hanjiang
Location: China
Progo
Location: Indonesia
Kwa Ibo
Location: Nigeria
Infographic:- Top 20 Most Polluting Rivers In The World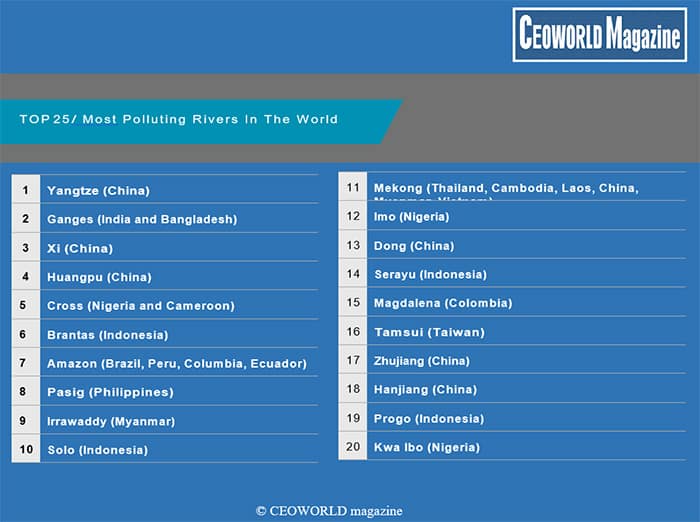 Dr. Amarendra Bhushan Dhiraj is the CEO and editorial director at CEOWORLD magazine, the leading global business magazine written strictly for CEOs, CFOs, top managers, company directors, investors, senior executives, business leaders, high net worth individuals, and the most globally powerful men and women.
Latest posts by Dr. Amarendra Bhushan Dhiraj
Leave a Reply