World's 25 Richest Athletes: Ronaldo, James, And Messi Tops 2017 List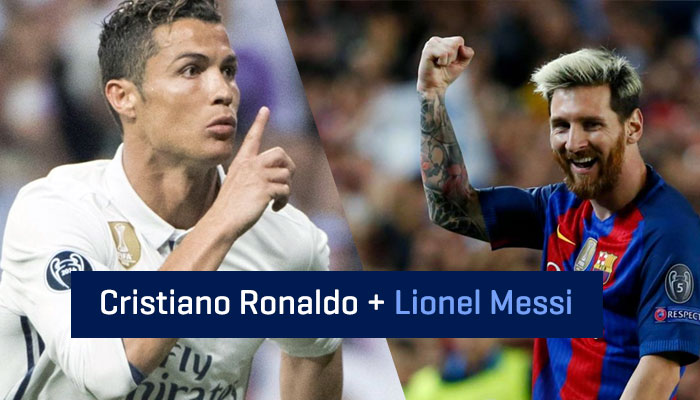 Cristiano Ronaldo and LeBron James lead the list of Forbes magazine's richest athletes in the world for 2017. There is a significant gap between the top three (Ronaldo, James, and Messi) and the rest of the list.
The Real Madrid star Ronaldo is estimated to have earned a total of $93 million, with Cleveland Cavaliers star LeBron James at $86.2 million and soccer player Lionel Messi at $80 million.
Roger Federer, who ranks No. 4 on the list, earns the overwhelming amount of his $64 million.
World number two tennis player Serena William in 51st with $27 million, is the only woman on the list. The influential business magazine's list of 100 richest athletes consists of players from 11 different sports.
Basketball dominates with a record 32 NBA players among the top 100, followed by major league baseball with 22, American football with 15 and football with 9.
The top 25 richest athletes in the world for 2017:
Cristiano Ronaldo – football ($93 million)
LeBron James – basketball ($86.2 million)
Lionel Messi – football ($80 million)
Roger Federer – tennis ($64 million)
Kevin Durant – basketball ($60.6 million)
Andrew Luck – American football ($50 million)
Rory McIlroy – golfer ($50 million)
Stephen Curry – basketball ($47.3 million)
James Harden – basketball ($46.6 million)
Lewis Hamilton – formula 1 ($46 million)
Drew Brees – Football – ($45.3 million)
Phil Mickelson – Golf – ($43.5 million)
Russell Westbrook – Basketball – ($38.6 million)
Sebastian Vettel – Auto Racing – ($38.5 million)
Damian Lillard – Basketball – ($38.4 million)
Novak Djokovic – Tennis ($37.6 million)
Tiger Woods – Golf ($37.1 million)
Neymar – Soccer ($37 million)
Dwyane Wade – Basketball ($36.2 million)
Fernando Alonso – Auto racing ($36 million)
Jordan Spieth – Golf ($34.5 million)
Derrick Rose – Basketball ($34.3 million)
Usain Bolt – Track ($34.2 million)
Gareth Bale – Soccer ($34 million)
Conor McGregor – Mixed Martial Arts ($34 million)
Dr. Amarendra Bhushan Dhiraj is the CEO and editorial director at CEOWORLD magazine, the leading global business magazine written strictly for CEOs, CFOs, top managers, company directors, investors, senior executives, business leaders, high net worth individuals, and the most globally powerful men and women.
Latest posts by Dr. Amarendra Bhushan Dhiraj
Leave a Reply