Big Bucks, But Number Is Still Small: America's 10 Highest Paid Women CEOs For 2016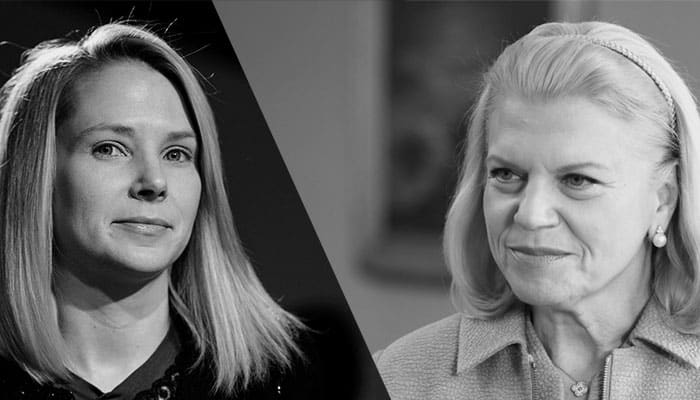 The median pay for a woman CEO was $13.1 million in 2016, up 9% from the year prior, according to analysis from executive data firm Equilar and the Associated Press. By comparison, male CEOs took home median compensation of $11.4 million, also up 9 percent.
No doubt, women CEOs making big bucks, but number is still small: Of the 346 CEOs included in the analysis, only 21 — or 6% — were women. A slight increase from about 5% in 2015 and 2014.
IBM's Virginia Rometty unseated Yahoo's Marissa Mayer as the highest-paid woman CEO in 2016.
Ms. Rometty earned $32.3 million last year, whereas Ms. Mayer, the 2nd-highest earning woman CEO, earned $27.4 million in 2016.
With $25.2 million in 2016, Indra Nooyi came in 3rd on the list, followed by GM's Mary Barra, who earned $22.4 million.
Here are the 10 highest-paid women CEOs in the U.S. for 2016
Virginia Rometty; IBM
$32.3 million
Change: Up 63%
Marissa Mayer; Yahoo Inc.
$27.4 million
Change: Down 24%
Indra Nooyi; Pepsico Inc.
$25.2 million
Change: Up 13%
Mary Barra; General Motors Co.
$22.4 million
Change: Down 22%
Phebe Novakovic; General Dynamics Corp.
$21.2 million
Change: Up 4%
Marillyn Hewson; Lockheed Martin Corp.
$19.4 million
Change: Down 4%
Irene Rosenfeld; Mondelez International Inc.
$15.8 million
Change: Down 13%
Lynn Good; Duke Energy Corp.
$13.5 million
Change: Up 26%
Heather Bresch; Mylan NV
$13.3 million
Change: Down 27%
Susan Cameron; Reynolds America Inc.
$13.1 million
Change: Down 3%
Dr. Amarendra Bhushan Dhiraj is the CEO and editorial director at CEOWORLD magazine, the leading global business magazine written strictly for CEOs, CFOs, top managers, company directors, investors, senior executives, business leaders, high net worth individuals, and the most globally powerful men and women.
Latest posts by Dr. Amarendra Bhushan Dhiraj
Leave a Reply