Big Bucks, But Number Is Still Small: America's 10 Highest Paid Women CEOs For 2016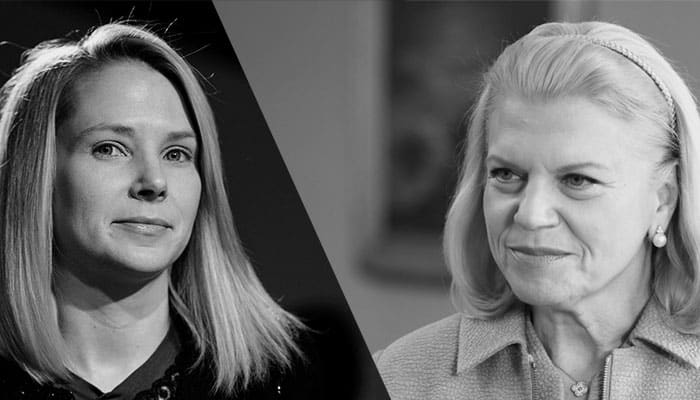 The median pay for a woman CEO was $13.1 million in 2016, up 9% from the year prior, according to analysis from executive data firm Equilar and the Associated Press. By comparison, male CEOs took home median compensation of $11.4 million, also up 9 percent.
No doubt, women CEOs making big bucks, but number is still small: Of the 346 CEOs included in the analysis, only 21 — or 6% — were women. A slight increase from about 5% in 2015 and 2014.
IBM's Virginia Rometty unseated Yahoo's Marissa Mayer as the highest-paid woman CEO in 2016.
Ms. Rometty earned $32.3 million last year, whereas Ms. Mayer, the 2nd-highest earning woman CEO, earned $27.4 million in 2016.
With $25.2 million in 2016, Indra Nooyi came in 3rd on the list, followed by GM's Mary Barra, who earned $22.4 million.
Here are the 10 highest-paid women CEOs in the U.S. for 2016
Virginia Rometty; IBM
$32.3 million
Change: Up 63%
Marissa Mayer; Yahoo Inc.
$27.4 million
Change: Down 24%
Indra Nooyi; Pepsico Inc.
$25.2 million
Change: Up 13%
Mary Barra; General Motors Co.
$22.4 million
Change: Down 22%
Phebe Novakovic; General Dynamics Corp.
$21.2 million
Change: Up 4%
Marillyn Hewson; Lockheed Martin Corp.
$19.4 million
Change: Down 4%
Irene Rosenfeld; Mondelez International Inc.
$15.8 million
Change: Down 13%
Lynn Good; Duke Energy Corp.
$13.5 million
Change: Up 26%
Heather Bresch; Mylan NV
$13.3 million
Change: Down 27%
Susan Cameron; Reynolds America Inc.
$13.1 million
Change: Down 3%