World's Best Landmarks For 2017 Revealed
Cambodia's famed Angkor Wat has been named as the best-rated landmark in the world for 2017, as determined by TripAdvisor, the world's most popular travel site. Coming in 2nd place worldwide is the Sheikh Zayed Grand Mosque in Abu Dhabi, followed by the more ancient Mezquita Cathedral de Cordoba in Spain.
The best-rated landmark in India is the Taj Mahal – ranked No. 5 worldwide – while San Francisco's Golden Gate Bridge came top of the pile in America, with a global ranking of 11th.
In at fourth place is St Peter's Basilica in Vatican City in Italy, followed by the Taj Mahal in India and the Church of the Savior on Blood in St Petersburg, Russia.
Rounding out the top 10 are Great Wall at Mutianyu, Machu Picchu, Plaza de Espana, and Duomo di Milano.
World's best landmarks for 2017 revealed
Angkor Wat, Siem Reap, Cambodia
Sheikh Zayed Grand Mosque Centre, Abu Dhabi, United Arab Emirates
Mezquita Cathedral de Cordoba, Cordoba, Spain
St. Peter's Basilica, Vatican City, Italy
Taj Mahal, Agra, India
Church of the Savior on Blood, St. Petersburg, Russia
Great Wall at Mutianyu, Beijing, China
Machu Picchu, Machu Picchu, Peru
Plaza de Espana, Seville, Spain
Duomo di Milano, Milan, Italy
Golden Gate Bridge, San Francisco, California
Lincoln Memorial, Washington DC, District of Columbia
Eiffel Tower, Paris, France
Parliament, Budapest, Hungary
Notre Dame Cathedral, Paris, France
Corcovado Christ the Redeemer, Rio de Janeiro, Brazil
Big Ben, London, United Kingdom
Acropolis, Athens, Greece
Main Market Square, Krakow, Poland
El Ateneo Grand Splendid, Buenos Aires, Argentina
Temple of the Reclining Buddha (Wat Pho), Bangkok, Thailand
Burj Khalifa, Dubai, United Arab Emirates
Fushimi Inari-taisha Shrine, Kyoto, Japan
Ruinas Mayas de Tulum, Tulum, Mexico
Sydney Opera House, Sydney, Australia
Best Landmarks in the world For 2017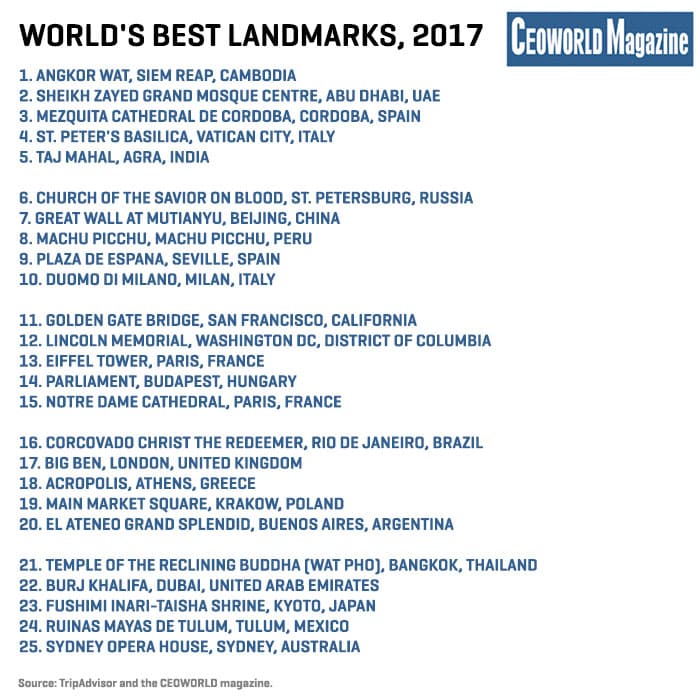 Dr. Amarendra Bhushan Dhiraj is the CEO and editorial director at CEOWORLD magazine, the leading global business magazine written strictly for CEOs, CFOs, top managers, company directors, investors, senior executives, business leaders, high net worth individuals, and the most globally powerful men and women.
Latest posts by Dr. Amarendra Bhushan Dhiraj
Leave a Reply