Hip-Hop's 5 Richest Artists: Diddy, Jay Z, And Dr. Dre Tops Forbes 2017 List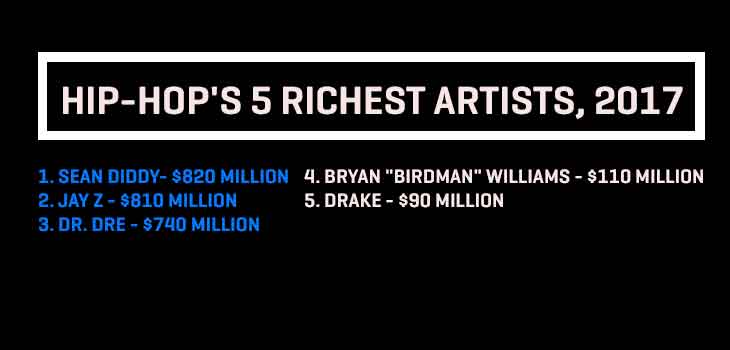 With an estimated net worth of $820 million, Sean (Diddy) Combs once again topped Forbes' list of richest artists in hip-hop for 2017, while Jay Z vaulted into 2nd place with $810 million. Congrats!
Former N.W.A. member Dr. Dre, meanwhile, slid to No. 3 with with his $740 million fortune.
Bryan "Birdman" Williams coming in 4th with $110 million and Canadian rapper Drake rounding out the top five with $90 million.
Hip-Hop's Richest Artists: top 5 most financially successful rappers in the world for 2017
Well, it was a little shocking to see that Kanye West, didn't make the list – yes, you read that right.
Dr. Amarendra Bhushan Dhiraj is the CEO and editorial director at CEOWORLD magazine, the leading global business magazine written strictly for CEOs, CFOs, top managers, company directors, investors, senior executives, business leaders, high net worth individuals, and the most globally powerful men and women.
Latest posts by Dr. Amarendra Bhushan Dhiraj
Leave a Reply