These 47 major cities have the highest quality of life in the world, 2017
New Zealand's capital Wellington has been named as the best city in the world when it comes to quality of life, according to Deutsche Bank's Mapping the world's prices report 2017, while New York, Paris and London fail to make top 25.
Edinburgh in the UK is named as having the world's second highest quality of life, followed by Vienna, Melbourne, and Zurich.
The highest-ranking cities in Asia are Tokyo (27), Bangalore (34), Hong Kong (36), Shanghai (37) Moscow (38), Singapore (39), New Delhi, (41), Beijing (42), Jakarta (44), Mumbai in India (45), Kuala Lumpur (46), Manila (47) respectively.
The ranking is based on 8 factors including Cost of living, climate, health-care, property price to income ratio, purchasing power, safety, traffic commute time, and pollution.
Without further ado, here were the top 47 major cities in the world for quality of life. Is your city on the list?
These 47 major cities have the highest quality of life in the world, 2017
Wellington, New Zealand
Edinburgh, United Kingdom
Vienna, Austria
Melbourne, Australia
Zurich, Switzerland
Copenhagen, Denmark
Ottawa, Canada
Boston, United States
Amsterdam, Netherlands
Sydney, Australia
Helsinki, Finland (TIE)
Berlin, Germany (TIE)
Auckland, New Zealand
Toronto, Canada
Lisbon, Portugal
Madrid, Spain
Cape Town, South Africa
San Francisco, United States
Prague, Czech Republic
Stockholm, Sweden
Dublin, Ireland
Chicago, United States
Warsaw, Poland
Brussels, Belgium
Johannesburg, South Africa
Oslo, Norway
Tokyo, Japan
New York, United States
Milan, Italy
Paris, France
Istanbul, Turkey
Athens, Greece
London, United Kingdom
Bangalore, India
Mexico City, Mexico
Hong Kong
Shanghai, China
Moscow, Russia
Singapore
Sao Paulo, Brazil
New Delhi, India
Beijing, China
Rio de Janeiro, Brazil
Jakarta, Indonesia
Mumbai, India
Kuala Lumpur, Malaysia
Manila, Philippines
These 47 major cities have the highest quality of life in the world, 2017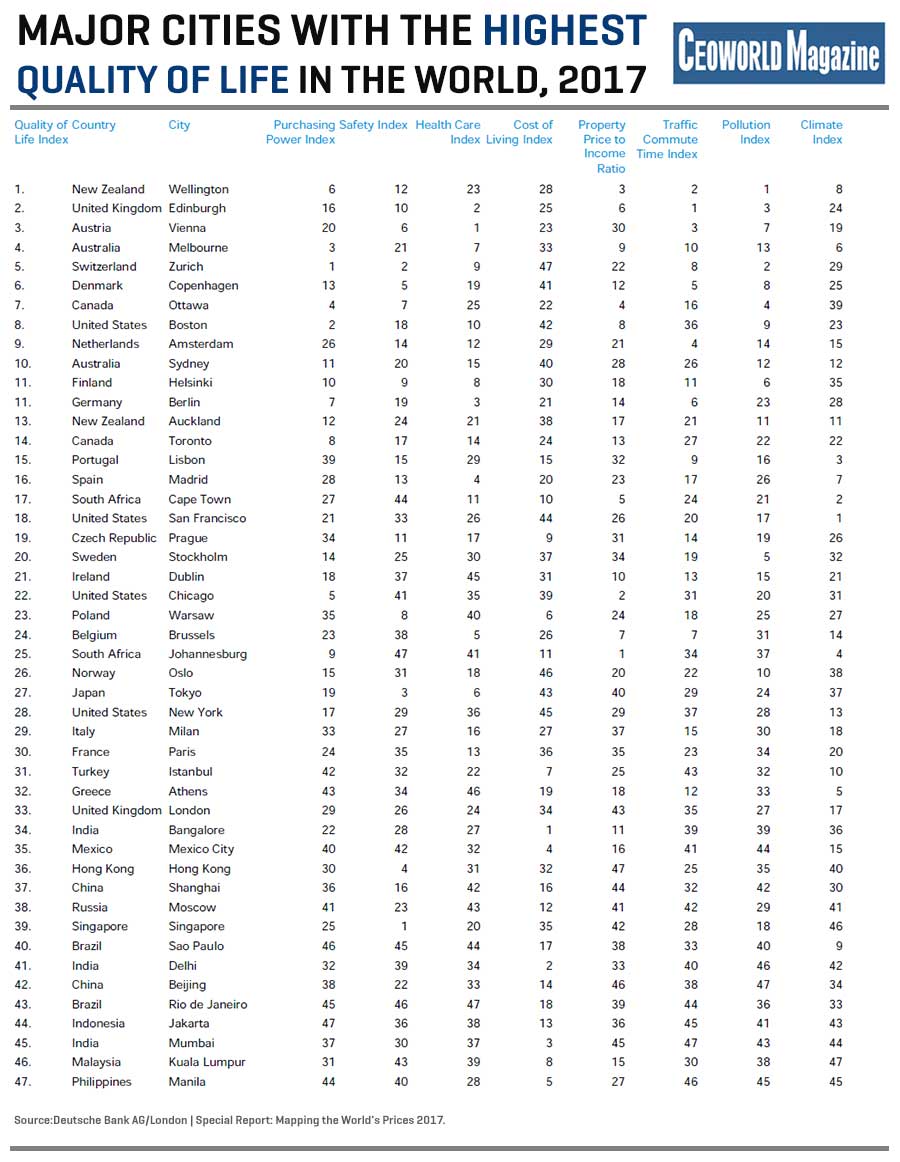 Dr. Amarendra Bhushan Dhiraj is the CEO and editorial director at CEOWORLD magazine, the leading global business magazine written strictly for CEOs, CFOs, top managers, company directors, investors, senior executives, business leaders, high net worth individuals, and the most globally powerful men and women.
Latest posts by Dr. Amarendra Bhushan Dhiraj
Leave a Reply