16 Most Popular International Destinations For American Baby Boomers, 2017
Perhaps not surprisingly, Australia is the most popular international destination for American Baby Boomers to visit, according to a new survey from AARP Travel.
About 13% of those surveyed say visiting Australia is on their travel bucket list. Italy came in at no. 2, with 12% of those surveyed. And UK-Ireland rounded out the top three.
France ranked fourth among 16 most-popular international destinations for American Baby Boomers in 2017, followed by the Caribbean, Africa continent, Canada, South America, Germany, and Spain.
Baby boomers are the generation born between 1946 and 1964 (they are 53 and 71 years old in 2017), and account for approximately 26% of the total U.S. population.
The study revealed that Baby Boomers will spend an estimated $120 billion annually in leisure travel, and that a whopping 99% of those older Americans surveyed are planning to take a trip next year.
Most Popular International Destinations among American Baby Boomers, 2017
Australia
Italy
UK/Ireland
France
Caribbean
Africa
Canada
South America
Germany
Spain
China
Israel
Central America
Japan
New Zealand
Greece
16 Most Popular International Destinations For American Baby Boomers, 2017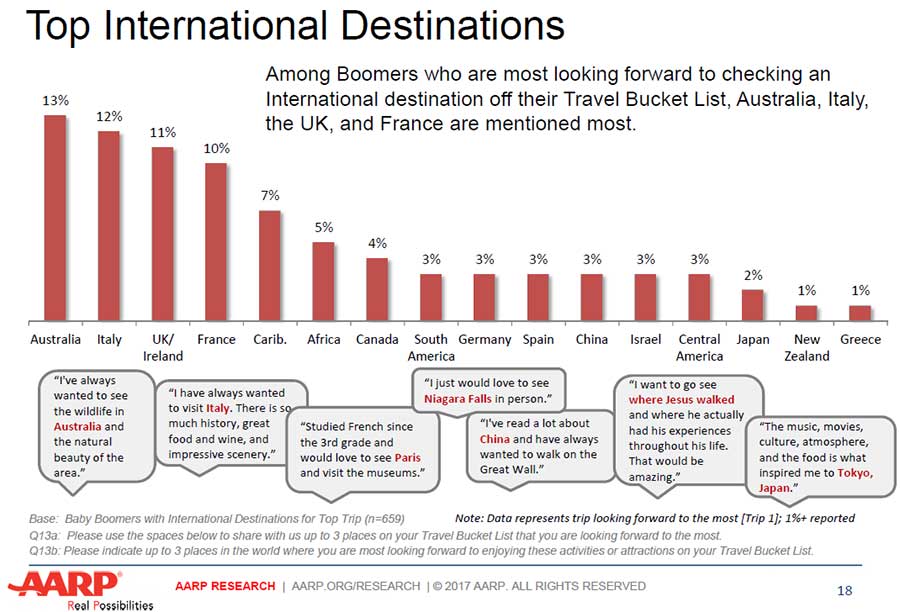 Dr. Amarendra Bhushan Dhiraj is the CEO and editorial director at CEOWORLD magazine, the leading global business magazine written strictly for CEOs, CFOs, top managers, company directors, investors, senior executives, business leaders, high net worth individuals, and the most globally powerful men and women.
Latest posts by Dr. Amarendra Bhushan Dhiraj
Leave a Reply