These Are The 50 Best Cities Around The World For Millennials, 2017
Amsterdam has been ranked number one – above London, Paris, and Helsinki – in a global league table of the best cities for millennials to live in, according to Nestpick, a website for finding furnished apartments.
Among the top 100 cities where millennials want to live, Amsterdam has been named the best city worldwide for millennials, followed by Berlin and Munich.
European cities dominated the new ranking of the Most Millennial-friendly destinations around the world.
Millennials (also known as (generation Y) are people who were born between the year 1980 and 2000.
The index looked at cities all around the globe and ranked them based on sixteen factors, such as employment, immigration tolerance, startup scene, tourism, housing, transportation, health ranking, access to contraception score, Apple stores, beer ranking, festival ranking, food ranking, internet speed, nightlife, as well as LGBTQ-friendliness and gender equality.
These are the world's 50 best cities Millennials want to live, 2017
Amsterdam, Netherlands
Berlin, Germany
Munich, Germany
Lisbon, Portugal
Antwerp, Belgium
Barcelona, Spain
Lyon, France
Cologne, Germany
Paris, France
Vancouver, Canada
Lille, France
Zurich, Switzerland
Valencia, Spain
The Hague, Netherlands
Montreal, Canada
London, United Kingdom
Rotterdam, Netherlands
Nantes, France
Prague, Czech Republic
Helsinki, Finland
Manchester, United Kingdom
Bordeaux, France
Auckland, New Zealand
Toronto, Canada
Bristol, United Kingdom
Oslo, Norway
Marseille, France
Madrid, Spain
Vienna, Austria
Glasgow, United Kingdom
Birmingham, United Kingdom
Hamburg, Germany
Dublin, Ireland
Montpelier, France
Utrecht, Netherlands
Ottawa, Canada
Frankfurt, Germany
Graz, Austria
Brussels, Belgium
Porto, Portugal
Austin, Texas, United States
Groningen, Netherlands
Geneva, Switzerland
Edinburgh, United Kingdom
San Francisco, California, United States
Athens, Greece
Bangkok, Thailand
Seville, Spain
Granada, Spain
Denver, Colorado, United States
World's 50 best cities millennials want to live, 2017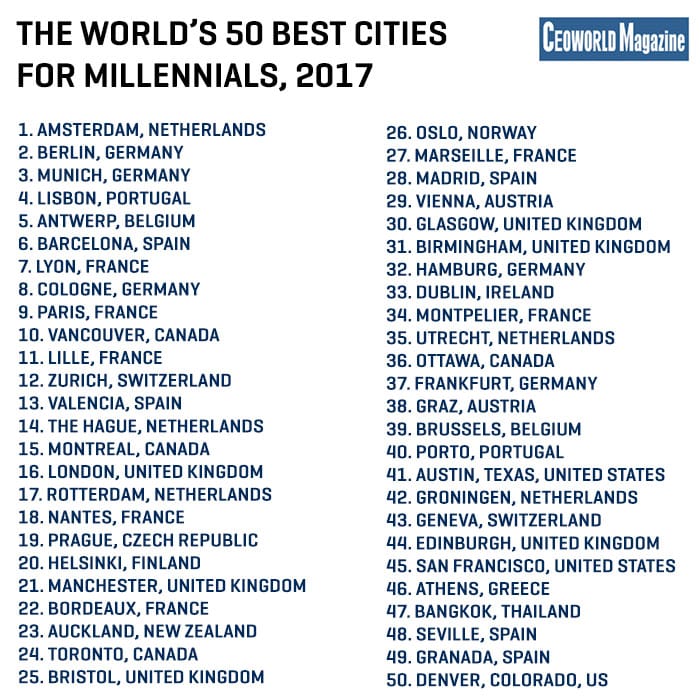 Dr. Amarendra Bhushan Dhiraj is the CEO and editorial director at CEOWORLD magazine, the leading global business magazine written strictly for CEOs, CFOs, top managers, company directors, investors, senior executives, business leaders, high net worth individuals, and the most globally powerful men and women.
Latest posts by Dr. Amarendra Bhushan Dhiraj
Leave a Reply