20 Countries With The Highest Press Freedom, 2017: Norway, Sweden, And Finland TOPS
Like in most other global rankings, Nordic countries once gain featured prominently in the 2017 Press Freedom Index, compiled by Paris-based Reporters without Borders (also known internationally by its French name, Reporters sans Frontières, or RSF), widely regarded as an index ranking freedom of the media.
Norway was ranked number 1 in the list of 180 countries, followed by Sweden, Finland, Denmark and the Netherlands.
Other countries that made it to the top 10 in the league were Costa Rica (6), Switzerland (7), Jamaica (8), Belgium (9), and Iceland (10).
The UN also urged leaders to support a free media.
"A free press advances peace and justice for all." – António Guterres, Secretary-General of the United Nations.
Of the 20 best performing countries, 15 are in Europe. The least ranked countries from the very bottom are, North Korea, Eritrea, Turkmenistan, Syria and China.
Here is the list of top 20 countries with highest press freedom rating:
Norway
Sweden
Finland
Denmark
Netherlands
Costa Rica
Switzerland
Jamaica
Belgium
Iceland
Austria
Estonia
New Zealand
Ireland
Luxembourg
Germany
Slovakia
Portugal
Australia
Suriname
---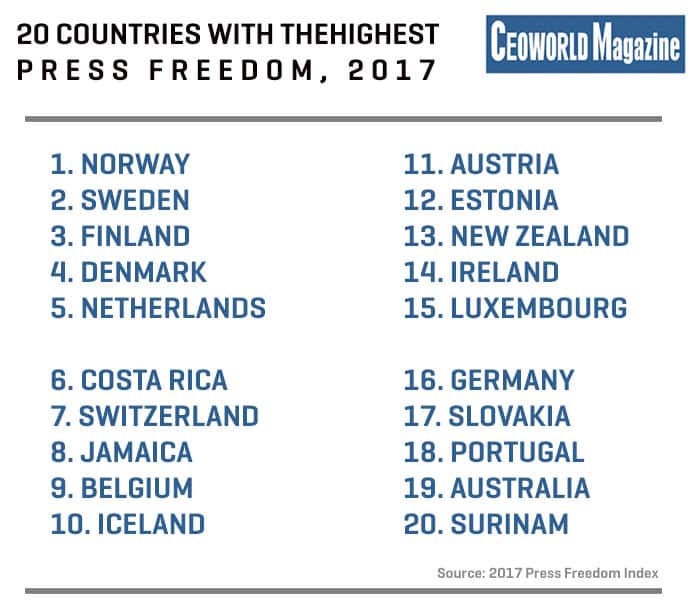 Dr. Amarendra Bhushan Dhiraj is the CEO and editorial director at CEOWORLD magazine, the leading global business magazine written strictly for CEOs, CFOs, top managers, company directors, investors, senior executives, business leaders, high net worth individuals, and the most globally powerful men and women.
Latest posts by Dr. Amarendra Bhushan Dhiraj
Leave a Reply