Know The Best WordPress Plugins For Social Media Sharing
There are many people, who are active on social media platforms too. They love to spend hours on famous social-media sites like Facebook, Twitter, Instagram, Linkedin, Pinterest, etc. These social sites enable people to share their views, photos, comments, videos and grab the news about the world. Besides, social media helps people to avail details of reputed brands and their new launches, services, products and customers' reviews as well. All types of news you can get on social sites and can share them with your friends and the world easily.
Similarly, social media has given a kick to many SEO professionals, and helped them to  promote their clients' sites and their services or products through social sites. Thus, it helps them in gathering immense traffic for the sites and find more business leads for them.
To make social media sharing easy, you can also add some useful social media sharing plugins to your WordPress site. These plugins help in sharing images, photos, content and other useful things to the world via popular social media channels and gather more traffic for the site too. But choosing right social sharing plugins for the site is the key to success.
Let's explore about few best WordPress Plugins used for Social Media Sharing: 

Easy Social Share Buttons


Packed with quality-rich solutions, social share buttons is among the best plugins that supports more than 20 social media networks. This plugin is the apt option for you if you are looking for the plugins with heaps of customization benefits. It comes with an array of varied setting pages, nine counter styles, template customizer, four total counter styles, nine counter styles, 19 built-in templates, shortcode generator and many more. Sharing buttons can be showcased above and below content, at the bottom of pages, in a floating bar or via shortcode in the content area.
Social Buzz
Social Buzz comes with some quality set of features but is less modern than most of the plugins. Handling the overall appearance of the social buttons takes only a few minutes and the visuals helps in seeing what can be expected on the frontend. This plugin also comes with a small tab that specifies whether or not you would prefer to show share counts once you reach a certain threshold.
Ultimate Social Deux
Ultimate Social Deux is the most sought after option if you wish to get the full control on the way how your social buttons are displayed on the WordPress site. It is not only designed for speed but it can also be integrated to work with several other plugins such as Visual Composer and WooCommerce. Even if you select a floating social share display or buttons with the full social network names and share counts, almost everything gets optimized to function both on mobile and desktop.

Social Warfare


This is a good social media sharing plugin for WordPress site. It supports famous social networking sites and allows to share images, photos and other useful stuffs to the world. Moreover, this plugins specifically supports to Pinterest images. Thus, it helps in driving more traffic for the site at Pinterest. Social Warfare is a fully responsive plugin that fits into the devices of all screen sizes.
Monarch


This is one of the most powerful WordPress social media sharing plugins. It supports more than 20 social networking sites. This plugin allows to do customized changes in color, images, photos, etc., which you want to share on social channels. Also, it enables to give a clear display of themes and other attributes of the site online. This plugin is helpful in tracking all likes, comments, follows, etc., of site on social networking platforms. The settings of this plugin are easy to import and export from one WordPress site to other.
Kiwi Social Sharing

Kiwi Social Sharing is a comprehensive social sharing plugin that gives you ultimate option to grab the eyes of the customers. This plugin has both free and premium version that can be utilized on your WordPress site.
As this plugin supports all the leading social networking sites, it can be quickly set up and can be used for increasing the social media traffic. Though there are several social media sharing options available in the market, but they might slow down the loading speed of your site. In this context, Kiwi excels as it does not affect the loading speed of the site. Moreover, this plugin also comes with the ready tweet feature that enables the users to just click and share the post on Twitter.
TweetDis


This is a significant WordPress plugin used for easy tweets. This plugin is easy to use and offers many design layouts too. It also helps in developing useful tweetable quotes. Besides, it enables to share visual tweets having images that people can understand better. Moreover, the plugin allows to highlight special features of the tweets explicitly.
Social Locker


This WordPress plugin works on the concept of content locking to increase its sharing flow. Also, it helps in improving site's performance and online traffic too. This plugin supports 8 social sites.
Share Button Adder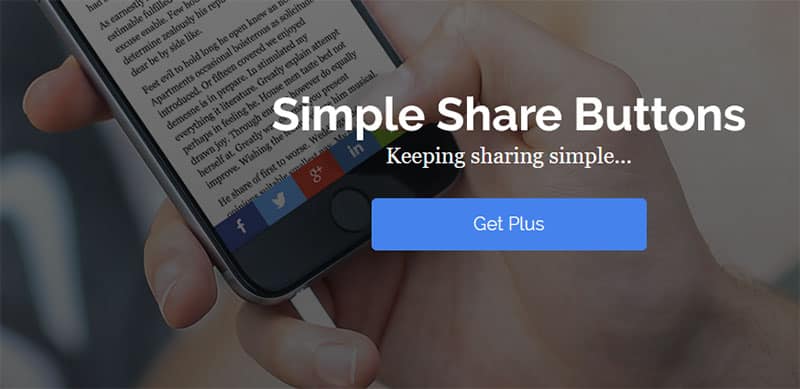 This is a useful plugin that allows you to add share buttons to your posts and web pages. Besides, it comes with 10 different button sets that display easily on mobile devices. Moreover, this plugin includes a color picker functionality that allows to do color customization.
SumoMe


This plugin is a collection of multiple apps and is designed specifically for driving more traffic on the site. It supports to 16 social sites including Twitter, Pinterest and Facebook.
Shareholic


This is another vital social media sharing plugin for WordPress site. It comes with some useful tools that help in tracking increased number of pageviews, traffic, repeat visits, bounce rate, and sharing rates of the site.

Conclusion:

Above are few beneficial WordPress plugins used for social media sharing and can be applied on a WordPress site to enhance its online visibility, traffic, performance and lots more. You can use any of them and add more value to your WordPress site easily.

Sharing anything on the social media sites is easy, if you apply the best social media share plugins to your WordPress site. It helps in promoting the brand on social networking sites and drive more traffic for it as well. 
---
Written by: Steven Bowen is a web developer at No-refresh, who always likes to experiment new strategy and technique in order to streamline the website development process. His keen interest in writing has made him to write various blogs and articles related to website development strategy, online designing tools, and other technologies. All his write-ups have been the genesis of inspiration for many people.
Track Latest News Live on CEOWORLD magazine and get news updates from the United States and around the world. The views expressed are those of the author and are not necessarily those of the CEOWORLD magazine.
Follow CEOWORLD magazine headlines on:
Google News
,
LinkedIn
,
Twitter
, and
Facebook
.
Thank you for supporting our journalism. Subscribe here.
For media queries, please contact:
info@ceoworld.biz