Facebook's Winning Ways: 4 Questions to Get the Best, Keep the Best and Be the Best
Facebook
Facebook is a standout success in two big ways—its products and its people.
The company is the biggest player in how we spend our time on mobile, and provider of four of the top six communication tools in the world (Facebook, 1.9 billion monthly users; WhatsApp, 1.2 billion; Messenger, 1.2 billion; and Instagram, 600 million.)
On the people side, the company ranks tops in technology on the anonymous job-survey site, Glassdoor's "Best Places to Work in 2017." It also had the highest employee satisfaction (96%) and lowest stress levels (44%) in a survey of 33,500 tech workers published by Payscale in 2016.
There is a strong connection between the people success and product success: Facebook is a big practitioner of the strengths-based approach to management. It's an approach you can emulate. Here is why, and—more importantly—how.
The Difference Between Baseball and People
In his 2016 letter to shareholders, Amazon CEO Jeff Bezos beautifully captured the outsized returns that can come from business masterstrokes:
"Baseball has a truncated outcome distribution. When you swing, no matter how well you connect with the ball, the most runs you can get is four. In business, every once in a while, when you step up to the plate, you can score 1,000 runs. This long-tailed distribution of returns is why it's important to be bold."
It's impossible, however, to be bold without the best people. And for the best people, it's not a matter of where they can work, but where they want to work; where they can do what engages them most and what will have the biggest likelihood of impact on people and the world.
This is particularly true for Millennials, who will become 44%—the largest single contingent—of the American workforce by 2025. To a much greater degree than Baby Boomers, Millienials believe (91% to 71%) that "achieving success and recognition in a career is necessary to living a good life" and they will move among employers to find the right environment for that success (60% of them leave within three years of being hired).
The implication is simple: engagement that comes from a strengths-based approach — matching skills and challenges — Isn't just a nice-to-have for the best companies in the world. It will be impossible to be best without it.
How, then, do you focus your organization on this? Start with the People person.
Facebook's People Person
Like other facets of Facebook's historic ascension chronicled in Becoming Facebook —  unprecedented growth, game-changing acquisitions, recovery from a chaotic IPO and defense against foes both large and small — its winning People ways are no accident.
It began in 2008 with well-respected Silicon Valley executive Lori Goler asking then newly-minted Facebook Chief Operating Officer Sheryl Sandberg: "Sheryl, what is your biggest problem, and can I help solve it?" People, especially how to recruit and retain the best, was Sandberg's reaction.
Ever since, Goler, a fan of Marcus Buckingham's and Curt Coffman's management tome First, Break All The Rules (based on 25 years of Gallup studies of 80,000 managers at 400 companies) has led Facebook's drive to focus on employee strengths and ignore weaknesses (or, put slightly more pragmatically, make those weaknesses irrelevant to the employee's role). This focus is a big driver of a person's job engagement, which in turn is a primary factor in their performance and intent to stay, the pre-eminent assets in a people economy.
Just How Good is Facebook at People?
In practically every way you look at it, Facebook has had standout success with its people.
The core of their management team has been remarkably stable: CEO Mark Zuckerberg, COO Sheryl Sandberg, chief product officer Chris Cox, CTO Mike Schroepfer, VP of growth Javier Olivan and VP of partnerhips Dan Rose have worked together for nearly a decade with each improving in his or her area of strength. At the top, Zuckerberg and Sandberg make for two of Goler's best role models for focusing on individuals' strengths in their collaboration as one of the best CEO/COO tandems in recent decades.
In terms of attracting the best, Facebook has been on one of the hottest streaks in all of consumer technology attracting highly respected product leaders: Instagram CEO Kevin Systrom; WhatsApp CEO Jan Koum; AI visionary and now Head of Facebook AI Research Yann LeCun; former PayPal CEO and now Head of Messenger David Marcus; former DARPA and Google moonshot leader and now Head of Facebook's Building 8 idea factory Regina Dugan; and Google and Xiaomi mobile technology expert and now Head of Facebook's VR/AR efforts Hugo Barra.
And most broadly, they have those high satisfaction  and low stress levels we cited earlier, which are key among the reasons that they attract and retain talent from other respected technology companies like Apple, Google and Microsoft.
Four Questions to Get the Best, Keep the Best and Be the Best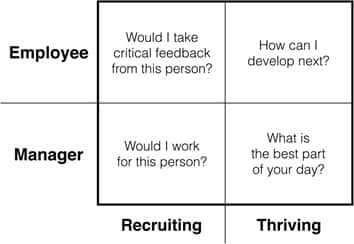 Finding success like Facebook's from a strengths-based approach comes down to employee and manager working together to effectively manage skills and challenges over time.
When being recruited, the prospective employee can start thinking ahead by asking themselves if they could readily take critical feedback form their prospective manager. Some of your evolution in skills and challenges will be self-directed, but some — and perhaps the most important part — will come from suggestions and critique. If you're not likely to seek or accept critical feedback from the person across the table, you're not set up for success. We already know this is the question Sheryl Sandberg is thinking about from her side of the table when she's interviewing you, so you might as well get out ahead of it.
The prospective manager should be thinking ahead at this time, too. If you are not excited enough about a prospective employees existing and potential skill and their ability to handle greater challenges — including a future in which you could work for them — they may either not be ready or you may not be motivated to help them.
That may seem over the top, but if it's the question Mark Zuckerberg asks himself about Facebook's most-senior hires and CEOs of prospective acquisitions,  it should be good enough for the rest of us.
Once the two of you decide to partner, it's time to combine efforts. For the employee, get input on how to increase your challenge level ("How can I develop next?"). For the manager, stay close to the employee's feelings about skill ("What is the best part of your day?"). If she only got one question as manager, this is the one Goler would ask.
Whether finding each other or thriving together, in each phase employee and manager just need to focus themselves on a single question to win the Facebook Way.
---
Written by Mike Hoefflinger, author "Becoming Facebook: The 10 Challenges that Defined the Company Disrupting the World", available now in hardcover, Audible audiobook and e-book.
---
Add CEOWORLD magazine to your Google News feed.
---
Follow CEOWORLD magazine headlines on:
Google News
,
LinkedIn
,
Twitter
, and
Facebook
.
---
Thank you for supporting our journalism. Subscribe here.
---
For media queries, please contact:
info@ceoworld.biz
---