Walking Away from the Corner Office: Lessons Learned in the Leap from Suit to Startup
Tired of your job and looking for a change of pace? You're not alone – in fact, three million American workers voluntarily left their positions in December last year.
Many of them are likely experienced corporate professionals choosing to leave behind the rigid and stuffy corporate environment in favor of a career at a startup offering greater flexibility and autonomy along with a more energetic and innovative company culture.
Contrary to what we often see in movies, not all startup CEOs are 21 year old tech geniuses making their big break right out of college. Many in fact, have spent decades in the corporate world building their network and refining their skills before taking a leap of faith to found their own company.
Making this transition however, is not as easy as sitting down at a new desk, in a new office and doing things the same way you did before. Life at a startup involves news processes, limited resources and job descriptions with expanding responsibilities.
Adjusting to life in a startup can often be a struggle but there is a great deal that can be learned in the shift from corporate executive to startup entrepreneur, as I learned during my transition from managing investments for Fortune 500 companies to launching Krush Technologies in 2016.
Walking Away to Start a New Company

After spending the majority of my career in leadership positions at large, public companies including Teradata and Reynolds and Reynolds, where I focused on M&A and business development, I took a leap of faith and helped co-found Krush, a tech company that builds digital products to narrow the gap between humans and machine.
The decision to make the jump from a corner office to the unknown, fast-paced, startup world was rooted in my desire to create something new and be a part of a company from the ground up. I also knew that my experience in M&A and investment management would be an asset to a new venture – I believed that Krush had a clear vision for what they wanted to accomplish and I wanted to be a part of that.
What I quickly learned, is that the biggest differences between the two worlds can be divided into impact and variety. My day-to-day actions have a much larger impact in a startup environment. Sitting in a large organization, your line of sight into your direct impact becomes blurred – sometimes it feels like no one individual is moving the needle in a significant direction.
I thrive on being able to take ownership of my actions and have the instant gratification of a job well done. On the flip side, there is no safety net when things don't go well so you have to be prepared if plans start to unravel. As for variety, startup life gives you the chance to wear multiple hats on any given day, which is a welcome change of pace.
In previous roles I spent 80% of my time focused strictly on the financials. Now, my duties cover everything from finance to corporate strategy, product development, hiring, operations, marketing etc.
Applying Fortune 500 Management Skills to Building a Startup

A Good Team > A Good Idea: First and foremost, this is the key to success. It doesn't matter how good your idea is, you will never get your vision off the ground if you don't have the right talent and work environment. Your team is the core of everything you do and employees need to feel valued to thrive, so making corporate culture the number one priority is a must.
Don't Forget the Process and Goals: While planning and process might seem counterintuitive to startups, strategic planning is critical to growth. You have to have concrete deadlines, a real budget and strong KPIs to hold everyone accountable. Even in a startup, there needs to be some formal structure but it's possible to create one that still lets your creative team be unencumbered in executing their vision.
Don't be Afraid of Taking Chances: Corporate executives, especially those in finance, tend to be incredibly risk-averse, which is a sure-fire way to make sure your startup never even gets up off the ground. While it's important to contemplate risk and plot out a safe path to success, you need to be willing to compromise and find a happy medium. Taking measured, calculated risks using expert assessment of a situation opens up the potential for a big payoff. We know that not every project we green light will be successful but one bad outcome does not determine our long-term success. It's important to view projects as part of a larger portfolio of activity – some will fail, some will have suboptimal results while others will noticeably impact the bottom line. As long as your record of success outweighs the bad outcomes, value will be added.
Welcome Change + Be Nimble: The only certainty in a startup is change – don't fight it. When you're working without an established and proven business model, you need to be able to quickly assess a situation and pivot to a new way of operating when things aren't working as planned. For example, at Krush we use a cycle of Plan, Do, Measure, Act to help guide decision-making in our programmatic monetization group. We decide what monetization adjustment to make and what we think the outcome will be based on our best analysis, we make the adjustment, we measure the impact, and we act to either leave it in place or remove it depending on if it achieved the desired outcome. We repeat this process multiple times a week, enabling fast and flexible decision-making. Startup executives should not only be open to change, they should be the ones driving it to ensure the company maintains momentum and will not only succeed, but also grow.

Advice for Peers Looking to Make the Leap
People can spend years spinning their wheels trying to advance up the corporate ladder and many often think about diving head first into a new and sexy startup with promises of big paydays. But going out on your own as an entrepreneur is high up on the risk scale so they need to really do their homework before making any big decisions.
The allure of a startup can wear off quickly if it does not deliver all that you had hoped so it is important to do a reality check before you jump ship from your current job. The key is to do your due diligence on the new company – who owns it and do you agree with their philosophy? What do the financial statements look like? How much cash do they have? Are there any pending lawsuits? What's the plan for the next three years for products and services? There will always be risk but if you're aware of where the risks lay, you are well positioned to make an informed decision.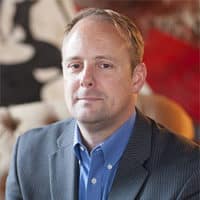 Brian Faust is Co-Founder and Chief Financial Officer of Krush Technologies, a new hi-tech & advanced media company headquartered in Ohio. Before co-founding Krush, Brian was CFO of ooVoo, the worlds largest, independently held video-chat app with over 150 million global users and Director & CFO of Myrian Capital, a family direct-investing vehicle with global, technology based holdings.
Leave a Reply