World's Top 25 Countries For 2017: Switzerland, Canada, And UK Topped
Switzerland has topped the list in the 2017 ranking of the best countries in the world, according to a new study conducted by the news magazine US News and World Report in partnership with the Wharton School, a business school at the University of Pennsylvania.
The report is based on a survey that asked more than 21,000 people from four regions to associate 80 countries with specific characteristics.
Report shows that Switzerland, the European tax haven, is viewed as the world's No. 1 country. Canada took the No. 2 spot, followed by the United Kingdom, Germany, and Japan.
Sweden, the US, Australia, France and Norway made up the top ten 'best countries'. Here are the top 20 countries to live in, based on a number of factors including quality of life, power, and wealth.
Top 25 best countries in world for 2017:
Switzerland
Canada
United Kingdom
Germany
Japan
Sweden
United States
Australia
France
Norway
Netherlands
Denmark
Finland
New Zealand
Singapore
Italy
Luxembourg
Austria
Spain
China
Ireland
UAE
South Korea
Portugal
India
---
Top 25 best countries in world for 2017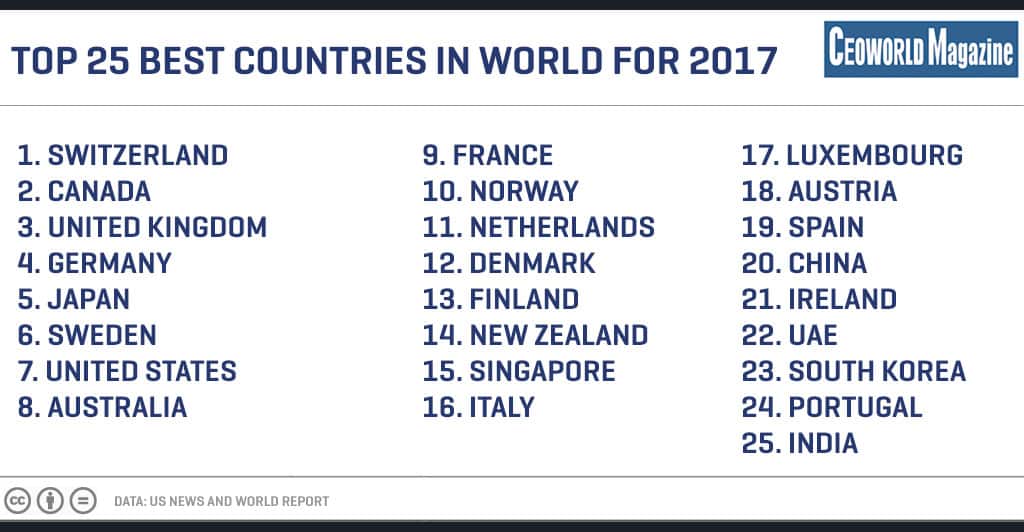 Dr. Amarendra Bhushan Dhiraj is the CEO and editorial director at CEOWORLD magazine, the leading global business magazine written strictly for CEOs, CFOs, top managers, company directors, investors, senior executives, business leaders, high net worth individuals, and the most globally powerful men and women.
Latest posts by Dr. Amarendra Bhushan Dhiraj
Leave a Reply