Prospects for Foreign Investment in India's Entertainment and Media Industry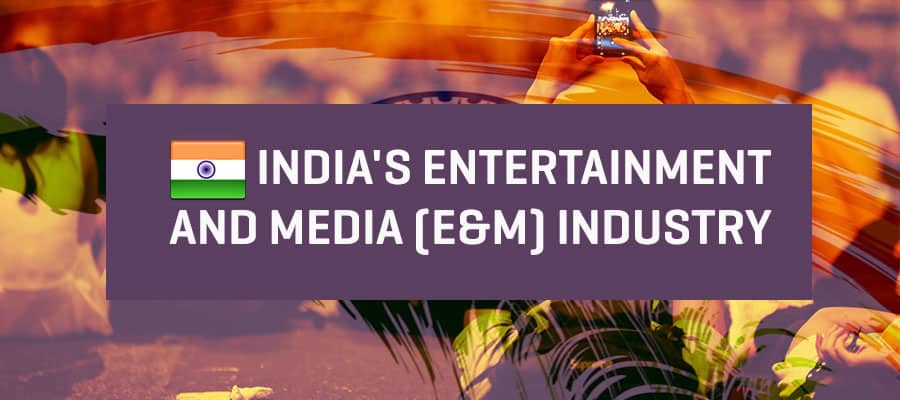 Media has its own important role in our lives. It has brought nations together through events, happenings and news that take place in different corners of the globe. Media brings along entertainment to lighten educate and refresh our minds. Be it movies, television or smaller segments such as music, radio, digital advertising, animation and VFX; every segment has gained popularity amongst the masses.
The Entertainment & Media (E&M) industry of India is enjoyed and favoured not only in the country but also across borders. The sector has shown constant growth in all of its segments year after year. Out-of-home (OOH) advertising has also grown considerably primarily because of expansion of M-commerce and E-commerce in India.
In India, there are nearly 800 T.V channels, making it the second largest T.V. market in the world. The M&E industry is also showcased as one of the major sectors of investments under 'Make in India'. As per the analysis, the Indian entertainment industry has grown by 12.8% in the year 2015 and is expected to register a compound annual growth rate (CAGR) of 13.9% reaching 1,965 Billion by 2019.
India has 99,700 newspapers, nearly 2000 multiplexes and about 300 million internet users which are expected to reach 640 million by 2019.
Prospects for Foreign Investment in India's Entertainment and Media Industry:
Television Industry – The industry is estimated to reach INR 1096 billion by the year 2020. It is rated to be one of the most favourite media among the masses. The fiction and the non- fiction daily soaps, news channels, kid's entertainment have been much loved from the very beginning. Apart from these, regional channels, English entertainment genre and the infotainment channels have also grown a significant fan following in recent years. Sports genre has brought in huge amounts of ad revenues as people have started to enjoy and follow sports other than cricket. With the government making active effort on digitisation the Television Industry is gradually taking a new shape.
Film Industry- Films are the most loved segment of the entertainment industry. With eclectic production of movies in different languages across the country, the Indian film industry is among the largest in the world. Of the total film industry revenues, bollywood alone accounts for 46%. The star dazzled industry with 100% FDIs has also attracted foreign enterprises such as 20th Century Fox, Walt Disney pictures, Warner Bros. and Sony Pictures. Hollywood plays a fair share of domestic revenues and is equally enjoyed by the people. Audiences today welcome new concepts, storylines and different sources of entertainment.
Radio and Music Industry – Although with time as technology has intervened in the traditional entertainment industry, radio still enjoys its unique place undisturbed. In India, radio broadcasting had begun in the year 1923 and has out grown almost all the media houses of the industry. Radio has always been a medium for all the news, happenings and entertainment to reach culturally diverse consumer base and it is expected to grow at CAGR of 18.1% by 2019.
The Indian Music industry is the second oldest music industry in the world and the size of the industry is estimated at INR 9.8 billion as in 2014. It has risen since then and is expected to increase by 14% by the year 2019. The increasing popularity of radio as a media, adds substantially to the revenues for the music industry.
Print Industry- The printing industry in India comprises of various magazines, newspapers, journals, pamphlets and books that are exported across various countries around the world, making Indian print industry the second largest in the world. The industry has improved in printing methods by adopting state of the art digital technology and following the latest in information technology. Based on demand and related progress, it is predicted that the industry would be mainly driven by newspapers, regional printing and niche magazines. With an accelerated growth rate of 9.7% with which the industry is expanding, it is expected that the print industry would reach INR 280 billion by 2019.
Live Events Industry- In recent times, the fan following for live events has grown tremendously. From Sufi music to Jazz, bollywood shows to international genre, the popularity for live events has gained momentum. Be it executives, professionals or students, they look beyond traditional entertainment options and choose live events as the new entertainment alternative. As per the KPMG report, client base has increased by 18% and the number of events has also grown by 25% since 2014. Disney, by investing in India which is mainly a youth dominated nation has stepped into the entertainment industry on observing the rise in demand for live events in the country. Ongoing trends suggest that the industry would grow by 17% in the upcoming years with tier –II and tier-III cities as major hosts apart from the metro cities in India.
Animation and VFX (Visual Effects) Industry- Animation and VFX industry has picked up pace as a result of increased number of followers. According to FICCI-KPMG report, India has about 300 animations, 40 VFX and 85 game development studios with a few short films released at the box office. Locally produced animation shows have already been a hit among the households. Collaborative animation services with U.S.A., Japan and U.K. has opened doors further for the production of TV series and films. To mark further growth lines, the government is also playing its role to improve the training and job facilities in animation and VFX. The animation industry is currently estimated to be at INR 14.8 billion and is surely to rise up to INR 30 billion by the year 2020.
The growth trajectory of the Entertainment & Media (E&M) industry of India which is currently flying showcases and substantiates its future potential. With enormous opportunities on the platform of digital and information technologies, all the M&E segments are yet to scale great heights. Increased incomes and new evolving lifestyle of the people in India has led to higher demands to look up to new trends. Improved liberalisation in the modern India has opened vast prospects for the Entertainment & Media (E&M) industry to explore its creativity, grow, innovate and bring in good cheer to everyone.
India's Entertainment & Media (E&M) Industry Outlook:

India's Entertainment & Media (E&M) Industry is expected to grow at a Compound Annual Growth Rate (CAGR) of 14.3% to reach US$ 3US$ 33.7 billion by 2017 and US$ 42 billion by 2020.
Box office revenue in India is expected to rise to $2.74 billion in 2020, at a 10.9% compound annual growth rate (CAGR).
With a forecast of 19.7% compound annual growth rate (CAGR), paid search Internet advertising revenue will rise to US$ 560 million by 2020.
India is the 3rd largest television market in the world with US$ 7.9 billion in revenue.
With a forecast of 11.7% CAGR, TV advertising revenue will rise to $5.54 billion in 2020.
---
Have you read?
Track Latest News Live on CEOWORLD magazine and get news updates from the United States and around the world. The views expressed are those of the author and are not necessarily those of the CEOWORLD magazine.
Follow CEOWORLD magazine headlines on:
Google News
,
LinkedIn
,
Twitter
, and
Facebook
.
Thank you for supporting our journalism. Subscribe here.
For media queries, please contact:
info@ceoworld.biz