50 best U.S. business schools for full-time MBA programs of 2016, according to Bloomberg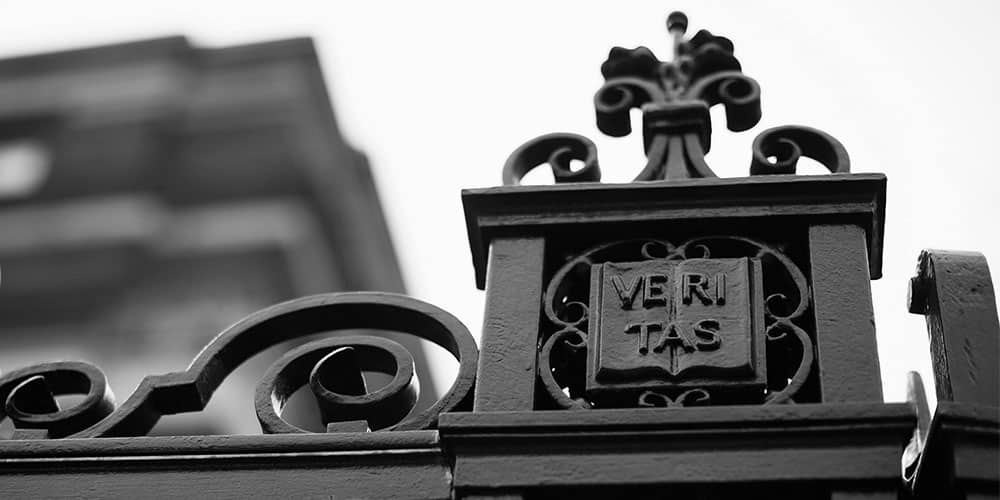 Harvard Business School (HBS) has topped Bloomberg's prestigious business school rankings for full-time MBA programs for the 2nd year on the trot. Attending a top MBA program is an expensive endeavor, for example, if you were to graduate with your MBA from Harvard Business School, the total cost of 2 years of education there would cost $384,200, business magazine said. The average first-year graduate earns about $90,000.
Stanford's Graduate School of Business is at No. 2, followed by Duke University's Fuqua School of Business at No. 3, Chicago's Booth School fell to No. 4, and Dartmouth College Amos Tuck School of Business Administration at No. 5.
Magazine ranked the schools using the following five main factors: Employer survey, alumni survey, student survey, salary, and job placement. Business magazine bases its rankings on data compiled from more than 1,000 recruiters, 15,000 alumni and 9,000 recent graduates. Nearly 90 schools with full-time MBA programs were on the list.
2016 top 50 U.S. business schools for full-time MBA programs:
1. Harvard University (Harvard Business School)
2. Stanford University Graduate School of Business
3. Duke University Fuqua School of Business
4. University of Chicago Booth School of Business
5. Dartmouth College Amos Tuck School of Business Administration
6. University of Pennsylvania – The Wharton School
7. Massachusetts Institute of Technology Sloan School of Management
8. Rice University Jesse H. Jones Graduate School of Business
9. Northwestern University Kellogg School of Management
10. University of California Berkeley Haas School of Business
11. Columbia University (Columbia Business School)
12. University of Virginia Darden School of Business
13. University of Michigan Ross School of Business
14. Yale University (Yale School of Management)
15. Carnegie Mellon University Tepper School of Business
16. Cornell University Samuel Curtis Johnson Graduate School of Management
17. New York University Leonard N. Stern School of Business
18. Texas A&M University Mays Business School
19. University of Washington Michael G. Foster School of Business
20. Emory University Goizueta Business School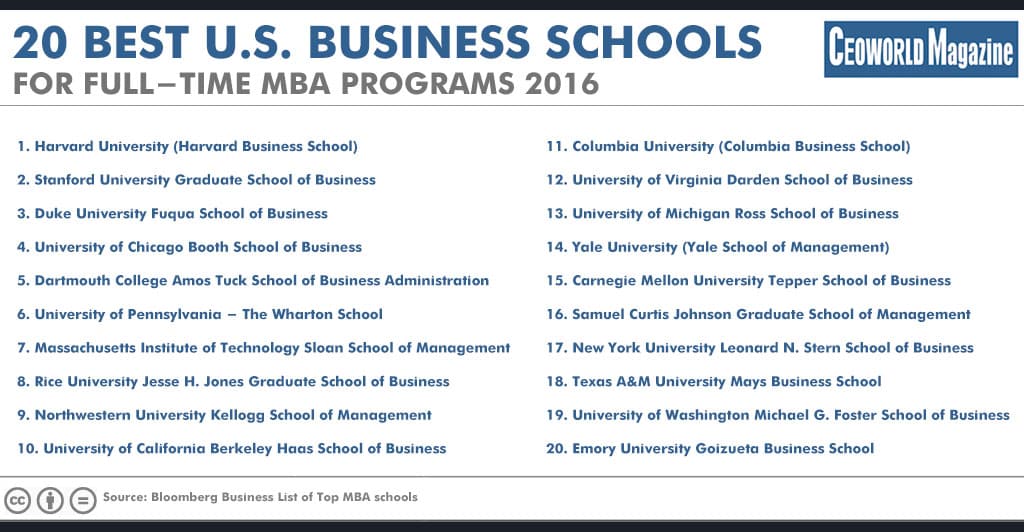 21. University of Texas at Austin McCombs School of Business
22. University of California L.A. Anderson School of Management
23. Brigham Young Marriott School of Management
24. University North Carolina Kenan-Flagler Business School
25. Notre Dame University Mendoza College of Business
26. Indiana (Kelley)
27. Michigan State (Broad)
28. Georgia Tech (Scheller)
29. Texas at Dallas (Jindal)
30. Rochester (Simon)
31. Southern Methodist (Cox)
32. Vanderbilt (Owen)
33. Maryland (Smith)
34. Georgetown (McDonough)
35. Iowa (Tippie)
36. Washington in St. Louis (Olin)
37. Penn State (Smeal)
38. USC (Marshall)
39. Minnesota (Carlson)
40. Wisconsin
41. Ohio State (Fisher)
42. Purdue
43. American (Kogod)
44. Illinois
45. George Washington
46. Florida (Hough)
47. Buffalo
48. Boston College
49. Arizona State (W.P. Carey)
50. Boston University (Questrom)
Dr. Amarendra Bhushan Dhiraj is the CEO and editorial director at CEOWORLD magazine, the leading global business magazine written strictly for CEOs, CFOs, top managers, company directors, investors, senior executives, business leaders, high net worth individuals, and the most globally powerful men and women.
Latest posts by Dr. Amarendra Bhushan Dhiraj
Leave a Reply