You're doing it wrong with your clients
If these tips do not describe your client communication process.
The world we grew to make business today has become completely insensitive to the lack of communication from suppliers part. The client now wants – and he has all the rights to do so – not only the excellent service to get, but also the "contact" with the working party as well. A well-known fact, the crucial factor influencing on customer's decision is if you are on the same page, and the last thing you can do is follow a few simple recommendations to make your supplier-client connection better.
Be An Active Listener.
As Listening is not the same thing as Hearing. Perhaps which is why Listening is the subject taught on many employees' trainings. Easy to see whether your opponent is fully committed to the conversation you have – there are signs revealing the person who is listening actively, such as:
Clarification questions
Nods
Gestures
Eye-contact
-last but not least – interest.
All of the previously mentioned keys form an image of a responsive listener in the mind of a customer. Although, interest is the easiest and the hardest one at the same time. There's no need to fake curiosity – as your companion can feel it – but it is easy to have one. Imagine you're talking to a person full of ideas – and you are, in most common of senses, somebody who will help him turn his ideas into digital reality. Isn't this uplifting enough?
When you are in the middle of the argument – involve critical thinking skills.

There really isn't a need to remind you clashes happen sometimes. For a variety of reasons, regardless of how well-mannered you are. Moreover, it is not who "started the fire" matters – it is how fast you can sort the issue out. For both parties to benefit, of course.
The winning strategy and the worst enemy of every controversy is critical thinking, which is built on a basic formula: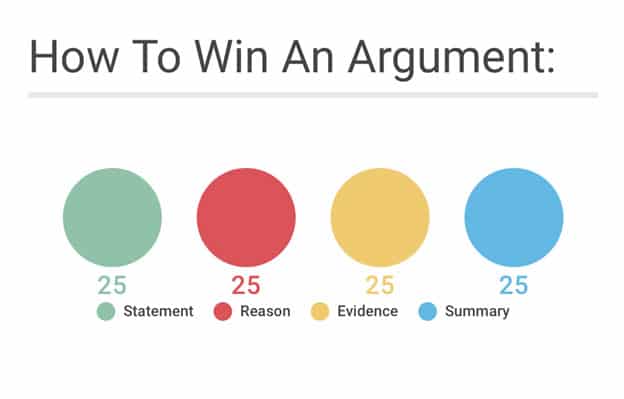 In other words, once you state something – immediately give a reason for saying that. The claim then should be supported with the evidence – as facts always speak for themselves.
Bad Example: "The grey Call To Action in your main page's footer will not work because we think it won't".
Good Example: "Frankly, the grey Call To Action button in your main page's footer should look better if replaced with the red one. There is a chance your potential customers will not notice it. The grey-coloured Call-To-Action in your main page's footer will not work as we have already checked that with other our client. Consequently, I strongly suggest we stick to the option of a red Call To Action button in your main page's footer – as your customers will love it."
After the evidence is released a bit of a summary would not be odd – to make sure the point is proven completely.
Get Rid of BUTters.
Try to remember how many times you have heard phrases as below:
"I like what you're saying but…"
"The idea you've told me about is very original, however,…"
"Although the application is fully working, I am afraid that…"
These phrases were initially created to make critics sound less offensive. As it often happens to innovations they went mainstream, making people sick and tired of hearing them.
So when trying to explain something it would be great to stay as away from these cliches as possible.
For instance, replacing "but" with "and" would be a great choice – to avoid the negative reaction of your partner.
It may seem hard at first, AND it will definitely become a habit of a better negotiator you're learning to become.
Inappropriate example: "This application is a handy tool, but I think we should change its' concept a bit."
Appropriate example: "This application is a handy tool, and adding a few changes to the concept would only increase it's popularity"
Communication is a two-way process.

Both parties are involved in transmitting the information.
Corresponding to the professionals in the University of Maine, communication can help you built everything – from client's trust and up to a sound position on the market. Communication can get you anywhere – if you learn to how to use it efficiently.
In a point of a fact, those tips given here are just a small step you should be starting from on your way to productive cooperation – but haven't we all been there?
Communicators are not born – they are being made. Self-made. So why don't you go and make one out of yourself?
---
Have you read?
These Are The 20 Most Reliable Car Brands In America For 2017
Best Universities In Europe, Oxford And Cambridge Tops 2017 European Rankings
Product Problems: How Great CEOs Demonstrate Accountability
Which are the world's top 20 most gender-equal countries, 2016?
Written by: Elina Bessarabova, CMO at Mind Studios.
---
Do you have any other tips related to a better-communication mechanism? We bet you do. Spread your knowledge – share it with us.
The first thing you need to know about me - I am a 21-year old CMO at Mind Studios - web and mobile architects' company. As a marketing expert, there are things that I love about my job - how fast-paced and challenging it always is. What is more, I truly enjoy developing integrated marketing campaigns, when planning, advertising and public relations skills are involved. It is getting even more daunting every day - which is why people like me never really lose interest in this job.
Latest posts by Elina Bessarabova
Leave a Reply