The 20 Most Valuable Stock Exchange Brands In The World, 2016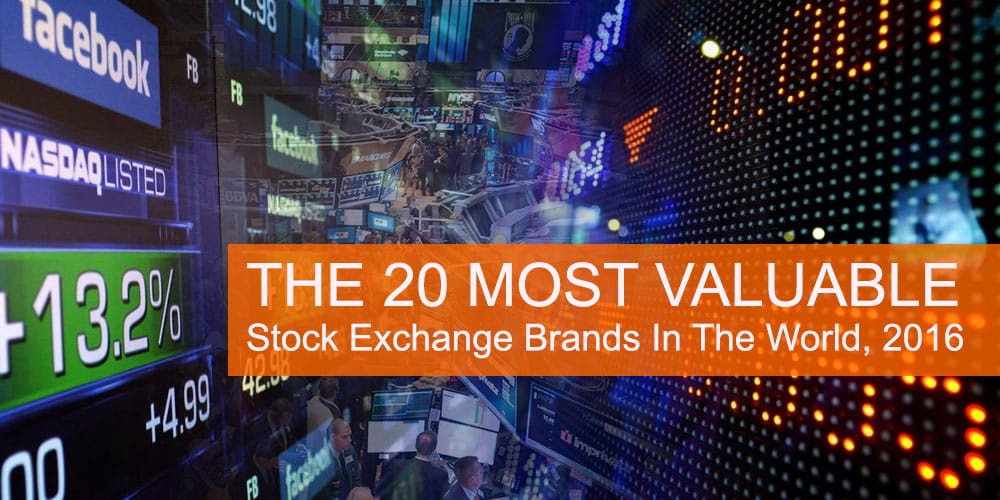 With a brand value to $1.7 billion, CME is the most valuable stock exchange brand in the world for 2016, according to the Brand Finance, a brand valuation and strategy consultancy.
The world's largest stock exchange by market capitalization, New York Stock Exchange (NYSE), ranked 2nd with a valuation of $1.3 billion, followed by HKEx ($1.1 billion), Nasdaq ($985 million), and London Stock Exchange Group (LSE) ($679 million).
It was followed by SIX Swiss Exchange, Eurex, Intercontinental Exchange (ICE), Singapore Exchange (SGX), and Clearstream.
The research suggests that one quarter of the brands in the table are US-based, UK and Germany are home to 3 stock exchange brands each. Australia, Brazil, Canada, Hong Kong, Netherlands, Singapore, Spain, Switzerland, and UAE – one stock exchange brands each.
The stock exchange brands is calculated by a number of factors, including "emotional connection", financial performance, licensing agreements, sustainability, , historic revenues, equity analyst forecasts, and economic growth rates – and the impact of those factors on business performance.
The 20 Most Valuable Stock Exchange Brands In The World, 2016
| Rank | Exchange | Country | Brand Value |
| --- | --- | --- | --- |
| 1 | CME | US | $1723 million |
| 2 | NYSE | US | $1345 million |
| 3 | HKEx | Hong Kong, China | $1063 million |
| 4 | NASDAQ | US | $985 million |
| 5 | LSE | UK | $679 million |
| 6 | SIX Swiss Exchange | Switzerland | $522 million |
| 7 | Eurex | Germany | $461 million |
| 8 | Intercontinental Exchange (ICE) | US | $458 million |
| 9 | Singapore Exchange (SGX) | Singapore | $380 million |
| 10 | Clearstream | Germany | $303 million |
| 11 | TMX | Canada | $241 million |
| 12 | Euronext | Netherlands | $240 million |
| 13 | Deutsche Boerse | Germany | $219 million |
| 14 | Chicago Board Options Exchange (CBOE) | US | $218 million |
| 15 | Australian Securities Exchange (ASX) | Australia | $212 million |
| 16 | LCH.Clearnet | UK | $189 million |
| 17 | Borsa Italiana | UK | $123 million |
| 18 | Bolsas y Mercados Españoles (BME) | Spain | $120 million |
| 19 | BM&FBovespa | Brazil | $112 million |
| 20 | Dubai Financial Market (DFM) | UAE | $97 million |