Best Film Schools In America For 2016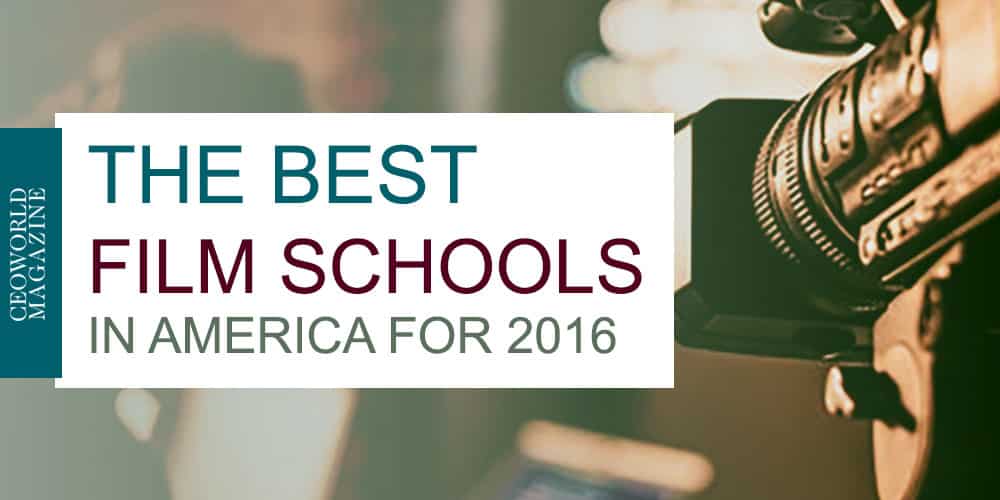 If you are considering a career in film and entertainment, CEOWORLD Magazine just released their list of the best film schools in the United States for 2016, with New York University Tisch School of the Arts (TSOA) coming out on top, followed by the American Film Institute (AFI) – located in the heart of the entertainment community in Hollywood.
Tisch School of the Arts ranked No. 1 on our overall list of the "Best Film Schools In America For 2016." Rounding up the top five was AFI (No. 2), USC School of Cinematic Arts (No. 3), California Institute of the Arts (No. 4), and UCLA School of Theater, Film and Television (No. 5). Many notable alumni from these institutes are creating the box office blow-outs of today.
The Best Film Schools In America ranks institutes based on prestige, academics, program diversity, practical experience, unique career opportunities, and access to cutting-edge equipment. The 2016 rankings are based on a survey carried out between January and July 2016. The survey was developed and conducted by the CEOWORLD Magazine and includes responses from more than 28,400 individuals in film and entertainment industry. The margin of sampling error for the full sample of 28,400 respondents is plus or minus 1.2 percentage points. Respondents ranked schools on a scale from 1 to 10, with 10 being a perfect score. The scores for each school were averaged together and then ranked accordingly. In addition to sampling error, one should bear in mind that as in all survey research, there are possible sources of error—such as coverage, non-response and measurement error——that could affect the results.
Best Film Schools In America For 2016 – Top Schools in Entertainment Education:
Well, if you've ever dreamed of placing your imagination under lights and in front of a camera, check out these elite film schools. Lights, Camera….
Best Film Schools In America For 2016
1. New York University Tisch School of the Arts
Notable Alumni: Woody Allen, Oliver Stone, Whoopi Goldberg, Anne Hathaway, Philip Seymour Hoffman, Ethan Hawke, Angelina Jolie, Martin Scorsese, Kristen Bell, Alec Baldwin, Billy Crystal, James Franco, and Andy Samberg.
2. American Film Institute
Notable Alumni: Andrea Arnold, Darren Aronofsky, Carl Colpaert, Doug Ellin (Entourage), Todd Field, Jack Fisk, Carl Franklin, Janusz Kamiński, Matthew Libatique, David Lynch, Terrence Malick, Victor Nuñez,  Wally Pfister, and Robert Richardson
3. USC School of Cinematic Arts (formerly the USC School of Cinema-Television, or CNTV)
4. California Institute of the Arts, Valencia
5. UCLA School of Theater, Film and Television (UCLA TFT)
6. Columbia University School of the Arts (SoA), New York
7. Loyola Marymount's School of Film and Television ,  Los Angeles
8. Dodge College of Film and Media Arts, Calif.
9. Wesleyan University
10. Emerson College Visual & Media Arts School, Boston
11. University of Texas, Austin
12. Stanford University
13. Savannah College of Art and Design
14. University of North Carolina School of the Arts
15. Columbia College Chicago
16. San Francisco State University
17. Ithaca College's film program, housed in the Roy H. Park School of Communications
18. Boston U. Department Film & Television, College of Communication, Boston
19. Rhode Island School of Design
20. Ringling College of Art and Design
21. Syracuse University
22. Colorado Film School, Denver
23. Northwestern U., School of Communication
24. Art Center College of Design, Pasadena, Calif
25. Florida State U., College of Motion Picture Arts, Tallahassee
26. The Theatre School at DePaul University (Goodman School of Drama), Chicago
Notable Alumni: Stana Katic, John C. Reilly, Elizabeth Perkins, Zak Orth, Michael Muhney, Joe Mantegna, Sean Gunn, and Judy Greer
27. New York Film Academy – School of Film and Acting (NYFA)
Notable Alumni: Joshua Leonard, Naya Rivera, Naga Chaitanya (Indian actor), D. B. Woodside, Imran Khan (Indian actor), Analeigh Tipton, Damon Wayans Jr.
28. School of Visual Arts (SVA)
Notable Alumni: Fred Armisen, Ranbir Kapoor (Indian actor), Rahul Khanna (Indian actor), Jared Leto
29. American University, the film and media arts department at American University.
---
For more information on the film school section please contact info@ceoworld.biz
---
Add CEOWORLD magazine to your Google News feed.
---
Follow CEOWORLD magazine headlines on:
Google News
,
LinkedIn
,
Twitter
, and
Facebook
.
---
Thank you for supporting our journalism. Subscribe here.
---
For media queries, please contact:
info@ceoworld.biz
---