Exactly How Much EDM DJs Are Making: World's Highest Earning DJs Of 2016
For the 4th year in a row, Scotland's biggest dance export Calvin Harris is once again the world's highest earning EDM artists, pulling in $63 million pretax, according to Forbes magazine's list for the top ten highest earning DJs of 2016.
Coming in second as a list mainstay is Dutch Dj Tiësto, who made only half of what Calvin Harris earned with $38 million, followed by French DJ David Guetta with $28 million. Rounding out the top five is ZEDD (number 4), who drew in $28 million and Steve Aoki (number 5) with $23.5 million in earnings.
Collectively, dance music's top earners raked in a whopping $270.5 million (down 1% from a year ago) – thanks to their music, gigs and lucrative brand endorsements.
One thing is distinctly lacking from the top 10 list of the highest earning DJs in the world: Women.
Click To Tweet
World's highest earning DJs of 2016
World's Highest-Paid EDM DJs: Electronic Cash Kings of 2016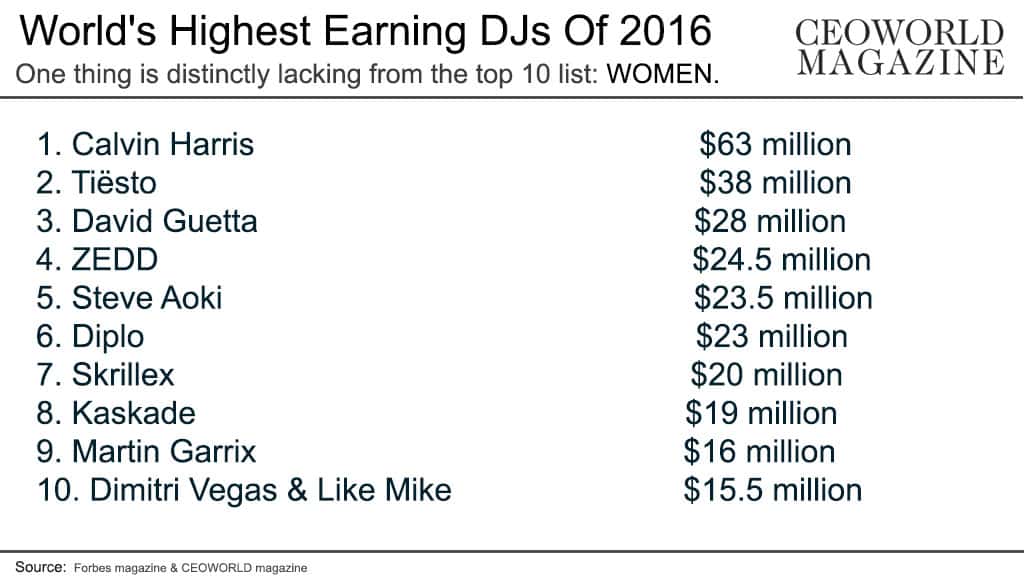 Dr. Amarendra Bhushan Dhiraj is the CEO and editorial director at CEOWORLD magazine, the leading global business magazine written strictly for CEOs, CFOs, top managers, company directors, investors, senior executives, business leaders, high net worth individuals, and the most globally powerful men and women.
Latest posts by Dr. Amarendra Bhushan Dhiraj
Leave a Reply