Which Countries Have The Best And Worst Reputations For 2016?
According to a study which ranks how countries are perceived and respected worldwide, Sweden is the "most admired" country with the "best reputation" in the world, for 2016. In 2nd place this year is Canada, followed by Switzerland, Australia, and Norway.
Interestingly, Europe leads the world in reputation, boasting 16 of the 20 highest-ranked countries. The rest of Scandinavia also made it to the top 10, with Norway in 5th place, Finland in 6th, and Denmark in 6th. Oceania also did well overall, with Australia and New Zealand placing 4th and 7th, respectively.
On the low end of the spectrum, Iraq, Iran, and Pakistan find themselves in the global headlines daily because of their ongoing conflicts, political turmoil, oppressive regimes, and serious human-rights violations. Unsurprisingly, the report issued by the Reputation Institute ranks those countries among the least reputable nations in the world.
These are the countries with the best and worst reputations (full list):
1. Sweden
2. Canada
3. Switzerland
4. Australia
5. Norway
6. Finland
7. New Zealnd
8. Denmark
9. Ireland
10. Netherlands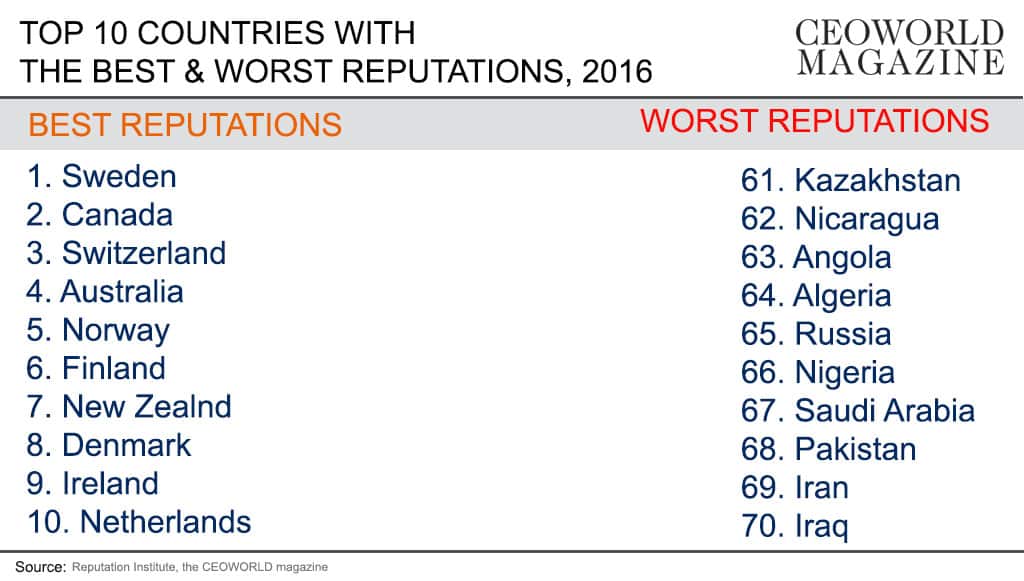 11. Austria
12. Italy
13. United Kingdom
14. Japan
15. France
16. Belgium
17. Spain
18. Germany
19.Portugal
20. Singapore
21. Czech Republic
22. Costa Rica
23. Peru
24. Brazil
25. Taiwan
26. Thailand
27. Poland
28. United States
29. Argentina
30. Dominican Republic
31. Malaysia
32. Philippines
33. Puerto Rico
34. Chile
35. Panama
36. Paraguay
37. Indonesia
38. Cuba
39. Morocco
40. Greece
41. Venezuela
42. Ecuador
43. Mexico
44. India
45. South Korea
46. United Arab Emirates
47. Bolivia
48. Uruguay
49. South Africa
50. Guatemala
51. Israel
52. Honduras
53. Qatar
54. El Salvador
55. Egypt
56. Romania
57. China
58. Turkey
59. Ukraine
60. Colombia
61. Kazakhstan
62. Nicaragua
63. Angola
64. Algeria
65. Russia
66. Nigeria
67. Saudi Arabia
68. Pakistan
69. Iran
70. Iraq