Impact On Business: Why You Need an Executive Coach
Let's assume that you have a pretty good thing going. Your company employs well-educated and highly skilled people. You have good systems and processes for getting things done. Your physical plant and your technology are up to date. Your vision is clear, and you have a strategy to match.  What is missing? Where can you find room for improvement?
If all of `your attention is on skills and execution, you will run out of ways to improve.  There is another realm that needs attention, something beyond the tangible. That realm is 'business behavior'. It is only a combination of skills and behavior that creates the ultimate organization.
If you have not worked extensively on business behavior, you will need help.  The experts in developing better business behavior are called executive coaches. To help you understand executive coaching, we draw exclusive information from the 11th annual Executive Coaching Survey, conducted by Sherpa Coaching in Cincinnati, Ohio USA.
The Benefits of Coaching
Can we prove the benefits of coaching? Let's see what the research says. It  is easy to measure the results you get from skills, systems and strategy. The benchmark is ROI (return on investment). When it comes to business behavior, measurements are harder. The Executive Coaching Survey tells us that  those few companies who tried to measure a return on investment for coaching have largely abandoned the effort.
There is a different way to measure the benefits derived from coaching. It is called IOB:   Simply put, IOB stands for impact on business. When you deliver a positive impact on business, you are producing a significant improvement in the way things turn out for your organization. If you want to be successful, then delivering a positive impact on business (IOB) should be your ultimate goal. This formula tells you how to deliver the biggest impact, right where you are:
Positive Skills + Positive Behavior = Positive Impact on Business (I.O.B.)
Case Study: IOB
Positive skills: Leave skills out of the equation and performance will eventually fall short.
Take an expert, well versed in her field.  She is the Vice President of IT in a large hospital.  Here are some of the skills she must have to be competent in her job.
Skills:
Medical records regulations
Financials
Cost analysis
Forecasting
Network tuning
Positive behavior: Let's look at the other half of the equation. Our vice president has five people reporting directly to her, with another 33 people reporting to them. To lead, guide and motivate them. She will need certain positive behaviors:
Communication
Delegation
Problem Solving
Follow Through
Approachability
She knows all the 'ins and outs' of her profession. She needs certain positive behaviors in order to lead effectively.
True success comes from a combination of positive skills and positive behavior. Together, the two create a positive impact on business (IOB).
What happens to a person with great style and charisma, who lacks essential knowledge and experience?  What about someone who has great technical skills and no personality? Either one will be a disaster.  Both skills and behavior must be positive in order to create a positive impact on business.
​So, IOB measures the Impact on Business that comes from better business behavior. Better business behavior is the intent and goal of executive coaching. The complete organization works on both skills and behavior. This includes coaching to round out other training and development.
Coaching Defined
What exactly is Executive Coaching? Why do you need it? How can you measure the benefits? Let's draw some distinctions between two general areas of discipline:  'executive coaching' and 'business coaching'. Let's look at some of the differences in emphasis, focus, and training between these two types of coaching:

"Business coaching" is an alternative term for consulting, as research shows: "Many business coaches refer to themselves as consultants, a broader business relationship than one which exclusively involves coaching." Lorber, Laura (10 April 2008). "Executive Coaching – Worth the Money?" The Wall Street Journal.
Business coaches work to develop client's knowledge and skills. Executive coaches work to permanently enhance business behavior. Let us focus on executive coaching, and what it means.
We need a clear, academically sound definition of the role of an executive coach. One early definition described coaching in the following way: "… produces extraordinary results" and "… enhances the quality of life". That language did not last, though, because the definition cannot be promotional or guarantee specific results.
An accurate and viable definition of executive coaching should provide specific information that distinguishes it from other coaching – such as life, sports, fitness or business coaching.
One widely accepted definition of executive coaching states that it "means regular meetings between a business leader and a trained facilitator, designed to produce positive changes in business behavior in a limited time frame." *
This definition of executive clarifies:
Who coaches are:     trained facilitators
What coaches do:     produce positive changes in business behavior
When things happen:     on a set schedule within a limited time frame

* Definition from 'The Sherpa Guide: Process-Driven Executive Coaching' (Thomson 2005)
Who Gets a Coach?
Coaching can be an expensive endeavor. It can be risky, too, since not all coaches produce lasting results. Leaders at the top of an organization have the most influence, and seem to be the most obvious place to allocate coaching resources. There is also benefit to be had coaching at lower levels, and coaching the 'rising stars' in an organization.
Where is the money going? Here's the global breakdown for 2016: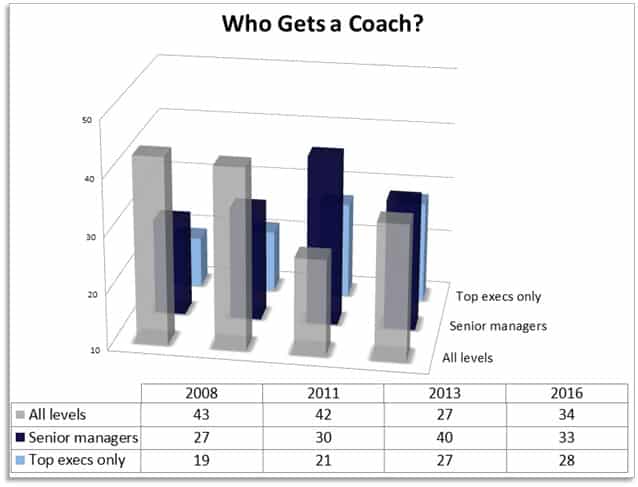 Executive coaching, in its early days, was being democratized, spreading across 'all levels in the organization'. Then, several years ago, it became the province of senior leaders and, even more so, reserved for top executives. Coaching became more exclusive. The number of organizations that reserved coaching for top executives grew, year by year, for five years or more.
The pendulum has swung back toward democratization, as confidence is restored in world economies. The number of organizations with coaching 'at all levels' is on the rise. Coaching for 'senior managers only' is giving way to coaching at all levels.
Internal coaches work at lower levels. Only 10% of internal coaching covers the needs of 'top-line executives'.  Coaching engagements at higher levels are often reserved for veteran external coaches. 33% of their work is with 'top-line executives".. Issues of objectivity and confidentiality come into play, so external coaches are far more likely to work with senior leaders.

North America places high in the race for unrestricted access to executive coaching. The US and Canada are in a virtual tie, with over a third of all organizations seeing coaching delivered 'at all levels'. Both countries saw an increase of coaching 'at all levels' this year to 36%.
In Europe, the UK is the largest reporting market once again this year. Their level of unrestricted coaching 'clocks in' at 28%, up from 26%  last year.
South Africa can no longer be called an 'emerging market'. Coaching is fully developed in South Africa, with trade associations, service brokers, university certifications, academic research and all the trappings of a booming industry.
Last year with coaching 'at all levels' standing at 22%, we said: "Trends seem to trail Europe by a few years, so we have an idea what the numbers will look like in future reports. " Our prediction has been borne out, as we see an increase in coaching 'at all levels' from 22% to 30% in 2016.
Where Coaching Produces Value
What do clients and customers expect from their executive coaches? The Executive Coaching Survey has tracked the reasons people use coaching for a long time. Let us talk about what people want from coaching.
People want to see an impact on business. Improved communication, teamwork, collaboration and accountability can greatly improve results in reaching a variety of business goals.
Which goals do business leaders think coaching addresses? 'Change management,' shown at the bottom of this chart, and 'creating growth,' just above it, got the highest response. Survey respondents also said coaching has value in 'productivity', 'building trust', and 'succession planning'.
Measuring the Benefits
How do business leaders measure the benefits of coaching?
360 Feedback, a before-and-after method pioneered many years ago by Marshall Goldsmith, is used most, 29% of the time. Other common methods include 'Well-being and Engagement' and 'Performance Reviews.' The survey found our newest measure, IOB (Impact on Business), in fourth place, with traditional ROI and 'Effectiveness of Learning' on the lower end of the scale.

Measuring the Benefits
Over the last few years, the number of executive coaches using ROI to measure the benefits of coaching has hovered at around 10%.
In a notable change, the number of consultants (business coaches) who use ROI to measure coaching's value dropped from 33% to 22% two years ago, and fell yet again to 18% last year, and now stands at 13%.
In summary:
Organizations need coaching to reach peak performance
A clear definition of coaching is emerging.
We know how to measure value, using  Impact On Business (IOB).
There's a trend toward providing coaching at all levels in the organization.
There are proven ways to measure the value OF COACHING.
++++++
Karl Corbett, Managing Partner at Sherpa Coaching.
This article is based on the 11th annual Executive Coaching Survey, published by Sherpa Coaching in Cincinnati, Ohio USA. 
---
Add CEOWORLD magazine to your Google News feed.
---
Follow CEOWORLD magazine headlines on:
Google News
,
LinkedIn
,
Twitter
, and
Facebook
.
---
Thank you for supporting our journalism. Subscribe here.
---
For media queries, please contact:
info@ceoworld.biz
---