These are the top 10 fastest cars in the world, 2016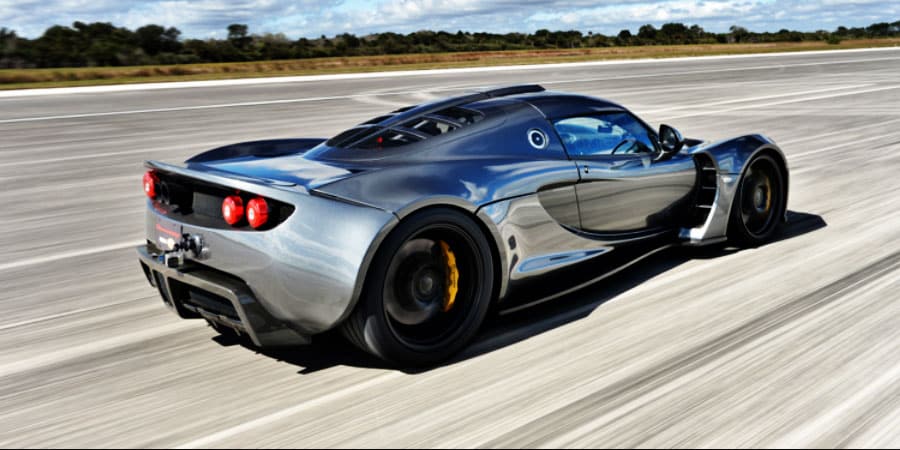 With a top-speed of 270.49 miles per hour (435 km/h), 0-60 mph in 2.5 seconds, Hennessey Venom GT is the fastest car in the world. Congratulations! Coming second in the world's fastest cars category is the Bugatti Veyron Super Sport, 268 mph (431 km/h), 0-60 in 2.4 secs, it was the 1st ever production car to exceed the 250 mph mark, base price is $2,400,000.
At a price of $1.25 million each, one of the rarest special-edition supercars in the world, the Hennessey Venom GT, is limited to just 3 units – manufactured by Texas-based Hennessey Performance Engineering, based on the Lotus Exige.
When it comes to cars, there's nothing quite enthralling and electrifying than speed. Quentin Willson, former Top Gear presenter, quoted Aldous Huxley describing how "speed is the only truly modern sensation" in the novel Brave New World.
Here is a list of the top 10 fastest cars in the world:
10. Pagani Huayra
Top speed: 230 miles per hour
9. Zenvo ST1
Top speed: 233 miles per hour
8. McLaren F1
Top speed: 240 miles per hour
7. Koenigsegg CCX
Top speed: 245 miles per hour
6. Saleen S7 Twin-Turbo
Top speed: 248 miles per hour
5. 9ff GT9-R
Top speed: 257 miles per hour
4. SCC Ultimate Aero
Top speed: 257 miles per hour
3. Koenigsegg Agera R
Top speed: 260 miles per hour
2. Bugatti Veyron Super Sport
Top speed: 268 miles per hour
1. Hennessey Venom GT
Top speed: 270.49 miles per hour (435 km/h)
Dr. Amarendra Bhushan Dhiraj is the CEO and editorial director at CEOWORLD magazine, the leading global business magazine written strictly for CEOs, CFOs, top managers, company directors, investors, senior executives, business leaders, high net worth individuals, and the most globally powerful men and women.
Latest posts by Dr. Amarendra Bhushan Dhiraj
Leave a Reply