Last Minute Tips to Win This Black Friday Season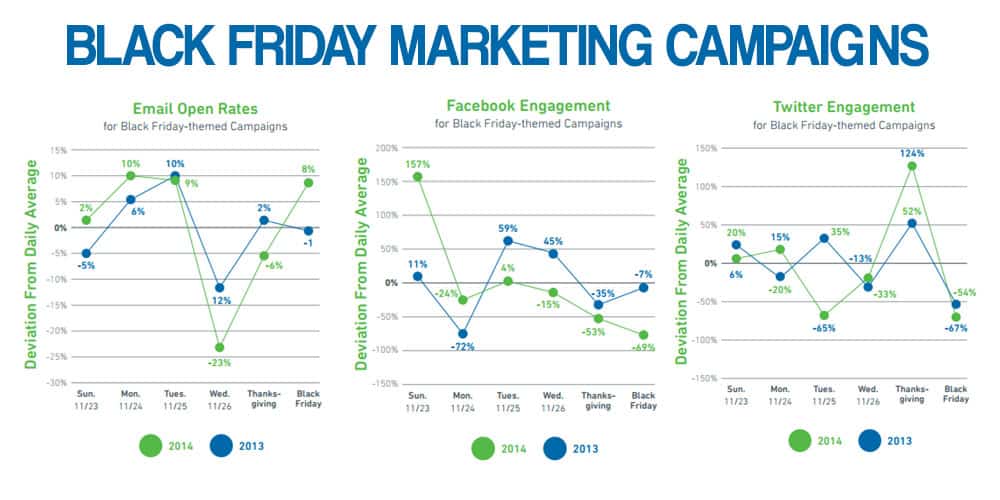 The holiday season is a hectic time for shoppers and it's just as busy – if not more so – for marketers. While it's inevitable that consumers will come out in droves for Black Friday and crash the internet for Cyber Monday, marketers need to stay competitive early and often to close out Q4 and hit their numbers. As a marketer myself, I know how tough it can be to stand out from the seasonal spikes in digital noise. From my experience, to engage customers and race ahead of competitors, marketers need to focus on timely digital channel execution this holiday.
As an annual event, Black Friday garners a great deal of attention. This will be true in 2015, especially with brands like Amazon, REI and Macy's drawing attention to the holiday itself through different execution strategies. I've seen a wide range of polarized headlines about the event, but what I keep coming back to is that – for brands and marketers – the event is much bigger than itself. Marketers' Q4 successes dependent upon what shoppers will do over the next month.
I too often see marketers deploying their Black Friday and Cyber Monday campaigns at the wrong time. Some come too early, others come too late and marketers are missing out on big opportunities to improve their open and engagement rates. That's why this holiday season brands have to pay more attention to digital execution details like timing and channel to stay competitive.
Timing
According to a recent Yesmail study, which analyzed 2013 and 2014 Black Friday data across social media and email campaigns, timing matters most for Black Friday marketing success. While it might seem intuitive to deploy emails and social posts as close to the holiday as possible, consumers' open rates prove this assumption to be wrong. Just as Amazon launched its Black Friday promotions early, marketers need to be more proactive and start their social media and email campaigns earlier.
Due to the rate at which consumers are shifting their purchasing practices online, marketers should begin sending out emails early on in the week of Black Friday. Shoppers are researching potential purchases online and will be receptive to promotional information or exclusive email deals. For example, during my own holiday shopping, an email from a restaurant – perhaps with an exclusive seasonal deal or information on purchasing gift cards – can result in me making a purchase later on in the week. Within the chaos of Black Friday, I'm likely to remember a well-tailored email from Monday or Tuesday and act on.
Not only do Black Friday-themed emails have higher than average open rates on the Monday and Tuesday leading up to the holiday, but – as an aid in the buyer's cycle – brands that engage consumer early on will remain top-of-mind with shoppers long term.
Channel
Amazon is changing Black Friday this year, promoting app-only deals and debuting an online Black Friday deals store with high-quality sale items for Prime members.
Like Amazon, marketers should also rethink their approach to holiday themed promotions. In addition to email, there are some social media trends that may surprise you. For instance, in both 2013 and 2014 consumers demonstrated the highest Facebook engagement rates in the days leading up to Black Friday. This trend was true even as early as the Sunday before the event.
Similarly, marketers were able to engage with Twitter users early in the week. Although the social platform did earn its highest engagement rates on Thanksgiving itself, consumers turned to the channel as a source of information – like promotions and contests – well before they headed out to make their purchases.
Although Facebook has typically been a 'go-to' source, and Twitter a 'last minute' avenue for information, consumers have started to approach the channels for different reasons. Many shoppers are turning to email for the on-demand deals that Facebook was once responsible for, and the rise of mobile is making it easier for consumers to get the real-time offers that Twitter can provide elsewhere.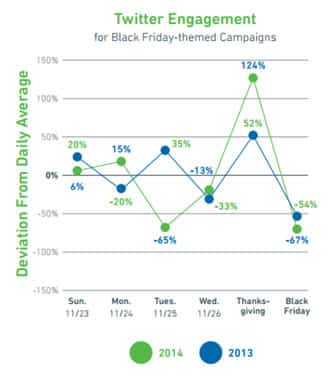 Marketers need to take a new cross-channel approach to social and email campaigns, and consider implementing mobile-only deals. I believe social channels still hold a great deal of value for marketers; however, marketers need to reimagine how these channels can function as a part of their larger omnichannel campaigns.
Every channel – email, Facebook, Twitter – offers marketers a unique opportunity to engage consumers. Together they can push shoppers toward their final conversion. For example, early in the week, marketers can use Twitter to spread a Black Friday hashtag or promotion that shoppers are able to follow leading up to the event. This can be complemented by an initial email correspondence to subscribers. Then, on Tuesday/Wednesday, they can peak shoppers' interest by featuring a merchandizing sneak peek on Facebook. Lastly, on Black Friday itself, marketers can seal the deal with shoppers and offer them an exclusive email deal. By leveraging the strengths of each channel (e.g. Twitter's hashtag feature and Facebook's content capabilities) and timely execution marketers can aid shoppers throughout their entire research process toward end-of-week purchases. A campaign like this would work so long as the message sent from one platform to the next remains consistent. If a subscriber receives one deal on Twitter but another on Facebook, he or she might get confused and end up turning away from a brand so marketers need to ensure a seamless customer experience across channels. A cross-channel strategy like the one detailed below will work great, particularly for marketers with a lower email cadence.
The Hook
Although many marketers already have their Black Friday campaigns in place, there are small tweaks I think all brands can make to fully benefit from a cross-channel approach in 2015. Beyond timing and channel execution, here are some quick tips as an additional hook for consumers before peak-season events:
Countdown Timers
 While urgent subject lines are a go-to for marketers, this season try to create excitement with an event countdown timer in an email header or footer. Countdown timers are a great creative touch as they engage shoppers with a visual and play on the timeliness/urgency of Black Friday. A simple clock or a countdown of days can help remind shoppers to purchase before the offer runs out.

Mystery Savings

In addition to urgency, marketers can also play up the intrigue of holiday shopping with a sneak peek or an unrevealed saving opportunity. Building suspense will work best when backed by a good deal and can help marketers generate revenue throughout the week. While brands typically focus on the offer, leading with an intriguing mystery can pique email subscribers' interests and lead them to engagement and sales.
Thanksgiving Deals
Even if consumers are spending the holiday with their families, there will inevitably be a lag in the festivities. Marketers can play to the day's trends – tiredness, full stomach, football – and create email and social content that reflects shoppers' habits. With the recent increase in mobile purchases on Thanksgiving this strategy works great for mobile, as it allows shoppers to purchase without having to deal with the stresses and crowds of brick-and-mortar stores or during the down times of their family plans.
Across the right channels and at the perfect moment, these hooks can help marketers achieve a successful Black Friday campaign. The data and trends are there and they are telling us to start early, think omnichannel and be creative with marketing hooks to stand out from the crowds.
Written By: Kyle Henderick, Director, Client Services, Yesmail