The 50 Most influential business thinkers in the world, 2015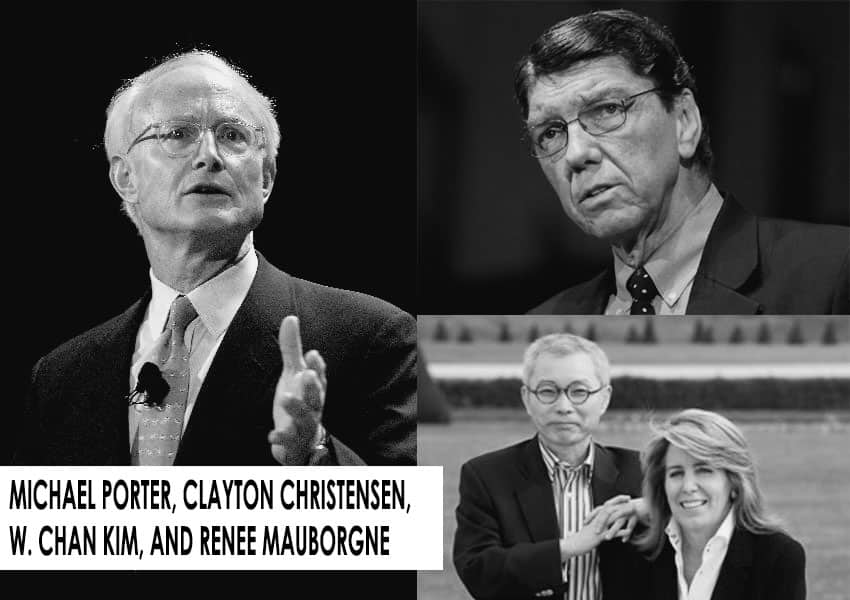 Michael E. Porter, the Bishop William Lawrence University Professor at The Institute for Strategy and Competitiveness, based at the Harvard Business School, has been confirmed as the world's most influential management thinker 2015, according to Thinkers50 list.
The list calls Porter, 68, "the father of modern business strategy." Clayton Christensen, another Harvard Business School professor, who topped the ranking in 2011 and 2013. This year Christensen is in second place. W. Chan Kim & Renée Mauborgne, a pair of professors from INSEAD, authors of Blue Ocean Strategy, take third place.
Also on the world's most influential business thinkers 2015 list : Don Tapscott (No. 4), Marshall Goldsmith (No. 5), Linda Hill (No. 6), Roger Martin (No. 7), Herminia Ibarra (No. 8), Rita G McGrath (No. 9), Dan Pink (No. 10).
The World's Most Influential Business Thinkers 2015
1. Michael Porter
2: Clayton Christensen
3: W. Chan Kim & Renée Mauborgne
4: Don Tapscott
5: Marshall Goldsmith
6: Linda Hill
7: Roger Martin
8: Herminia Ibarra
9: Rita G McGrath
10: Dan Pink
11: Richard A D'Aveni
12: Eric Ries
13: Vijay Govindarajan
14: Richard Florida
15: Alex Osterwalder & Yves Pigneur
16: Amy C Edmondson
17: Jeffrey Pfeffer
18: Martin Lindstrom
19: Pankaj Ghemawat

20: Steve Blank
21: Teresa Amabile
22: Daniel Goleman
23: Seth Godin
24: Henry Chesbrough
25: Adam Grant
26: Erik Brynjolfsson & Andrew McAfee
27: Dave Ulrich
28: Jim Collins
29: Stew Friedman
30: Gary Hamel
31: Lynda Gratton
32: Sylvia Ann Hewlett
33: Fons Trompenaars
34: Morten T Hansen
35: Tammy Erickson
36: Jennifer Aaker
37: John P Kotter
38: Zhang Ruimin
39: Subir Chowdhury
40: Nirmalya Kumar
41: Sydney Finkelstein
42: Julian Birkinshaw
43: Liz Wiseman
44: Doug Ready
45: Umair Haque
46: Hal Gregersen
47: Anil K Gupta
48: Nilofer Merchant
49: Whitney Johnson
50: Amy Cuddy
******
Note: these thought leaders are evaluated by 10 criteria that measure short-term and long-term influence.
1. Relevance of ideas
2. Rigor of research
3. Presentation of ideas
4. Accessibility/dissemination of ideas
5. International outlook
6. Originality of ideas
7. Impact of ideas
8. Practicality of ideas
9. Business sense
10. Power to inspire
Dr. Amarendra Bhushan Dhiraj is the CEO and editorial director at CEOWORLD magazine, the leading global business magazine written strictly for CEOs, CFOs, top managers, company directors, investors, senior executives, business leaders, high net worth individuals, and the most globally powerful men and women.
Latest posts by Dr. Amarendra Bhushan Dhiraj
Leave a Reply