Top 10 Highest Paid Women In Music Business, 2015
Pop diva Katy Perry is roaring loudly on top of Forbes's "highest-earning female musicians 2015" list, earned an estimated $135 million from June 1, 2014, to June 1, 2015, to clinch the No. 1 spot.
And The Highest Earning Women In Music is…
Landing in the No. 2 position is Taylor Swift, bringing in a whopping $80 million thanks in large part to her the success of her 1989 tour.
Rounding out the top five were Stevie Nicks and Christine McVie of Fleetwood Mac, grabbed the No. 3 spot with $59.5 million, Lady Gaga landed in the No. 4 spot with $59 million and Beyonce slid back to No. 5 with $54.5 million.
To determine their rankings, Forbes looked at the pretax income of each of the women from June 1, 2014 to June 1, 2015 before subtracting management fees. Other notable women in music who were close to making the list include Nicki Minaj, Miley Cyrus, Celine Dion and Carrie Underwood.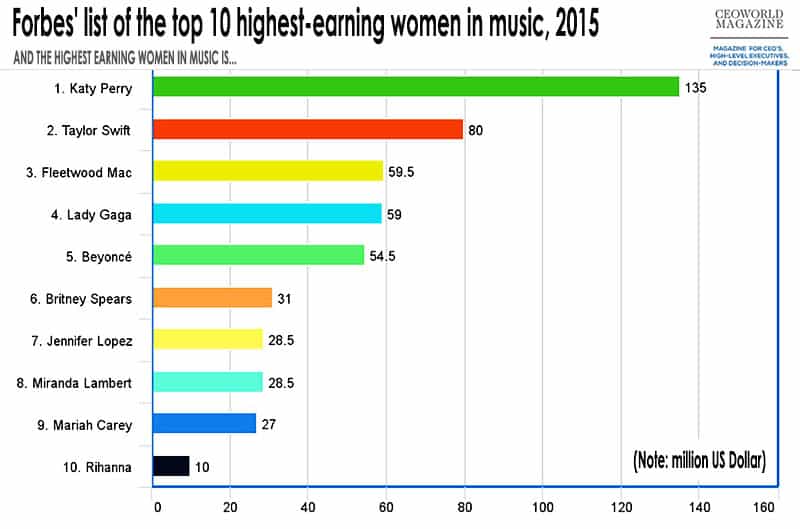 Here's the complete top 10 highest paid women in music business, 2015 list:
1. Katy Perry– $135 million
2. Taylor Swift– $80 million
3. Fleetwood Mac– $59.5 million
4. Lady Gaga– $59 million
5. Beyoncé– $54.5 million
6. Britney Spears– $31 million
7. Jennifer Lopez– $28.5 million
8. Miranda Lambert– $28.5 million; Country star Miranda Lambert tied J. Lo with $28.5 million earned.
9. Mariah Carey– $27 million
10. Rihanna- $10 million; Rihanna, lands in 10th spot with $26 million.
Editorial Aide/Reporter at The CEOWORLD magazine. Nationally Syndicated Advice Columnist. Generally prefer dogs to humans. Loves dragons. New Yorker.
Latest posts by Aimee Lee Webber
Leave a Reply