Top 25 Least Financially Transparent Countries In The World, 2015
The United States has overtaken Luxembourg, the Cayman Islands and Singapore as an attractive haven for super-rich individuals and businesses looking to shelter assets behind a veil of secrecy, according to a 2015 index of the world's offshore havens compiled by the Tax Justice Network.
The Alpine nation, Switzerland, is the least financially transparent country in the world, according to a watchdog group's new global ranking.
Besides Switzerland, the grandfather of financial secrecy, Hong Kong (No. 2), the United States (No. 3), Singapore (No. 4) and Cayman Islands (No. 5) made the top five.
However, observers say Britain would occupy the top spot if overseas territories like the Cayman Islands and crown dependencies like Jersey were to be included.
The scale of hidden offshore wealth around the world is difficult to assess.
Gabriel Zucman, one of the rising young stars of the economics, e
stimates that at least $7.6 trillion is held in tax havens, largely in what Zucman describes as the "sinister trio" of the British Virgin Islands, Luxembourg and Switzerland.
While, James Henry, a former chief economist at McKinsey & Co, estimated super–rich elite has at least $21 trillion stashed away in secret tax havens.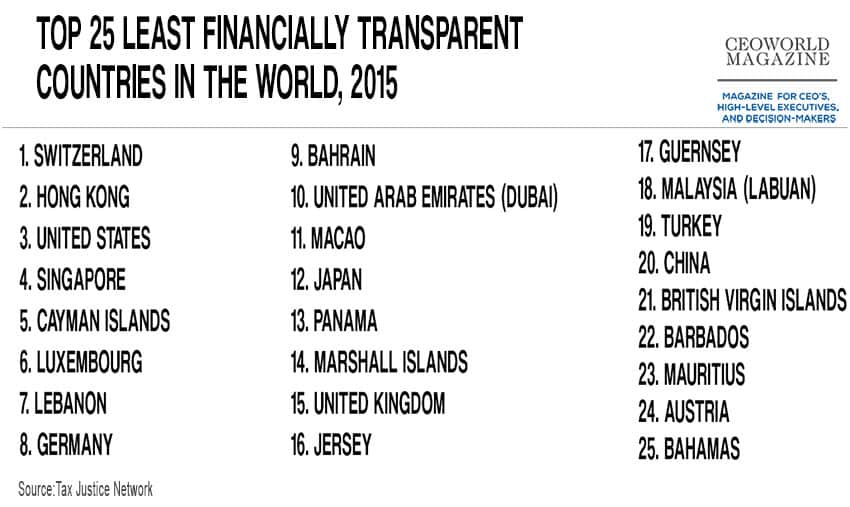 Top 25 Least Financially Transparent Countries In The World, 2015:
1. Switzerland
2. Hong Kong
3. United States
4. Singapore
5. Cayman Islands
6. Luxembourg
7. Lebanon
8. Germany
9. Bahrain
10. United Arab Emirates (Dubai)
11. Macao
12. Japan
13. Panama
14. Marshall Islands
15. United Kingdom
16. Jersey
17. Guernsey
18. Malaysia (Labuan)
19. Turkey
20. China
21. British Virgin Islands
22. Barbados
23. Mauritius
24. Austria
25. Bahamas
The full 2015 ranking of the World's Least Financially Transparent Countries:
Dr. Amarendra Bhushan Dhiraj is the CEO and editorial director at CEOWORLD magazine, the leading global business magazine written strictly for CEOs, CFOs, top managers, company directors, investors, senior executives, business leaders, high net worth individuals, and the most globally powerful men and women.
Latest posts by Dr. Amarendra Bhushan Dhiraj
Leave a Reply