World's Top 20 Most Business-Friendly Economies For 2016
In a time of economic uncertainty, Singapore, as expected, kept its position as the most business-friendly place in the world, according to a World Bank's 2016 report. That's consistency.
New Zealand ranked second in the world for ease of doing business. Interestingly, amongst the emerging economies, India made the biggest progress by jumping up 12 places to 130th.
The top ten economies with the most business-friendly environments: Singapore headed the top ten, followed by New Zealand, Denmark, South Korea, Hong Kong, United Kingdom, the United States, Sweden, Norway, and Finland.
There is a global spread to the top 10, with 3 Asian economies, 5 European countries and the United States all featuring.
The Doing Business report is the World Bank's most downloaded publication and can influence investment decisions, ranks economies based on 11 indicators, including the ease of starting a business, dealing with construction permits, getting credit and trading across borders.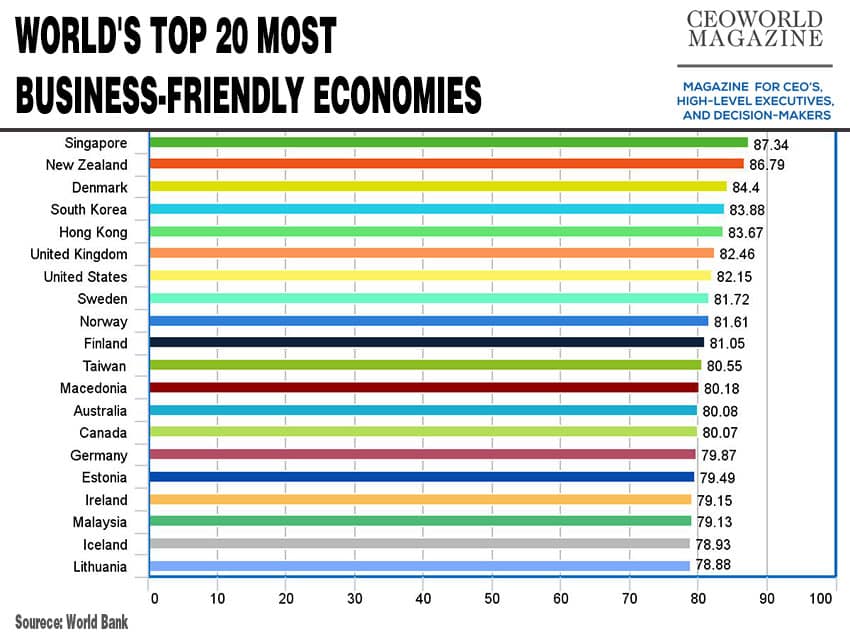 World's Top 20 Most Business-Friendly Economies For 2016
1. Singapore 87.34
2. New Zealand 86.79
3. Denmark 84.40
4. South Korea 83.88
5. Hong Kong 83.67
6. United Kingdom 82.46
7. United States 82.15
8. Sweden 81.72
9. Norway 81.61
10. Finland 81.05
11. Taiwan 80.55
12. Macedonia 80.18
13. Australia 80.08
14. Canada 80.07
15. Germany 79.87
16. Estonia 79.49
17. Ireland 79.15
18. Malaysia 79.13
19. Iceland 78.93
20. Lithuania 78.88
Track Latest News Live on CEOWORLD magazine and get news updates from the United States and around the world. The views expressed are those of the author and are not necessarily those of the CEOWORLD magazine.
Follow CEOWORLD magazine headlines on:
Google News
,
LinkedIn
,
Twitter
, and
Facebook
.
Thank you for supporting our journalism. Subscribe here.
For media queries, please contact:
info@ceoworld.biz