Clash of the Titans: Amazon vs. the New York Times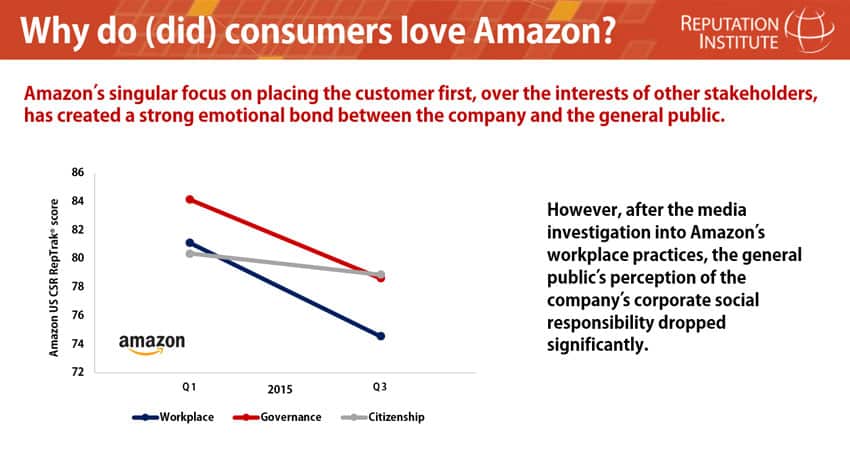 Philosopher Ayn Rand once wrote that "morality is a code of black and white" and famously concluded that there could be no such thing as a moral "grey zone."
More than two months after the New York Times published a novella-length article depicting a "bruising" corporate and workplace culture at Amazon.com, a morality play of sorts is still, well, playing out between the two.
After weeks of low-level skirmishing over the fairness and accuracy of The Times' portrayal of Amazon's workplace as unrelentingly brutal, the battle flared again Oct. 19 in the form of dueling posts on Medium. Amazon spokesman Jay Carney said the reporters failed to properly vet some of its sources and again called on the newspaper to "correct the record." A few hours later, however, Times Executive Editor Dean Baquet wrote that he and the newspaper stood by the story.
For the combatants, then, it was black and white, and for the outside observer, that grey zone, perhaps.
Amazon's corporate responsibility score compiled by the Reputation Institute took a hit after the article was published. Still, there's no evidence of either an incipient consumer boycott or any shortage of job applicants seeking to become "Amazonians," so Bezos might well be justified in believing that "this, too, shall pass." Indeed, there's little evidence to suggest that he has moved decisively to address the working conditions at what one former Amazon executive in the article described as "the greatest place I hate to work."
That's in spite of the fact that we live in a world where perceptions rule and drive the emotions that drive our behavior.Corporate reputation is hugely important.
Developing a deep appreciation for the different perceptions that groups of stakeholders have about a company is a necessary part of predicting the emotional reactions people will have and the behaviors to expect from them. And that's why for observers, strategists and even Bezos himself, it's a crucial, strategic undertaking to be continuously tracking the perceptions of its core stakeholders with hard quantitative data, and to understand the relative importance to attach to those perceptions.
Amazon's leadership has been criticized for failing to adequately rebut the criticisms raised in the Times article with precisely the kinds of analytical data it famously relies upon to develop and market its offerings and to track its employees.
That does seem illogical, and it suggests that the company may not actually have those data at hand. Interestingly, as part of regular surveys we conduct at Reputation Institute, we do track quantitatively public perceptions of companies and did measure public views of Amazon before and after the Times article.
Despite the debacle, our findings show only a slight drop in the public's overall admiration and trust for the company.Amazon remains atop our reputation league tables. However, the results do show a significant 6 percent to 8 percent drop in public perceptions of Amazon's workplace, governance, and leadership — three key drivers of the company's reputation that we know have a powerful effect on the likelihood that future consumers will buy its products, invest in its shares, and recommend its offerings to others.
Companies with strong reputations, like Amazon, are better able to weather crisis situations and recover more quickly when there's a problem. That's why it's so critical to invest in building one's corporate reputation well before bad news strikes.
Clearly, public perceptions matter, and Amazon needs to take them more seriously. Killing the messenger — in this case, the New York Times — is not an adequate response. Some more artful communications through mass media and social media might have helped better to inform and alter that perceptual landscape.
On the investor front, the resulting controversy that played out on all media was doubtless a factor in explaining the 13percent drop in Amazon's share price between Aug. 15 and Aug. 24. Losing trust and reputation with investors invariably leads to a sell-off that bids down the price of a company's shares.
The company's shares have since rebounded, and it reported higher-than-expected earnings on Oct. 22, further evidence of how companies with good reputations can bounce back after a crisis. But its stock remains volatile, suggesting that Bezos' handling of the controversy also failed to fully convince the investment community. Tracking and understanding those investor perceptions with good quantitative data should be something Amazon would theoretically excel at doing.
Clearly, Amazon's sterling reputation has taken a hit. But the true lesson from all this, with all due respect to Ayn Rand, is to understand that reputations are neither black nor white. They come in 50 shades of grey.
Tracking and managing the grey zone of perceptions and misperceptions that build reputation is what true leadership is all about. On that score, Bezos is, surprisingly, not measuring up.
By Charles Fombrun, Founder and Chairman of the Reputation Institute.
*******
"Morality is a code of black and white." – Quote taken from the book: "The Virtue of Selfishness: A New Concept of Egoism." by Ayn Rand.
Charles Fombrun, Founder & Chairman of the Reputation Institute, a private research group devoted to researching, measuring, and valuing corporate reputations.

Dr. Charles Fombrun is Founder and Chairman of Reputation Institute. He is a former Professor of Management at the Stern School of Business, New York University.
Latest posts by Charles Fombrun
Leave a Reply