8 Essential Entrepreneurial Skills to Teach Your Child (Infographic)
7. Optimism
8. Giving back
Helping your children to understand how to have resilience can be a great way of developing a thick skin and helping get back up after a fall. By talking about emotions and feelings openly and encouraging your children to do this can be a great way of building resilience. If you're not able to get them to be so upfront face-to-face about how they're feeling, there are some great apps out there for smartphones and tablets which can help children understand and express their feelings – including Positive Penguins which looks at how to tackle negative feelings and to move forward with them in a positive and effective manner.
Any entrepreneur out there will tell you that you need to have a good mix of innovation and creativity to succeed in business and to help solve any problems faced with the right solution. A great way to inspire this in your children is to encourage them to just keep playing. By using their imagination and own ideas, will help boost their creative and innovative energies. Just make sure that play isn't limited to computer games, real life play can be just as effective – if not more so.
By encouraging your children to keep on top of their chores and homework will help to build a strong work ethic and to understand the true value of hard work. Chores and responsibility can help boost a true sense of independence within your children.
Being curious about how the world works can help to identify some ways in which you can add to it and entrepreneurs need to be life-long in their learning as they always need to be on the lookout for the next best way in which they can improve themselves. Encourage your kids to have a hobby and pursue the interests they have. Regular outings to museums and creative environments can help boost inquisitive minds and get them thinking about things and how they work.
To get by in life, as well as business, you need to believe in yourself and what you're capable of achieving. Having the self-confidence can help to provide the push needed to take the essential risks needed in life and see things through in a proper manner. Inspire self-confidence in your children by encouraging their already-present and future opinions and give them the opportunity to make decisions based on their own instincts. Even if their decision is not something you'd normally do, let them make the choice and learn from their own personal experiences.
Business is all about having the strength to believe in you and follow your own thoughts and instincts. If it doesn't work the first time, realise what went wrong and what you can change next time and then try again next time. Have your own mind and if it doesn't feel right, don't do it.
Take a look at the infographic to identify 8 essential skills needed in the entrepreneurial world that you can easily teach your children – regardless of what future they envision for themselves.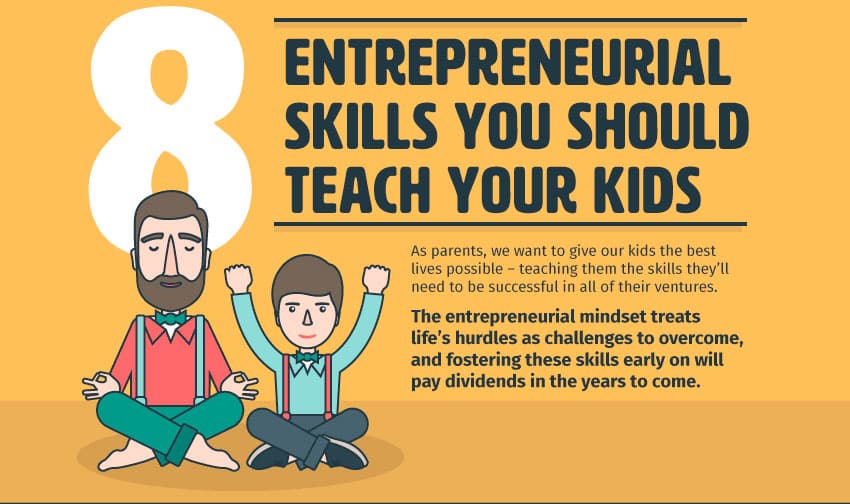 (Infographic by Pumpic, the start-up company that develops smartphone motoring apps, has looked at 8 of the best entrepreneurial skills that you should teach to your kids and compiled them all into a super handy infographic which can help them lead successful and fulfilling lives.)
Jessica Todd Swift is the deputy managing editor of the CEOWORLD magazine. She is a veteran business and tech blogger, journalist, and analyst. Jessica is responsible for overseeing newsroom assignments and publishing and providing support to the editor in chief.
Latest posts by Jessica Todd Swift
Leave a Reply