10 Countries That Spend The Most Money On International Tourism, 2014
It's no surprise that China, the Asian powerhouse, has topped the list of the top 10 countries whose travellers spend the most on international tourism for the year 2014, according to the 22015 United Nations World Tourism Organization (UNWTO) report.
Tourism is obviously a huge moneymaker for countries that are top international tourism destinations based on foreign tourist arrivals, but some tourists spend more than others.
Which country spends the most money on travel?
Chinese travellers spent a record US$ 164.9 billion abroad in 2014, currently generates some 13% of global tourism spending. With 8.9% of the market share, the 2nd largest spenders were Americans, spent $110.8 billion while traveling abroad last year.
Meanwhile, Germany, the third biggest spender on international tourism, reported a modest 1% increase in expenditure to US$ 92 billion.
Interestingly, the gap in expenditure between top spender China, and second largest spender the U.S., widened to US$ 54 billion.
See the top 10 tourism spenders in the chart below.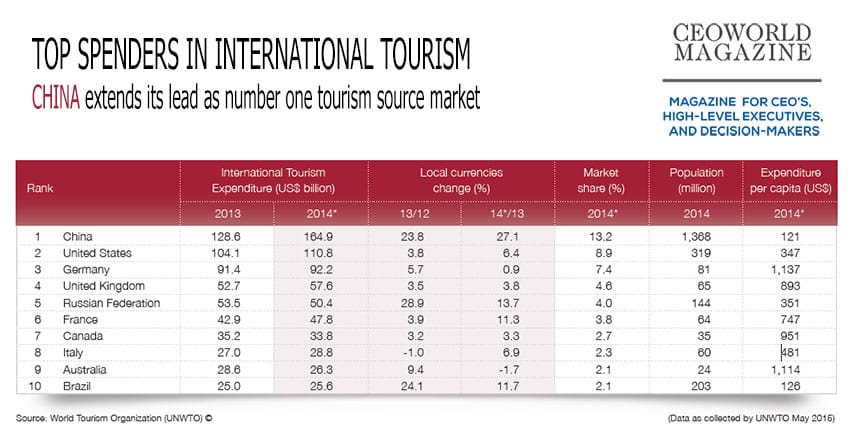 1. China (US$ 164.9 billion)
2. United States (US$ 110.85 billion)
3. Germany (US$ 92.2 billion)
4. United Kingdom (US$ 57.6 billion)
5. Russian Federation(US$ 50.4 billion)
6. France (US$ 47.8 billion)
7. Canada (US$ 33.8 billion)

8. Italy (US$ 28.8 billion)
9. Australia (US$ 26.3 billion)
10. Brazil (US$ 25.6 billion)
Dr. Amarendra Bhushan Dhiraj is the CEO and editorial director at CEOWORLD magazine, the leading global business magazine written strictly for CEOs, CFOs, top managers, company directors, investors, senior executives, business leaders, high net worth individuals, and the most globally powerful men and women.
Latest posts by Dr. Amarendra Bhushan Dhiraj
Leave a Reply