Satisfaction and Loyalty – So Transient and So Circumstantial
Customer Experience (CX) Score Does Not Equate Customer Experience
CX score does not show the true essence of the whole customer experience. The latter is the amalgamated feeling through cumulative interactions a customer has with a particular business whereas the former reflects graded answers at a moment in time to some particular questions targeted at certain demographics in some selected regions which all vary from poll to poll. In other words, a CX score is highly dependent on factors like the aforementioned ones, and thus only conveys one snapshot of the organic and constantly evolving customer experience. To validate this notion that a CX study represents only one carefully controlled manifestation of full customer experience, two sets of CX ratings done respectively by JD Power, and the Temkin Group of the same automobile brands for the year 2014 were compared to show how their two glimpses of CX could differ. In the below diagram, Audi and Mercedes-Benz landed on the top two spots on satisfaction according to the JD Power study but were placed only about average by Temkin. This means that while the JD Power report may suggest that these companies are doing great on the CX front, the Temkin review implies that they have more work to do just to get in par with their competition. Another stark contrast revealed in this comparison is Toyota's CX standing. It was rated mediocre by JD Power but bestowed the titleholder by Temkin.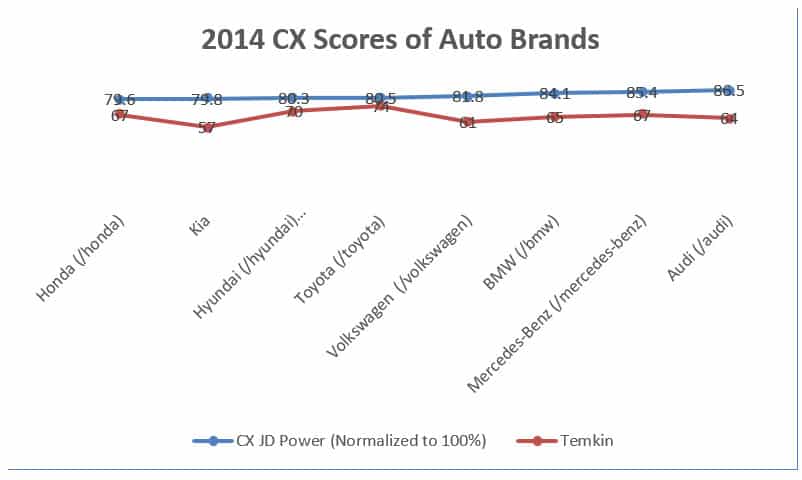 A High CX Score Means Strong Loyalty? Think Again!
To add fuel to the fire, NPS and CX aficionados should be mindful that companies' high CX scores do not necessarily lead to commensurate NPS outcomes. In fact, quite alarmingly, they might go opposite directions. Recent correlation analysis between these two measurements examined by SurveyMonkey in December 2014 confirmed this suspicion in every industry that they had appraised. In the below pictures, eBay exhibited a mediocre CX standing, yet its NPS tally came out disproportionally low, in fact rock bottom, in the online services industry. Similarly Chase and AMEX had the exact same leading CX position, but their NPS figures differed drastically in the financial services industry. Another huge variance in this industry can be seen in Bank of America. Its CX standing was slightly above Capital One's, but on the NPS front, it was not only below, but also resided in the negative domain indicating that it was losing customers. Hence when even CX and NPS scores obtained under the same environments differ so much, how reliable could they be when these governing factors deviate, and ultimately how well could CX scores represent true customer experience when the survey variables fluctuate?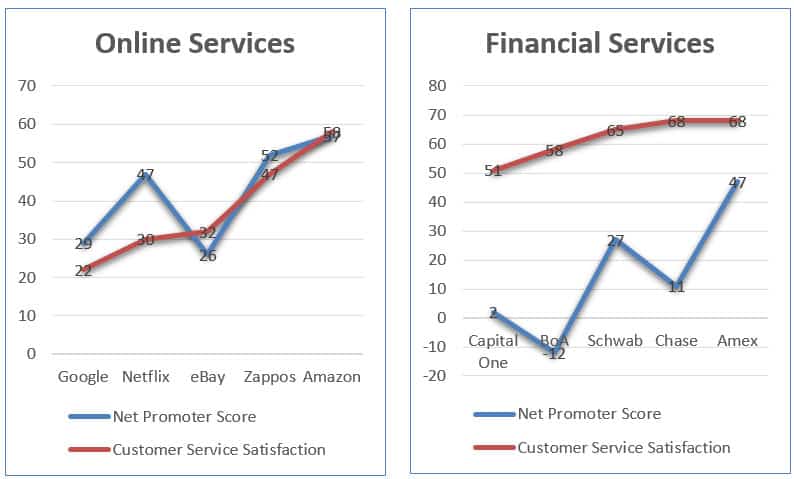 Furthermore this phenomenon is sadly industry-agnostic. According to SurveyMonkey's Benchmark Product data from December 2014, there are companies in every industries that they studied demonstrating weak parallelism between their CX and NPS standings. Two examples that testify to this situation in the retail and Electronics/Software industries are included below to exhibit this reality, or discrepancy.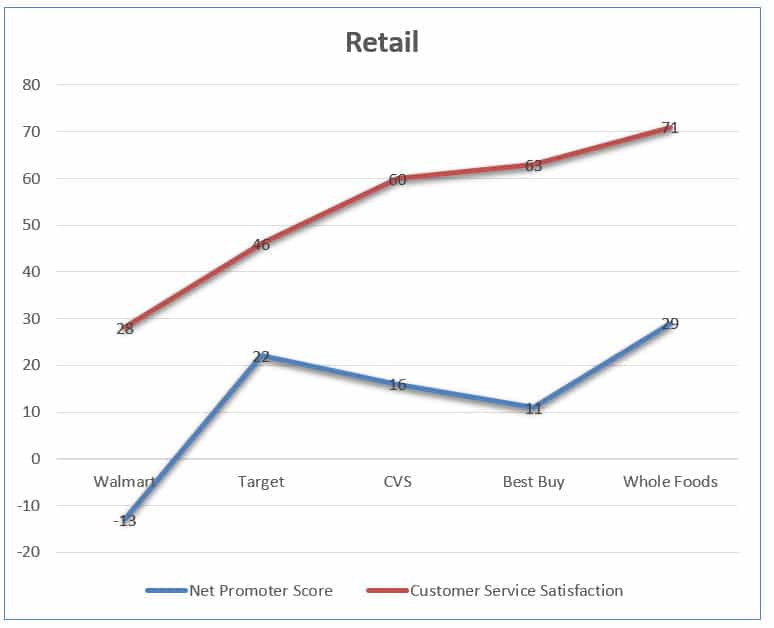 Consumers and businesses alike might be swayed by impeccable CX and NPS ratings into interpreting more than what the data represent. These figures are exceedingly dependent on the size of the sample pool, survey time, demographic, polled questions, locality, company news, and ephemeral marketing events that spectators should be cognizant of their transitory and contingency nature. In light of this, viewers might want to delve into the specifics of their respective CX and NPS surveys to validate that their operations truly run under the same environments as the polls' before being content with their sampled outcomes or jumping for improvement strategies. Moreover, a great CX standing may not mean much if it is not accompanied by a comparable NPS ranking, and a winner in both CX and NPS scores might not be accurate barometers if the survey parameters had been dissimilar to those of the business's market. Last, but not least, these indices only represent one time point of their customer experience which are organic and always evolving. It is so easy to have a set of CX and NPS scores to mislead customer matters that ultimately it is caveat emptor for the business beholders to sort them out what to believe.
****
#Quote
"Get closer than ever to your customers. So close that you tell them what they need well before they realize it themselves."  ~ Steve Jobs
***
What you may have missed — and simply must read:
By Chi-Pong Wong, Service Segment Manager V at HP Inc.
Photo: Volkswagen Beetle.