The World's Top 20 Most Valuable Brands For 2015
For the third year on the trot, Apple has been named the "most valuable global brand" in the world, according to the 2015 Interbrand's list of the world's top 100 most valuable brands, meanwhile, Google came second (sorry, Androids).
Valued at $78 billion, Coca-Cola managed to hold onto 3rd spot, Microsoft inching up one place to claim 4th place, dislodging IBM into 5th spot.
Technology companies dominate the list, with 28 named in the top 100-strong list, Samsung in seventh and Amazon in 10th. Other technology firms on the list include Intel (#14), Cisco (#15), Oracle (#16), and HP (#18), Facebook (#23), eBay (#32), PayPal (#97), and Lenovo (#100).
The U.S.-based consultancy's report estimates the value of the Apple brand at $170.3 billion and Google brand, at $120.3 billion; the figures represent respective increases of 43 and 12 per cent.
Established in 1974, Interbrand, the world's leading brand consultancy, positions brands on its table based on revenue earned by branded products, the role played by a brand in influencing consumer behaviour and brand loyalty.
These are the 20 most valuable brands in the world for 2015
1. Apple ($170.3bn)
2. Google ($120.3bn)
3. Coca-Cola ($78.4bn)
4. Microsoft ($67.7bn)
5. IBM ($65.1bn)
6. Toyota ($49bn)
7. Samsung ($45.3bn)
8. GE ($42.3bn)
9. McDonald's ($39.8bn)
10. Amazon ($37.9bn)
11. BMW ($37.2bn)
12. Mercedes-Benz ($36.7bn)
13. Disney ($36.5bn)
14. Intel ($35.4bn)
15. Cisco ($29.9bn)
16. Oracle ($27.3bn)
17. Nike ($23.1bn)
18. HP ($23.1bn)
20. Louis Vuitton ($22.3bn)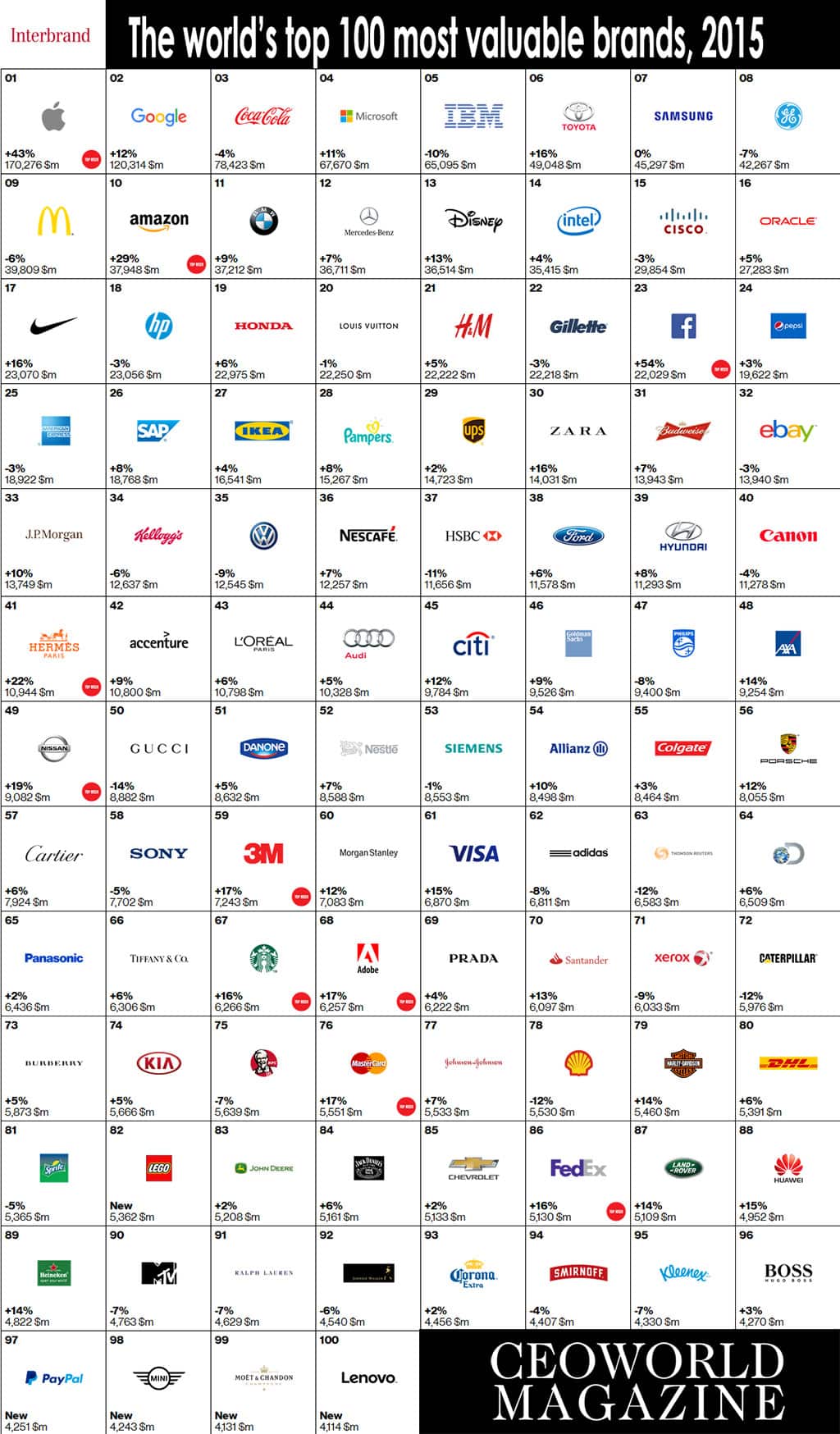 Dr. Amarendra Bhushan Dhiraj is the CEO and editorial director at CEOWORLD magazine, the leading global business magazine written strictly for CEOs, CFOs, top managers, company directors, investors, senior executives, business leaders, high net worth individuals, and the most globally powerful men and women.
Latest posts by Dr. Amarendra Bhushan Dhiraj
Leave a Reply