Top 20 Women-Friendly Countries In The World, 2014
Out of the 142 countries, Iceland tops out as the #1 place for women, according to the World Economic Forum's global gender equality index, Iceland shows narrowing the gender gap isn't rocket-science.
As one of the first countries to give women the right to vote in 1915, Iceland, frequently referred to as "feminist's paradise," as well as the world leader in women's rights, it is hands-down the most woman-friendly country in the world.
Nordic countries consistently rank at the top of the list. Finland (No. 2), orway (No. 3), Sweden (No. 4) and Denmark (No. 5). At No. 20, the United States continues to improve in the rankings–up from No. 23 in 2013 – but hasn't yet climbed to a top-10 slot.
Readers: What can we learn from the Nordic countries?
At the bottom of the list, the worst countries for gender quality are Mali (No. 138), Syria (No. 139), Chad (No. 140), Pakistan (No. 141) and Yemen (No. 142).
The Global Gender Gap Index 2014, listed the following countries as the 20 best places for women – the narrower the gender gap, the happier you'll be. The highest possible score is 1 (equality) and the lowest possible score is 0 (inequality)
1. Iceland
Score: 0.8594
2. Finland
Score: 0.8453
3. Norway
Score: 0.8374
4. Sweden
Score: 0.8165
5. Denmark
Score: 0.8025
6. Nicaragua
Score: 0.7894
7. Rwanda
Score: 0.7854
8. Ireland
Score: 0.7850
9. Philippines
Score: 0.7814
10. Belgium
Score: 0.7809
11. Switzerland
Score: 0.7798
12. Germany
Score: 0.7780
13. New Zealand
Score: 0.7772
14. Netherlands
Score: 0.7730
15. Latvia
Score: 0.7691
16. France
Score: 0.7588
17. Burundi
Score: 0.7565
18. South Africa
Score: 0.7527
19. Canada
Score: 0.7464
20. United States
Score: 0.7463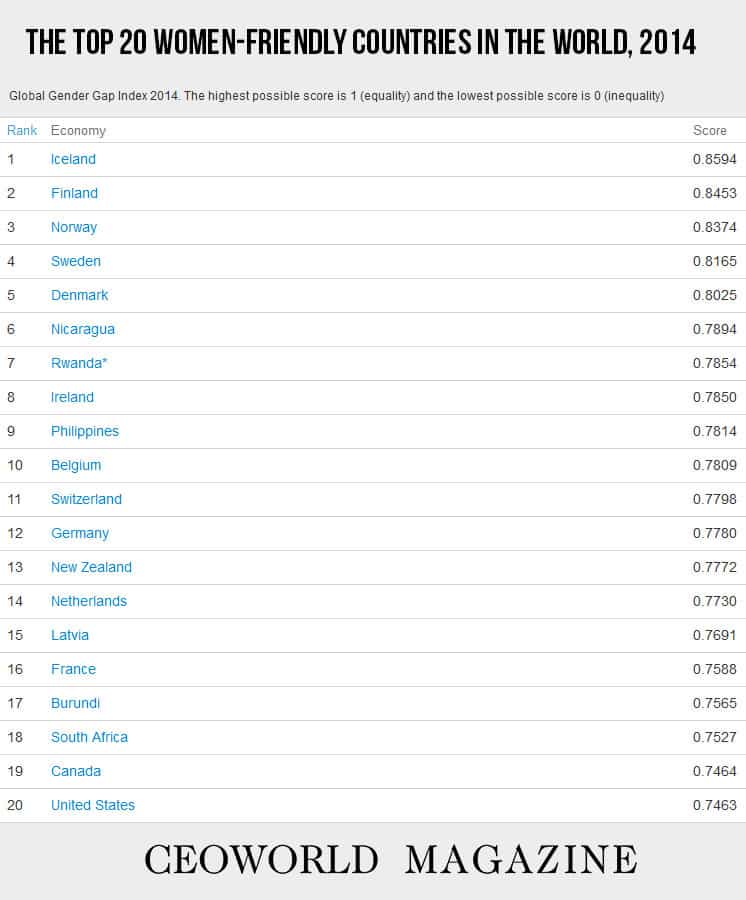 Worst Countries For Women:
133. Morocco
134. Jordan
135. Lebanon
136. Côte d'Ivoire
137. Iran, Islamic Rep.
138. Mali
139. Syria
140. Chad
141. Pakistan
142. Yemen
To determine the best and worst countries for women's equality, the group considered 14 variables in four categories: women's access to basic and higher education; women's health and survival by measures of life expectancy and sex ratio; equality of economic opportunity and participation; and political empowerment.
Dr. Amarendra Bhushan Dhiraj is the CEO and editorial director at CEOWORLD magazine, the leading global business magazine written strictly for CEOs, CFOs, top managers, company directors, investors, senior executives, business leaders, high net worth individuals, and the most globally powerful men and women.
Latest posts by Dr. Amarendra Bhushan Dhiraj
Leave a Reply