Top 20 most admired and reputable countries in the world, 2015 list
Interestingly, for the 4th time in 6 years, Canada has been named as the most reputable nation in the world, according to a new report by the Copenhagen-based research and advisory firm Reputation Institute.
Canada was followed by Norway, Sweden, Switzerland, Australia, Finland, New Zealand, Denmark, the Netherlands and Belgium. With a score of just 22.5, Iraq was ranked as the country with the worst reputation followed by Iran, Pakistan, Russia and Nigeria.
The world's perception of Canadians as "friendly and welcoming" people helped Canada reclaim No. 1 spot. In 2014, Canada came in second to Switzerland.
List of countries with the strongest reputation in 2015:
1. Canada
2. Norway
3. Sweden
4. Switzerland
5. Australia
6. Finland
7. New Zealand
8. Denmark
9. Netherland
10. Belgium
11. Ireland
12. Austria
13. UK
14. Italy
15. Germany
16. Japan
17. Spain
18. Portugal
19. France
20. Singapore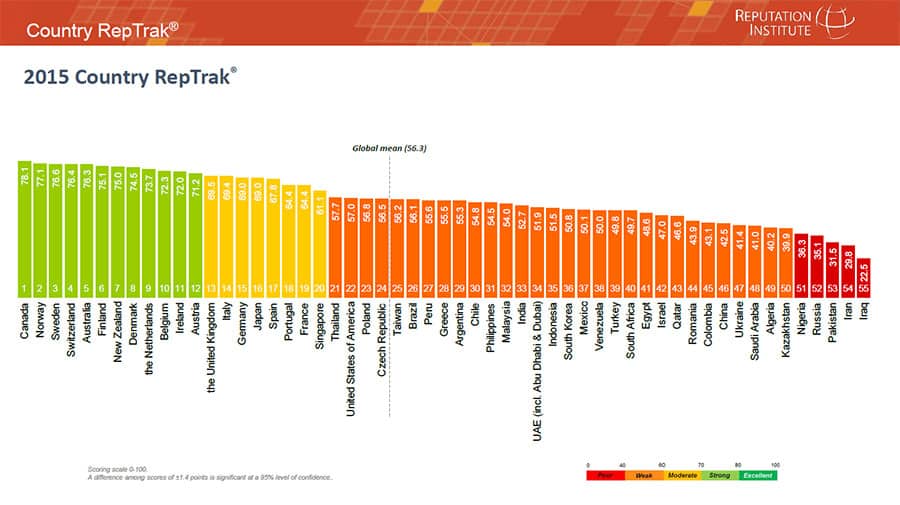 Highlights – Top 10:
1. Asian countries continue to improved their reputations: Iran (+10.8%), China(+7.9%) and India (+7.4%) are the most improved.
2. International tourist arrivals increased by 4.4% in 2014 to reach 1.135 billion; Growth is expected to continue in 2015 by 3 to 4%.
3. Global foreign direct investment (FDI) inflows reached US$ 1.2 trillion and is projected to reach US$ 1.4 trillion in 2015.
4. Latin American countries still maintain a growth path (average +3.1%), headed by Colombia. On the other hand, Brazil's reputation fell (-2.4%) as a consequence of institutional and economic crisis.
5. Canada, Norway, Switzerland, Sweden and Australia are the best perceived countries among the population of the most relevant economies of the world.
6. European countries are changing trends: Germany's reputation starts to erode (-1.3%), while Spain (+6.1%), Portugal (6.1%), Italy (+5.4%) and Ireland (+5.2%) improved their reputations after their economic indicators started to improve.
7. Canada is perceived as the top country in quality of life.
8. Sweden is perceived as the top country in terms of the quality of its institutions
9. Japan is perceived as the country with a higher level of development.
10. Russia's reputation shows a negative trend, damaged by the Ukrainian crisis and Crimea's annexation.
The Reputation Institute's Country Reptrak report, measures the reputation of the 55 countries with the highest GDPs based on levels of trust, esteem, admiration and respect based on an online panel of more than 48,000 people living in G8 countries. An additional 30,000 people from non-G8 countries with large economies, such as India, China, and Brazil, were also interviewed to gain more data.
The Study measures a country's perceptions exploring 16 attributes that include it being viewed as: a safe place to visit, a beautiful country, having friendly and welcoming residents, having progressive social and economic policies, being run by an effective government, and more.
The questions were broken down into 3 broad categories:
1. Effective government — Social and economic policies, efficient use of public resources, ethical, etc.
2. Appealing environment — Beautiful country, welcoming people, appealing lifestyle, etc.
3. Advanced economy — High-quality products and services, well-known brands, values education, etc.
Dr. Amarendra Bhushan Dhiraj is the CEO and editorial director at CEOWORLD magazine, the leading global business magazine written strictly for CEOs, CFOs, top managers, company directors, investors, senior executives, business leaders, high net worth individuals, and the most globally powerful men and women.
Latest posts by Dr. Amarendra Bhushan Dhiraj
Leave a Reply