Here Are The Top 10 Global MBA Programs For Entrepreneurship, 2015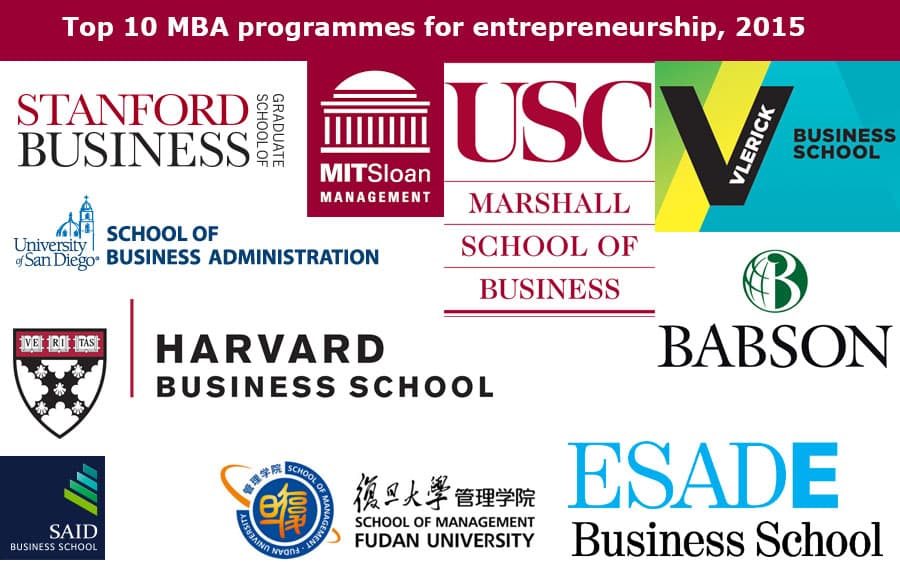 Stanford University's MBA program was ranked number one worldwide for "Top 10 Global MBA Programs For Entrepreneurship," by the influential Financial Times annual MBA list, followed by the MIT Sloan School of Management. Stanford Graduate School of Business was also ranked 4th overall on the CEOWORLD Magazine's global MBA (Master of Business Administration) ratings.
The business schools rankings included only 10 business schools, 6 of which are located in the United States; three from Europe (UK, Belgium, and Spain); one from China.
The School of Business Administration (SBA) at the University of San Diego was ranked 3rd and the University of Southern California's Marshall School of Business was ranked 4th.
China's Fudan University School of Management is the only business school from Asia to be ranked, at 6th in the table. At 7th in the ranking, Oxford University's Saïd Business School, the only UK based business school ranked by the FT for entrepreneurship.
Vlerick Business School in Belgium, and ESADE Business School of Spain are ranked in ninth and tenth places respectively. 40 percent of Stanford graduates from 2011 started a company, with all of them still in operation. It was the main source of income for 74 percent of the entrepreneurs surveyed.
Financial Times, one of the world's preeminent business publications, rated the schools based on the percentage of graduates who created their own company, the percentage of companies still operating at the end of 2014, and whether those businesses were the primary source of income for graduates, among other factors.
Stanford scored high marks for the level of support provided by its alumni network for both starting a company and financing it. 40% of Stanford MBAs launched a start-up during the program, or have since graduating — nearly double the global average of 22%.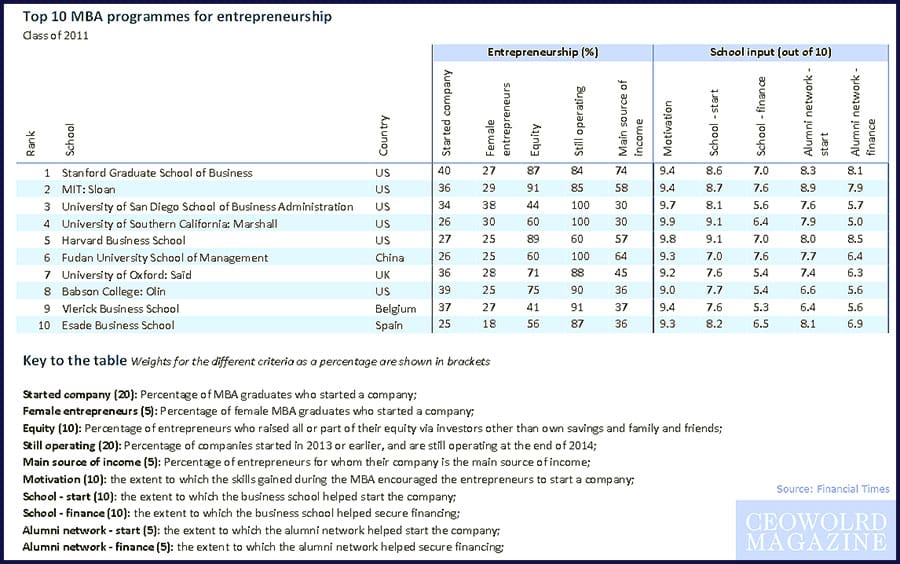 Top 10 MBA programmes for entrepreneurship:
1. Stanford Graduate School of Business
Country: US
2. MIT: Sloan
Country: US
3. University of San Diego School of Business Administration
Country: US
4. University of Southern California: Marshall
Country: US
5. Harvard Business School
Country: US
6. Fudan University School of Management
Country: China
7. University of Oxford: Saïd
Country: UK
8. Babson College: Olin
Country: US
9. Vlerick Business School
Country: Belgium
10. Esade Business School
Country: Spain
Dr. Amarendra Bhushan Dhiraj is the CEO and editorial director at CEOWORLD magazine, the leading global business magazine written strictly for CEOs, CFOs, top managers, company directors, investors, senior executives, business leaders, high net worth individuals, and the most globally powerful men and women.
Latest posts by Dr. Amarendra Bhushan Dhiraj
Leave a Reply