List of the world's top 25 smartest companies for 2015
Yet again, Massachusetts Institute of Technology (MIT) Review recently published its list of the world's 25 smartest (and most successful) companies for 2015. What does smart mean?
There was no surprise seeing Elon Musk's Tesla Motors, maker of electric cars and batteries for industries and households, is the world's smartest company. The Chinese mobile and Apple's China competitor (imitator?) Xiaomi comes in second.
Xiaomi, the five-year-old Chinese startup that is challenging Apple's dominance in China,  Xiaomi is now the world's third-biggest seller of smartphones, just behind Apple and Samsung. The third smartest company, in fact, is Illumina, which develops DNA reading machines that are now being adopted in practical applications in hospitals and cancer clinics.
Where Is Apple?
Nowhere. That's right, nowhere.
Apple, which was not in the top 50 last year, makes it back to the list at no. 16 for Apple Pay.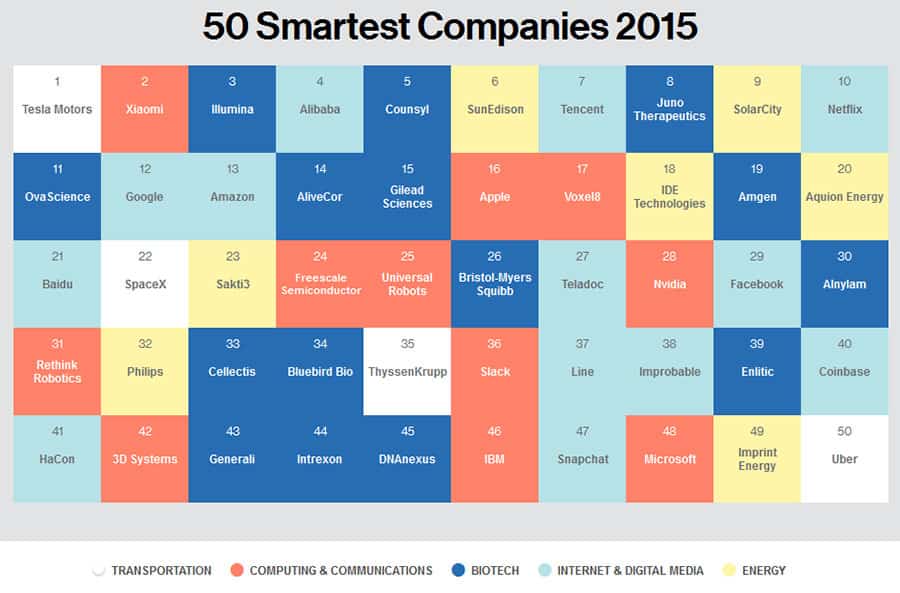 Tesla founder and CEO Elon Musk's two other companies, SolarCity and SpaceX, have landed in the ninth and 22nd spots respectively. SolarCity is currently building the world's biggest factory of solar panels, while SpaceX is making big steps into landing and reusing unmanned rockets.
To make the list of the world's smartest companies for 2015, a business "must have truly innovative technology and a business model that is both practical and ambitious, with the result that it has set the agenda in its field over the past 12 months."
So, without further ado, here are the 25 smartest (and most successful) companies in the world:
1. Tesla Motors (Automobiles–Palo Alto, California)
2. Xiaomi (Smartphones–Beijing, China)
3. Illumina (DNA-reading machines–San Diego, California)
4. Alibaba (Online retailer–Hangzhou, China)
5. Counsyl (DNA tests–South San Francisco, California)
6. SunEdison (Renewable energy products–Maryland Heights, Missouri)
7. Tencent (Internet service portal–Shenzhen, China)
8. Juno Therapeutics (Cancer treatment testing–Seattle, Washington)
9. SolarCity (Solar panel installer/manufacturer–San Mateo, California)
10. Netflix (Streaming video provider–Los Gatos, California)
11. OvaScience (Life sciences–Cambridge, Massachusetts)
12. Google (Search engine and more–Mountain View, California)
13. Amazon (Online retailer–Seattle, Washington)
14. AliveCor (Heart monitor maker–San Francisco, California)
15. Gilead Sciences (Pharmaceuticals–Foster City, California)
16. Apple (Computers–Cuptertino, California)
17. Voxel8 (3-D printers–Somerville, Massachusetts)
18. IDE Technologies (Water desalinization–Kadima, Israel)
19. Amgen (Pharmaceuticals–Thousand Oaks, California)
20. Aquion Energy (Energy storage–Pittsburgh, Pennsylvania)
21. Baidu (Internet services–Beijing, China)
22. SpaceX (Rockets–Hawthorne, California)
23. Sakti3 (Energy storage–Ann Arbor, Michigan)
24. Freescale Semiconductor (Semiconductors–Austin, Texas)
25. Universal Robots (Robotics–Odense, Denmark)
Dr. Amarendra Bhushan Dhiraj is the CEO and editorial director at CEOWORLD magazine, the leading global business magazine written strictly for CEOs, CFOs, top managers, company directors, investors, senior executives, business leaders, high net worth individuals, and the most globally powerful men and women.
Latest posts by Dr. Amarendra Bhushan Dhiraj
Leave a Reply