Infographic: 2015 Global Recruiting Trends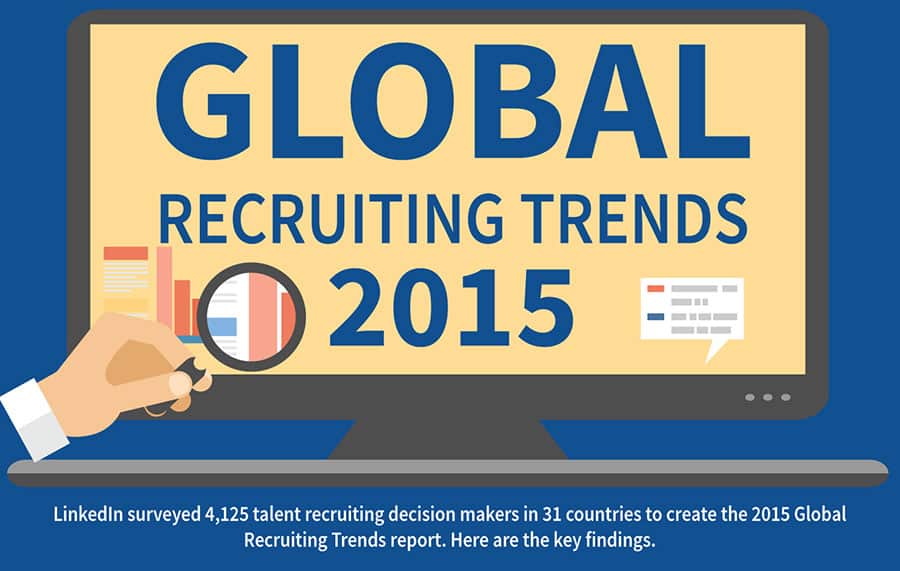 In order to have a successful 2015, talent acquisition leaders and recruiters need to ensure they're up to date with the latest recruitment trends. Luckily for you, LinkedIn has recently published the results from its Global Recruiting Trends report, which uncovers some of the latest recruitment trends and how they will impact the industry.
Sourcing new talent
Whereas in the past recruiters would source talent in-house, through newspaper ads and recruitment companies, today they have access to a wider range of channels through which they can engage with active job seekers and passive candidates.
LinkedIn's survey of 4,125 talent recruitment decision makers found that whilst 74% of sourcing came from Internet job boards, there had been a significant increase in sourcing from social professional works (59%). Social media websites like LinkedIn, Facebook and Twitter have made talent more accessible than ever before to businesses of all sizes.
Other popular ways of sourcing talent included company career websites (64%) and internal recruiting (62%).
Mobile sourcing
The trend for candidate mobile job seeking is on the rise and is likely to continue throughout 2015. This is a trend that many companies are still behind on and therefore need to invest in mobile strategies in order to optimise their job posting and career sites for mobile users.
Achieving quality hires: The use of job boards and social media sites
Interestingly, LinkedIn also asked participants to think about any key quality vacancies they filled in the last twelve months and the sources they used to fill their key vacancies. Not surprisingly, internet job boards came out on top, with recruiters in India (79%), Nordics (77%), the UK (68%) and the US (74%) all choosing it as their top resource for quality talent hires. The majority of talent recruiters in Brazil and the Netherlands chose social media as their primary source for quality hires at 69% and 76% respectively.
Out of all the sources, social professional networks experienced the highest rate of growth globally for quality hires, experiencing a 73% increase over the past four years. If you haven't already; now's the time to start using social professional networks to find quality talent and get one step ahead of your competition.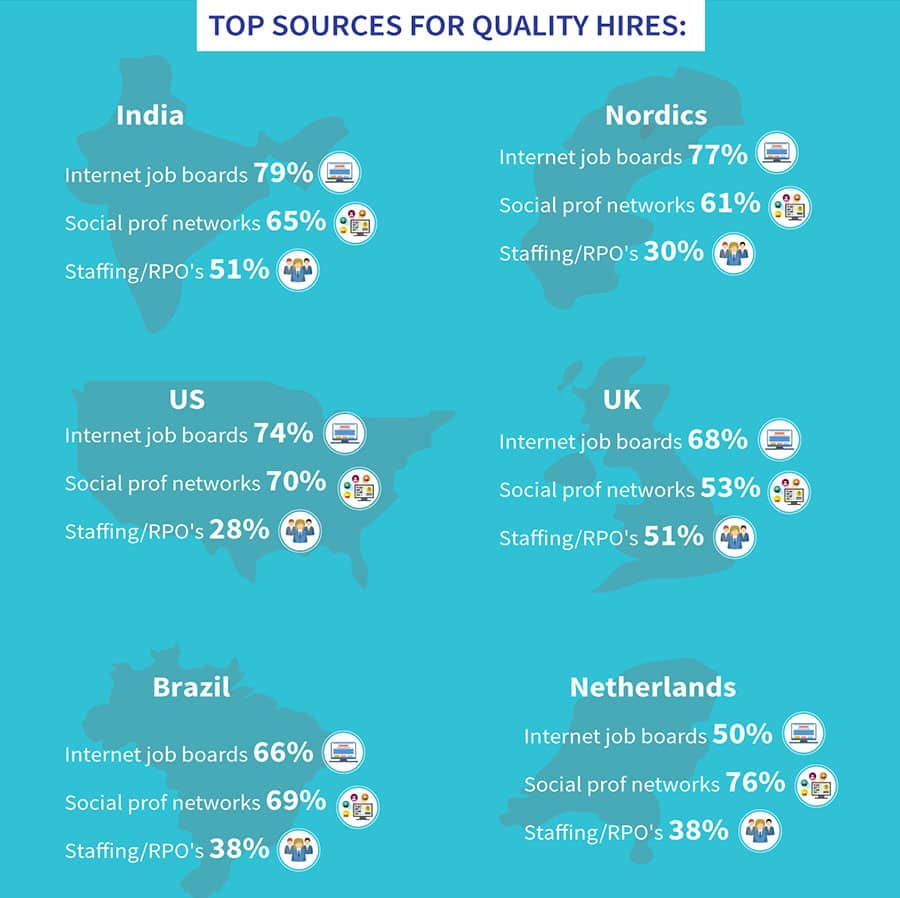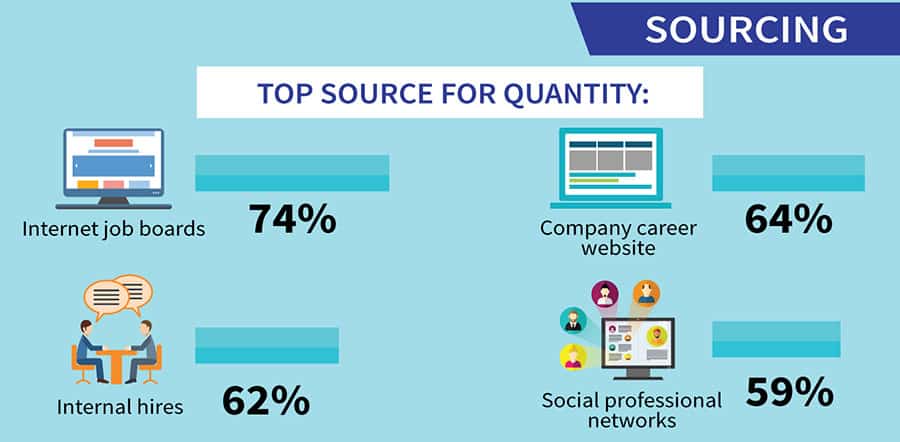 Quantity of hires: Job boards lead the way
Results from the report showed that job boards still produce the majority of new hires. This is almost certainly down to how easy it is for candidates to apply for new roles online. However it's important to remember that quantity doesn't always lead to quality, which is why recruitment professionals need processes in place within their application procedures to ensure they end up hiring quality talent.
Whilst employee referral programmes and internal recruiting are still used by businesses for achieving quality hires, it is much less so than back in 2011.
The survey found that whilst sourcing highly skilled talent is a top priority for the majority of businesses, small companies are more likely to prioritise recruiting skilled talent and improving quality of hire, whereas larger businesses focus on diversity recruiting.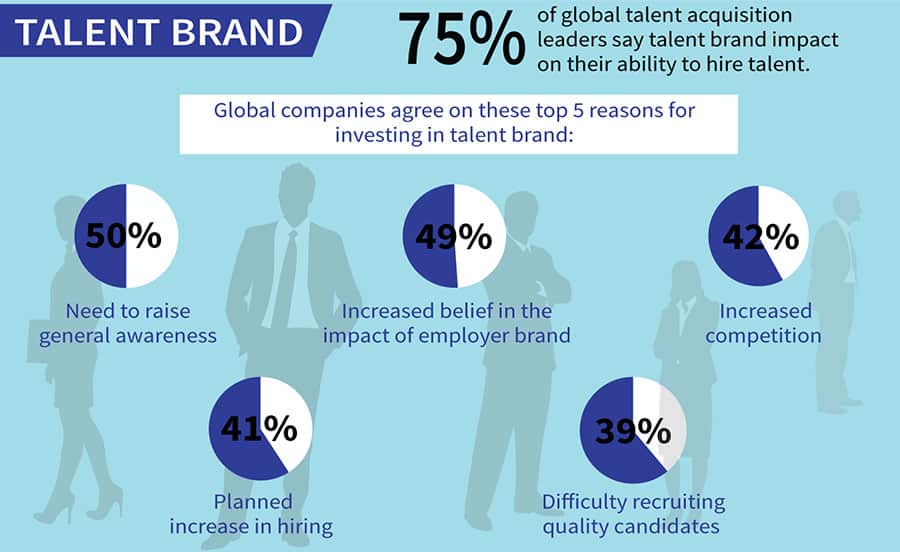 Talent brand
Your talent brand reflects what potential candidates (or talent) feel about the prospects of choosing a company as their place to work. Talent brand can also be referred to as employer brand. Having a well-respected talent brand can help you to reduce your cost per by in excess of fifty percent and lower your rate of employee turnover by twenty eight percent.
Over the last few years, recruiting has increasingly moved towards a marketing led approach, in which companies market themselves to the talent they want to hire.
Whilst many global recruiting leaders are now prioritising their talent brand (56%), their actions still need further working upon. If you are looking to get ahead of your competitors, you need to invest in your talent brand and ensure you take a strategic marketing approach with ongoing measurements in place.
The report by LinkedIn found that 75% of global talent acquisition leaders say their employer brand has an impact on which talent they can hire, which was one of the primary reasons why they were investing in it.
Other reasons talent acquisition leaders were choosing to spend more on employer branding this year included the need to raise general awareness about their company (50%), increased belief in the importance of employer branding (48%), increased competition in talent recruitment (42%), planned increase in hiring (41%) and difficulty recruiting quality candidates (39%).
Promoting talent brand
A huge part of building a talent brand (or employer brand) involves promotion. As it currently stands, social and professional networks are on track to becoming the top talent brand channels. This is likely down to the fact that a lot of talent sourcing is taking place on social media, making it the best place to spread the word about a talent brand. Not only that but social media also works in a similar way as word of mouth promotion, which has also found to be an effective way of promoting talent brand.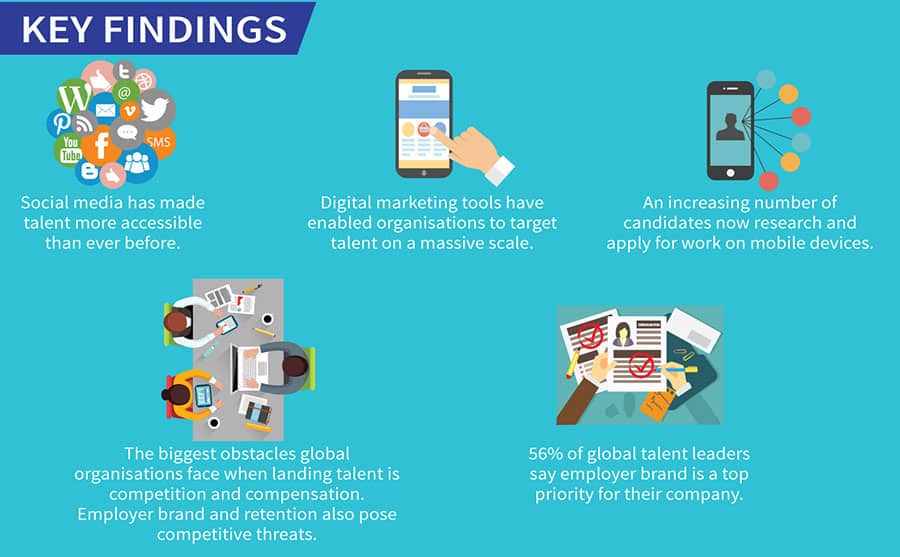 Advancements in global recruiting
The key finding from LinkedIn's Global Recruiting Trends report was that advancements in global recruiting were driving change. Here we've shared some of the main advancements in global recruiting and the impact they've had on the industry.
Social Media – Thanks to the accessibility of social media and its ability to connect professionals online has made talent more accessible than ever before. It has allowed brands to significantly boost their talent brand promotion efforts and also helped smaller businesses to level the playing field between them and larger competitors.
Mobile – The increased use of mobile devices has led to more and more candidates researching and applying for jobs online. Of course this has meant that recruiters now need to start planning mobile-optimised recruitment content and application forms in order to connect with quality talent.
Big Data – Data has always played a key role in the recruitment process, however thanks to an increase in affordable data storage and processing solutions, companies now have the opportunity to arm themselves with big data and market themselves as strategic advisors to businesses.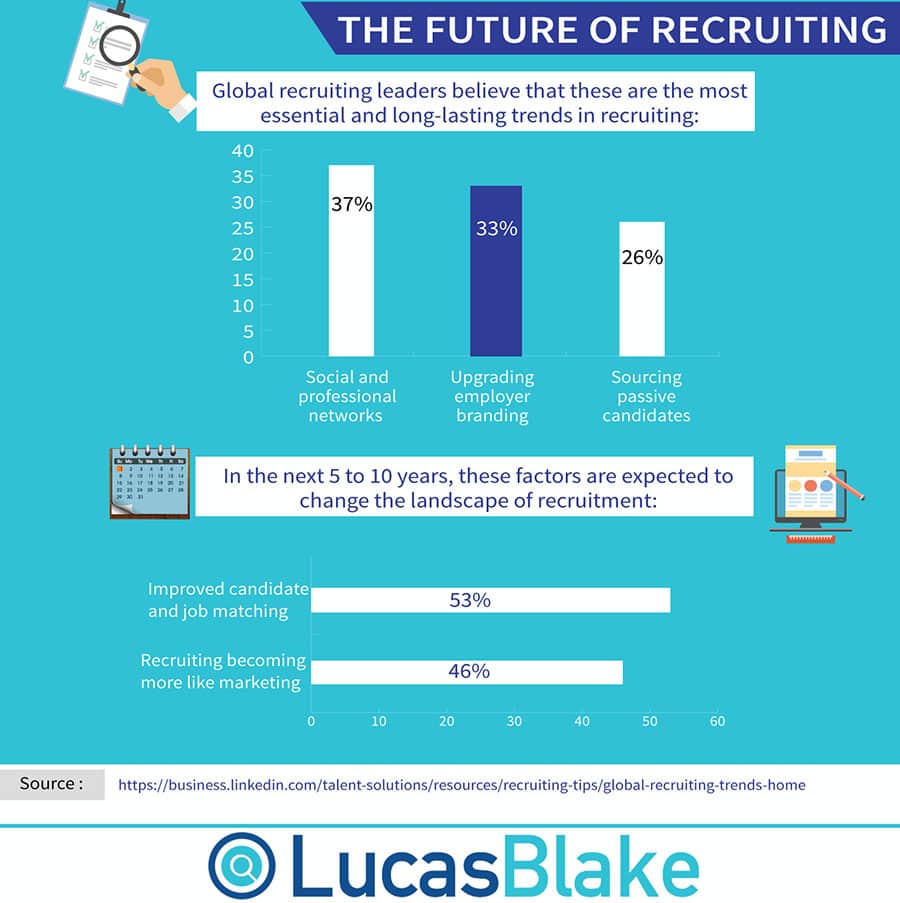 The future of recruiting
Given just how quickly recruiting has changed over the last four years, more changes to the sectors are likely to arrive much earlier than anticipated. When asked to predict long-lasting trends in recruiting, 37% of respondents believed social media combined with professional networks would remain a key trend, 33% said companies would continue to focus on employer branding and 26% said that sourcing passive candidates would become a key trend.
In terms of what could happen in the next five to ten years to change the recruitment landscape, 53% believed improved job matching to candidates would have a big impact on the industry and 46% said that recruitment would become even more marketing inspired, with the use of big data to predict future talent needs.
The latter is something that we are already starting to see, with more and more companies taking their talent brand seriously, treating it like a product of which they need to market to talent in order to gain their interest.
Looking at all of these findings, what's certain is that the role of social media and professional networking in recruiting is more important than ever before. Not only is it a place for connecting with talent and sourcing quality hires but also building talent brands, something that will be one of the biggest recruitment trends of 2015.
In order to get an overview of the key statistics outlined in the report, Lucas Blake have created the infographic below that that features actionable recruitment insights for businesses of all sizes on sourcing talent, talent brand and the future of recruiting.
****************************
Written by Kat Kynes. Download full 2015 Global Recruiting Trends Infographic.