Britain's top 25 wealthiest hedge fund managers list houses seven billionaires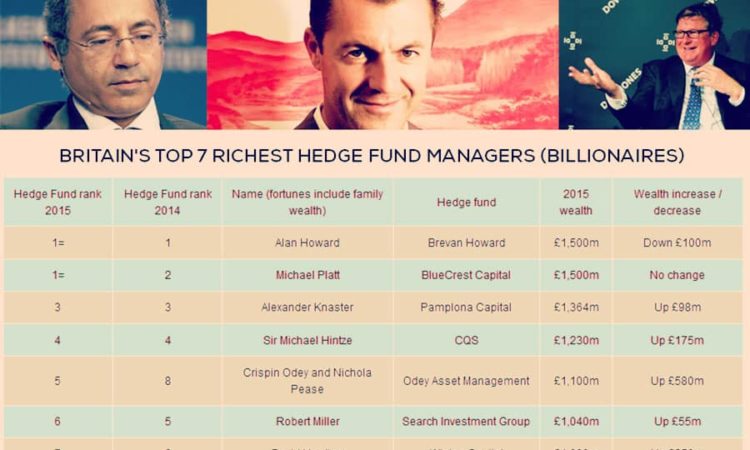 Alan Howard, co-founder of Brevan Howard Asset Management LLP, and Michael Platt, of BlueCrest Capital Management, jointly lead the list of the 2015 Britain's richest hedge fund managers with fortunes of 1.5 billion pounds each.
In all, there are 7 billionaire hedge fund managers in The 2015 Sunday Times Rich List, compared with just 4 in 2014, according to an annual wealth ranking compiled by The Sunday Times Magazine.
Meanwhile, Crispin Odey, who founded Odey Asset Management, and his wife Nichola Pease have seen their joint wealth rise by 580 million pounds in the past 12 months, now sharing at £1.1bn fortune.
Other hedge fund billionaires include Alexander Knaster of Pamplona Capital, CQS founder Michael Hintze, and Robert Miller of Search Investment Group.
Also joining the ranks of the billionaires is Winton Capital Management Limited's David Harding, whose fortune climbed by one-third to 1 billion pounds.
Britain's top 25 richest hedge fund managers
1. Alan Howard
Hedge fund: Brevan Howard
2015 wealth: £1,500m
Wealth increase / decrease: Down £100m
2. Michael Platt
Hedge fund: BlueCrest Capital
2015 wealth: £1,500m
Wealth increase / decrease: No change
3. Alexander Knaster
Hedge fund: Pamplona Capital
2015 wealth: £1,364m
Wealth increase / decrease: Up £98m
4. Sir Michael Hintze
Hedge fund: CQS
2015 wealth: £1,230m
Wealth increase / decrease: Up £175m
5. Crispin Odey and Nichola Pease
Hedge fund: Odey Asset Management
2015 wealth: £1,100m
Wealth increase / decrease: Up £580m
Dr. Amarendra Bhushan Dhiraj is the CEO and editorial director at CEOWORLD magazine, the leading global business magazine written strictly for CEOs, CFOs, top managers, company directors, investors, senior executives, business leaders, high net worth individuals, and the most globally powerful men and women.
Latest posts by Dr. Amarendra Bhushan Dhiraj
Leave a Reply