Top 10 Most Popular And Fastest-Growing Private Jet Route For The World's Richest
A new report by the real estate consultancy Knight Frank suggests the most popular private jet route in the world is a flight from Moscow to Nice/Cote d'Azur in France.
However, within the World's richest private jet passengers there's also a gender gap; more than 80 percent of private jet passengers are men.
Yes, United States remains most important private jet market in the world. That's because approximately 60 percent of the world's private jet traffic starts and ends in the U.S.
At around 25% of the global traffic, Europe (including Russia) is the second-largest market. The Middle East is the third-largest market.
Typical age for flyers is 40-55.
The ranking of routes is based on data from NetJets, a subsidiary of Berkshire Hathaway, the frequency of flights are based on data from 2013.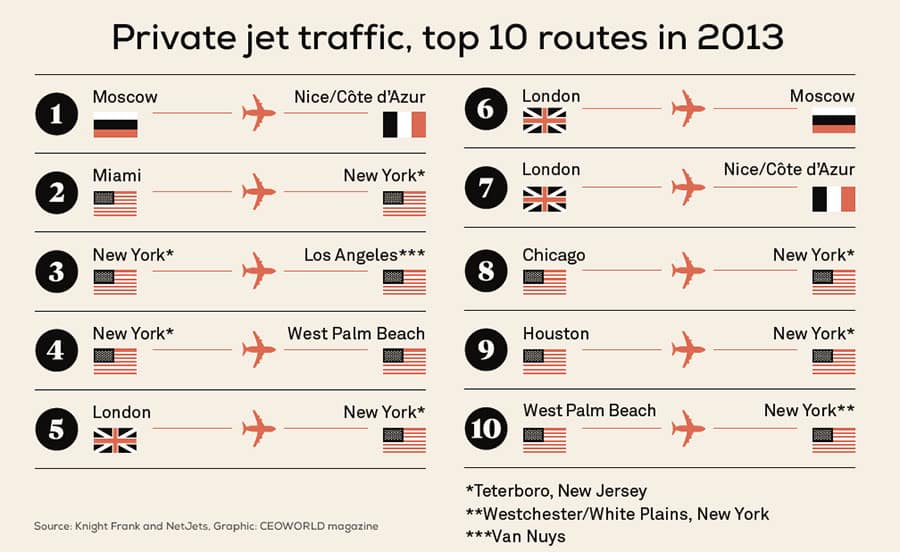 Rounding out the top ten most popular private jet route for the world's richest:
1. Moscow to Nice/Cote d'Azur in France
2. Miami to New York
3. New York to Los Angeles
4. New York to West Palm Beach
5. London to New York.
6. London to Moscow
7. London to Nice/Cote d'Azur
8. Chicago to New York
9. Houston to New York
10. West Palm Beach to New York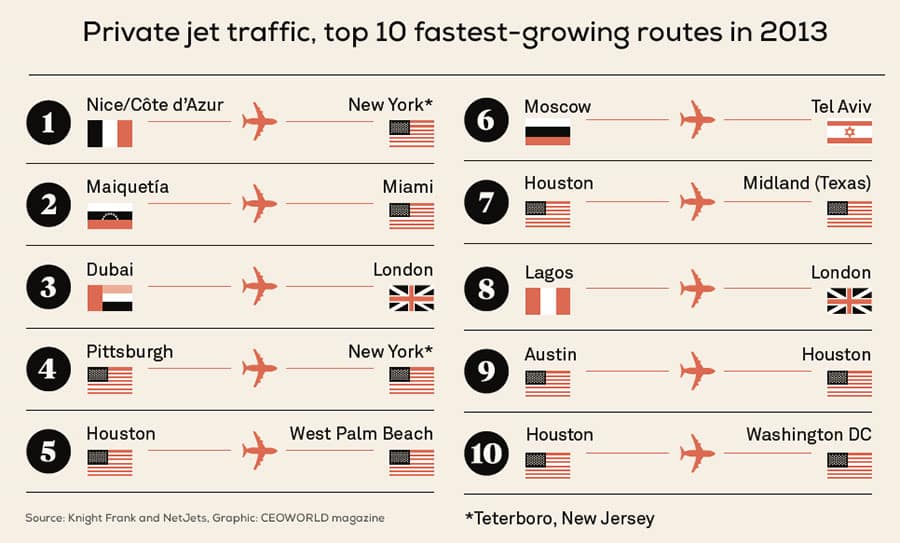 Top 10 fastest-growing routes private jet route for the world's richest:
The fasted growing route was from the Cote d'Azur to New York, followed by Maiquetia, Venezuela, to Miami, Dubai, to London, and Pittsburgh, to New York.
1. Nice/Cote d'Azur in France to New York
2. Maiquetia to Miami
3. Dubai to London
4. Pittsburgh to New York
5. Houston to West Palm Beach
6. Moscow to Tel Aviv
7. Houston to Midland (Texas)
8. Lagos to London
9. Austin to Houston
10. Houston to Washington DC
Dr. Amarendra Bhushan Dhiraj is the CEO and editorial director at CEOWORLD magazine, the leading global business magazine written strictly for CEOs, CFOs, top managers, company directors, investors, senior executives, business leaders, high net worth individuals, and the most globally powerful men and women.
Latest posts by Dr. Amarendra Bhushan Dhiraj
Leave a Reply