Can anybody Stop Real Madrid: The World's Highest-Earning Football Clubs?
Spanish heavyweights Real Madrid is the world's wealthiest club in the list of football's top-earning teams (2015) published by business advisory firm Deloitte, with a revenue of €549.5 million ($639 million).
Real Madrid held on to top spot for an unprecedented 10th year running as the highest earners in world football, Manchester United moves up from 4th to 2nd on the rich list, with Bayern Munich 3rd (£407.7m) and Barcelona 4th (£405.2m).
Additionally, the total combined revenue for the top 20 richest football clubs rose by 14% to £5.2bn.
1. REAL MADRID – Revenue: £459.5m
Matchday revenue – £95.2m
Broadcasting revenue – £170.7m
Commercial revenue – £193.6m
Champions League winners Real Madrid enjoyed a 6% growth in total revenue during 2013/14.
Real Madrid: Revenue profile: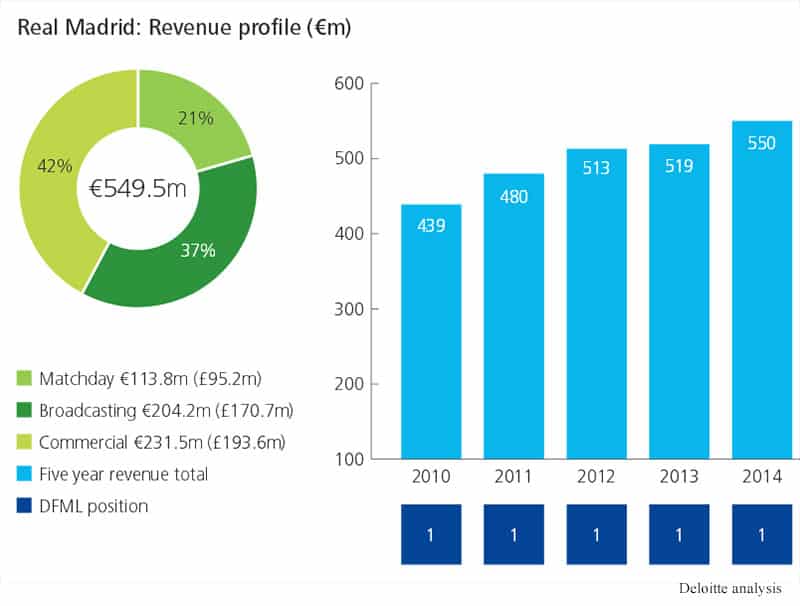 Dan Jones, partner in the Sport Business Group at Deloitte, said: "The club's continued success on the field is complemented by its financial strength.
"Their accomplishment emphasises their position as the most successful European club side of all time.
"However, their commercial supremacy is being challenged by Manchester United, among others."
Austin Houlihan, Senior Manager at Deloitte Sports said, "I think it's true that clubs will naturally close the gap over time. Real Madrid have been top of the Money League for the past 10 years, which is hugely impressive, but will clubs catch up? I think yes."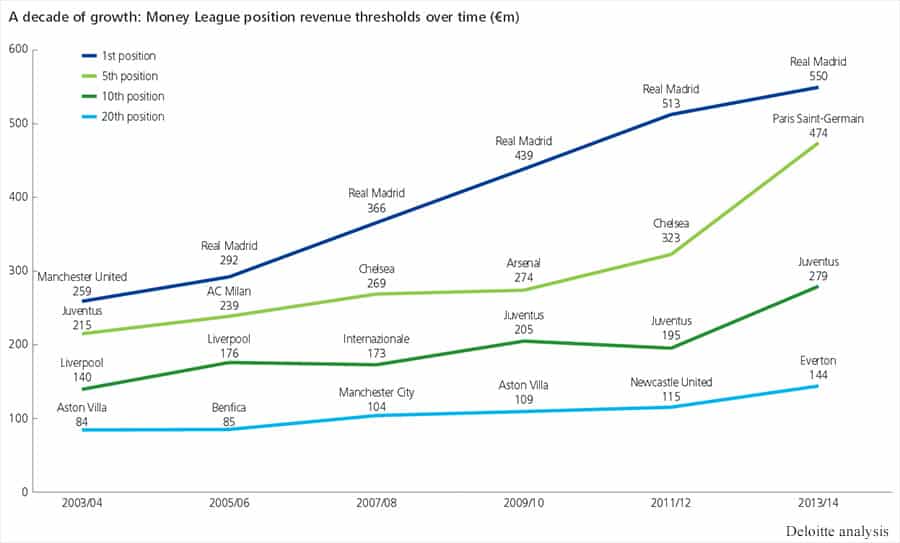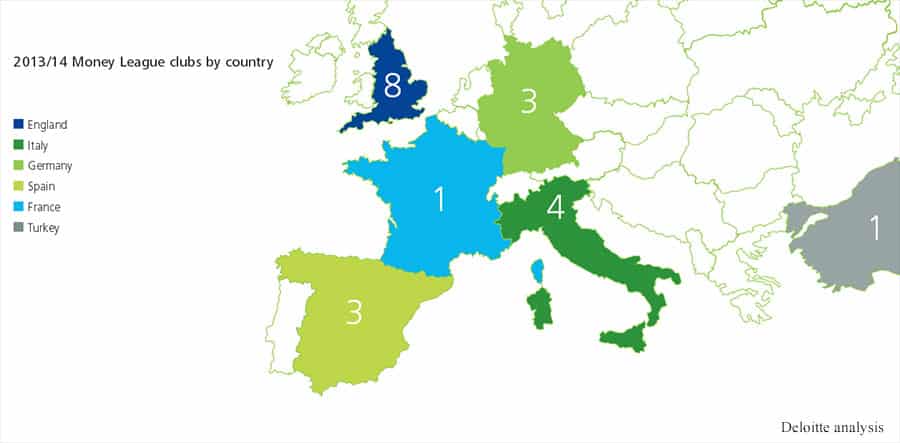 2. Man Utd: 518m (423.8m)
3. Bayern Munich: 487.5m (431.2m)
4. Barcelona: 484.6m (482.6m)
5. Paris Saint Germain; 474.2m (398.8m)
6. Manchester City: 414.4m (316.2m)
7. Chelsea: 387.9m (303.4m)
8. Arsenal: 359.3m (284.3)
9. Liverpool: 305.9m (240.6m)
10. Juventus: 279.4m (272.4m)
Deloitte Football Money League 2015 – Commercial breaks from Deloitte UK
Deloitte Football Money League 2015 infographic


Track Latest News Live on CEOWORLD magazine and get news updates from the United States and around the world. The views expressed are those of the author and are not necessarily those of the CEOWORLD magazine.
Follow CEOWORLD magazine headlines on:
Google News
,
LinkedIn
,
Twitter
, and
Facebook
.
Thank you for supporting our journalism. Subscribe here.
For media queries, please contact:
info@ceoworld.biz