Top 10 Key American Housing Markets To Watch In 2015
A new research by a real estate firm Trulia ranked Boston as No. 1 on its list of the top 10 U.S. housing markets to watch in 2015, based on strong job growth, which fuels housing demand, and a low vacancy rate, which spurs construction.
Trulia's top 5 markets – Boston ranked No. 1, followed by Dallas, TX, Fresno, CA, Middlesex County, MA, and Nashville, TN.
New York, NY-NJ, Raleigh, NC, Salt Lake City, UT, San Diego, CA, and Seattle, WA rounded out top 10 list of the housing markets in America to watch in 2015.
Washington was left off the list because its job growth has been sluggish recently, and San Francisco doesn't make the list because Trulia estimates that homes there are 12% overvalued.
"In 2015, more markets will settle back into their long-term housing patterns. Fast-growing markets that boomed last decade, collapsed in the bust, and then rebounded are now leveling off," Jed Kolko, Trulia's chief economist, wrote.
"Even the markets that have been slowest to recover and have struggled longest are seeing foreclosure inventories decline and the sales mix moving back toward normal."
Top 10 Key U.S. housing markets to watch in 2015
No. 1. Boston, MA
No. 2. Dallas, Texas
No. 3. Fresno, Calif.
No. 4. Middlesex County, Mass.
No. 5. Nashville, Tenn.
No. 6. New York, NY-NJ
No. 7. Raleigh, NC
No. 8. Salt Lake City, UT
No. 9. San Diego, CA
No. 10. Seattle, WA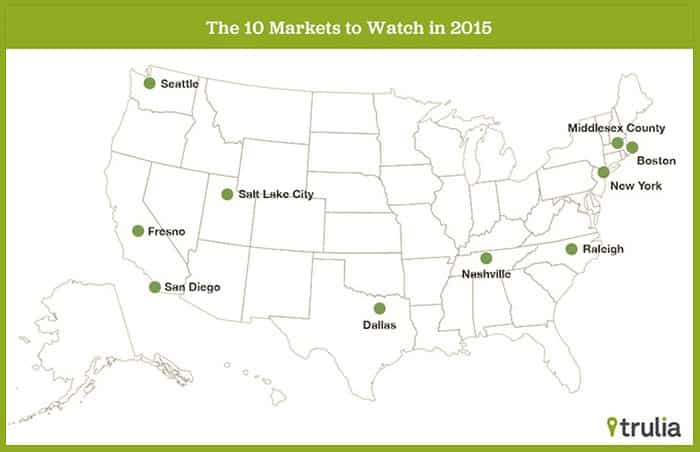 Dr. Amarendra Bhushan Dhiraj is the CEO and editorial director at CEOWORLD magazine, the leading global business magazine written strictly for CEOs, CFOs, top managers, company directors, investors, senior executives, business leaders, high net worth individuals, and the most globally powerful men and women.
Latest posts by Dr. Amarendra Bhushan Dhiraj
Leave a Reply