Here's a look at the top 20 happiest companies in America to work for in 2015
Workers at the pharmaceutical giant Johnson & Johnson really love their jobs, some businesses just know how to make their employees happy.
So it's unsurprising that the largest publicly traded health care company  was voted the happiest company in America to work for in 2015 by its own employees, according to an annual survey from job site CareerBliss.
Semiconductor designer Broadcom took second place, followed by oil and gas giant Chevron.
Employees were asked to rate their employers on several happiness factors, including office environment, work-life balance, company culture, compensation, opportunities for professional development, and job resources.
"Each year, CareerBliss evaluates the companies dedicated to creating happier work environments," says Heidi Golledge, cofounder of CareerBliss. "As we evaluate the factors that impact happiness such as growth opportunity and company culture, it is also important to understand what type of industries are creating happier work environments overall. This year we saw a surge of STEM-related companies rank in the top 10."
Here, we've highlighted the top 20 happiest companies in America to work for in 2015
1. Johnson & Johnson
Average salary: $70,000
2. Broadcom
Average salary: $85,000
3. Chevron
Average salary: $55,000
4. Texas Instruments
Average salary: $75,000
5. McAfee
Average salary: $83,000
6. Google
Average salary: $70,000
7. Intuit
Average salary: $71,000
8. Adobe
Average salary: $90,000
9. Amgen
Average salary: $75,000
10. SAP AG
Average salary: $85,000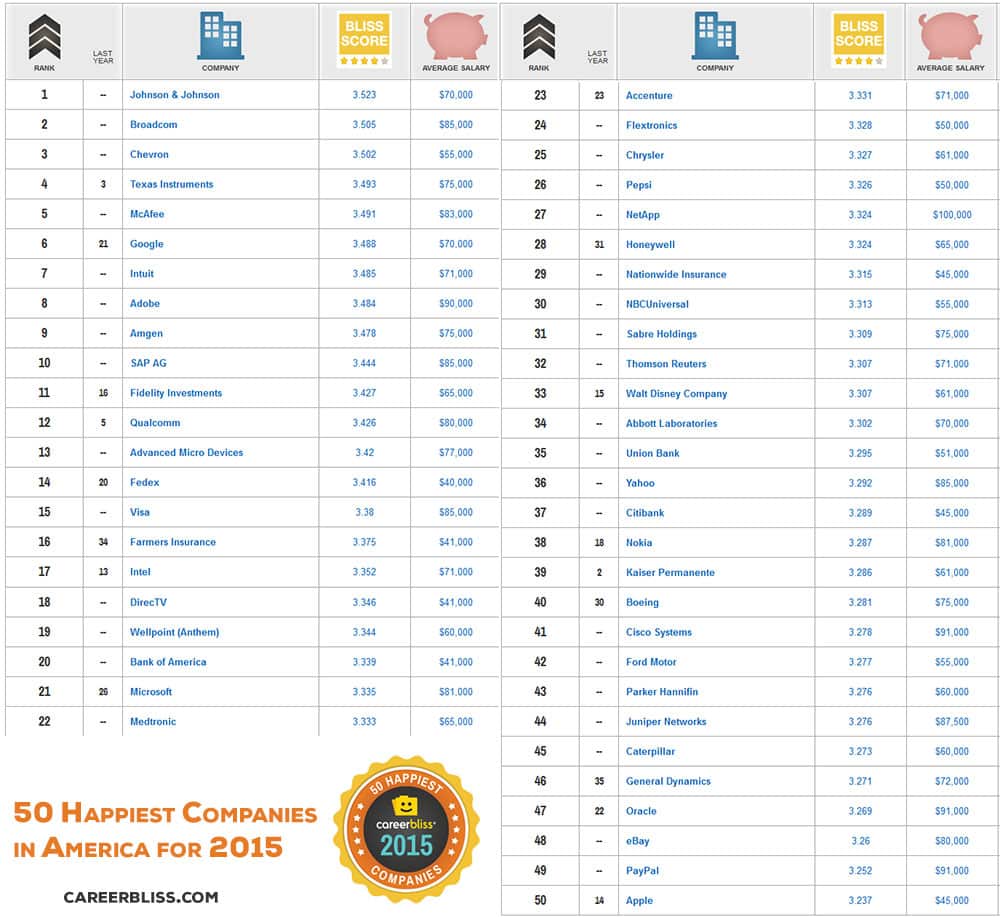 11. Fidelity Investments
Average salary: $65,000
12. Qualcomm
Average salary: $80,000
13. Advanced Micro Devices
Average salary: $77,000
14. Fedex
Average salary: $40,000
15. Visa
Average salary: $85,000
16. Farmers Insurance
Average salary: $41,000
17. Intel
Average salary: $71,000
18. DirecTV
Average salary: $41,000
19. Wellpoint (Anthem)
Average salary: $60,000
20. Bank of America
Average salary: $41,000